________________________________________
(Minghui.org) Melbourne, recently held numerous events to celebrate the golden season of autumn. Practitioners in North Melbourne and West Melbourne participated in two of them, where their exercise demonstrations and Falun Dafa informational sessions were well received. From hosts and elected officials, to community leaders and ordinary citizens, they applauded the practice and said they hoped to see practitioners participate in future events.
Bonsai & Orchid Exhibition
The Vietnamese Cultural & Heritage Centre again held the Bonsai & Orchid Exhibition on March 19-20. This year's theme was improving mental health. "Falun Dafa is very effective uplifting mind and body. This is especially important to people during the pandemic," explained Mai Pham. She said this was the second time practitioners were invited to such an event since the Bonsai club was established last year.
Daniel Mulino, Member for Fraser of the Federal House of Representatives, said he was disturbed by the suppression in China, and plans to discuss this issue with other elected officials.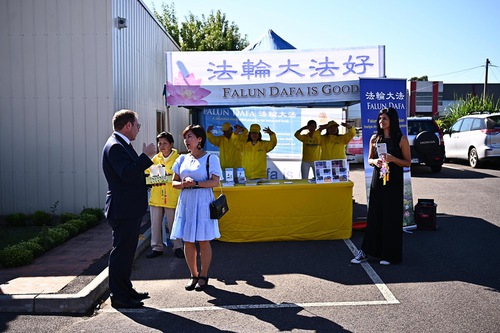 "Wonderful to catch up with Mai Pham today at the Vietnamese Bonsai and Orchid Show in Sunshine North," Finn wrote in a tweet on the same day, "Mai is a Falun Dafa practitioner here in Melbourne and I am mighty proud to continue my support for her in the campaign against the evil persecution of Falun Dafa by the barbaric Chinese Communist Government." In opening remarks of the event, he also thanked Falun Dafa practitioners for their efforts.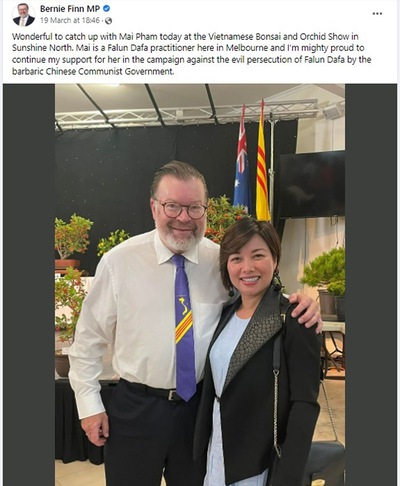 Thuy Dang, city councilor and deputy mayor of Brimbank, said she's known Falun Dafa practitioners for many years. Impressed by their courage and sacrifice, she praised practitioners for their great contribution to society.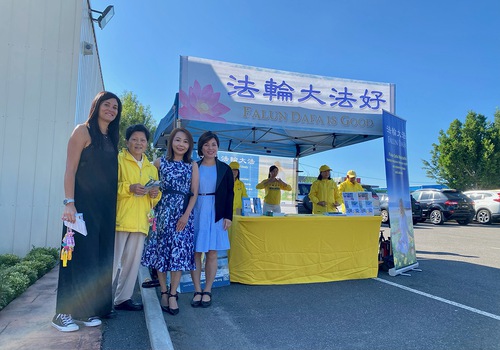 Many people who attended the event were interested in learning more about Falun Dafa, added Pham. "They were especially amazed by the sitting meditation, and look forward to more informational sessions."
Both health agencies and the Vietnamese Community of Australia said they would invite practitioners to future activities so that the public can benefit from the practice.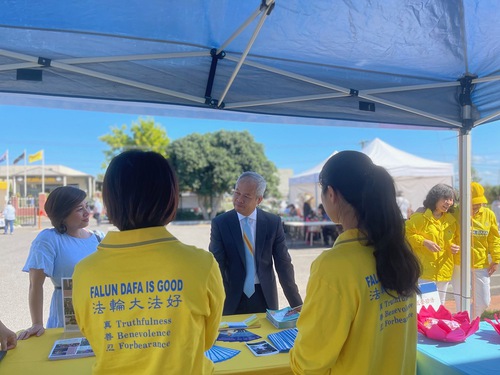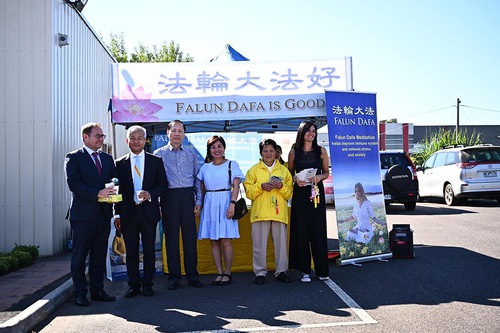 Harmony Day
Falun Dafa practitioners were invited to the Harmony Day celebration in North Melbourne on March 26. The activity was hosted by the Victoria Department of Families, Fairness and Housing, North Melbourne Language and Learning Centre, and the Vietnamese Community of Australia.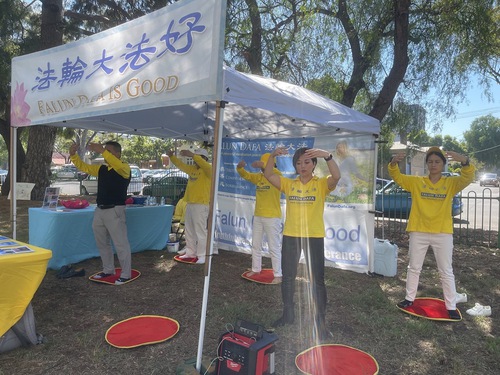 Pham, the practitioner who coordinated this activity, said the Victoria Department of Families, Fairness and Housing were very interested in Falun Dafa. "Their staff members took a group photo with us. They also asked us to forward more information to the local Cohealth offices, so that recurring meetings can be planned for us to introduce the practice to the community." Cohealth is a large not-for-profit community health organisation that provides health and support services to the state of Victoria.
Cliff Rundle is the general manager of North Melbourne Language & Learning. He was happy to hear about how Falun Dafa has benefited about 100 million people around the world. He was also surprised that practitioners have been mistreated in China since 1999 for their belief in Truthfulness-Compassion-Forbearance.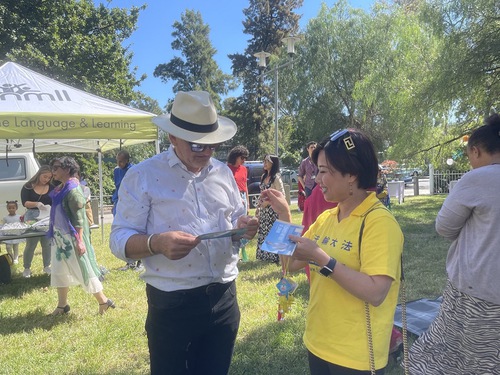 Truong is a team leader in Vietnamese Elderly Group at Kensington, a suburb of Melbourne. She said she hopes practitioners will come to her organisation and introduce the practice to its members.
"After hearing the positive changes Falun Dafa has brought to us, Truong is anxious, to know more," Pham added, "We are so happy that people from different ethnic groups and cultural backgrounds are interested in learning the practice."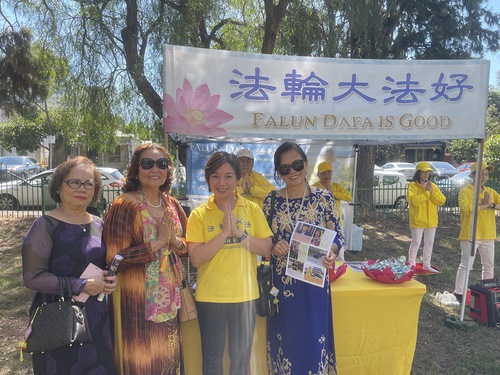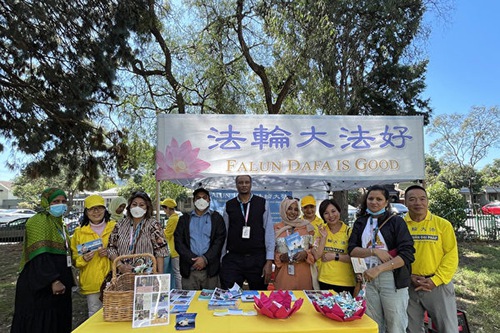 Background: What is Falun Dafa?
Falun Dafa (also known as Falun Gong) was first introduced to the public by Mr. Li Hongzhi in Changchun, China in 1992. The spiritual discipline is now practiced in over 100 countries and regions worldwide.
Millions of people who have embraced the teachings, which are based on the principles of Truthfulness, Compassion, and Forbearance, and learned the five gentle exercises, have experienced uplifted health and well-being.
Jiang Zemin, former head of the Chinese Communist Party (CCP), perceived the spiritual discipline's growing popularity as a threat to the CCP's atheistic ideology and on July 20, 1999, issued an order to ban the practice.
Minghui.org has confirmed the deaths of thousands of practitioners as a result of the persecution over the past 22 years. The actual number is believed to be much higher. More have been imprisoned and tortured for their faith.
There is concrete evidence that the CCP sanctions the harvesting of organs from detained practitioners, who are murdered to supply the organ transplant industry.
Under Jiang's personal direction, the CCP established the 610 Office, an extralegal security organisation with the power to override the police and judicial systems and whose sole function is to carry out the persecution of Falun Dafa.
Views expressed in this article represent the author's own opinions or understandings. All content published on this website are copyrighted by Minghui.org. Minghui will produce compilations of its online content regularly and on special occasions.
44 total views