_______________________________
(Minghui.org) The first two months of 2022 saw reports of 423 Falun Gong practitioners arrested for their faith and another 359 harassed.
Falun Gong, also known as Falun Dafa, is a spiritual discipline that has been persecuted by the Chinese communist regime since 1999. Countless practitioners have been arrested, harassed, sentenced, and tortured for upholding their faith. But due to strict information censorship in China, the incidents can't always be reported in a timely manner, nor is all the information readily available.
The 423 reported arrest cases include 9 incidents that took place in 2020, 143 in 2021, 187 in January 2022 and 84 in February 2022. Thirty practitioners had a total of 595,237 yuan confiscated while the police ransacked their homes, including 210,000 yuan taken from one practitioner and 150,000 yuan from another. One more practitioner had 10,100 USD taken away from him.
The arrests resulted in the deaths of three practitioners, including two women and a man, who passed away within 3-35 days of their arrests.
Weeks ahead of the Beijing Winter Olympics in February 2022, the authorities arrested and harassed practitioners in Beijing and Zhangjiakou City, Hebei Province, two of the three zones to host the snow sports, under the pretext of preventing them from speaking out about Falun Gong during the games.
For the 359 harassment cases, 1 took place in 2020, 167 in 2021, 133 in January 2022 and 58 in February 2022.
Among all of the targeted practitioners, 261 had their homes ransacked and 174 (41%) practitioners have been released at the time of writing. A total of 124 (16%) practitioners older than 60 were targeted, including 22 in their 60s, 69 in their 70s, 32 in their 80s and 1 in her 90s.
The 782 practitioners hailed from 27 provinces and municipalities. Hebei topped the list with 102 total persecution cases, followed by Shandong (94) and Sichuan (82). Thirteen regions had cases between 10 and 70. Another eleven provinces had single digit cases.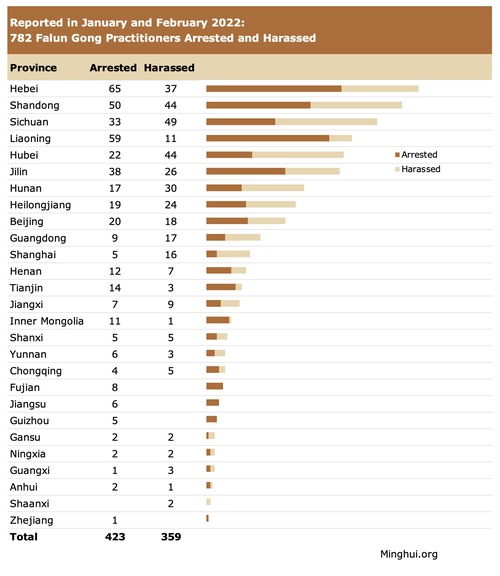 Several examples of the various kinds of cases of persecution reported in January and February 2022 are presented below:
Death Cases
Woman in Her 50s Dies Three Days Following Arrest for Practicing Falun Gong
Ms. Huang Sulan of Chengdu, Sichuan Province, was arrested outside of her apartment building on January 20, 2022, and taken to a secret detention facility in Pengzhou.
The police informed Ms. Huang's family on January 23, 2022, that she had died earlier that day. Her body was soon moved to the Pengzhou City Funeral Home. Her family has seen her body, but further details about her death remain under investigation.
Prior to Ms. Huang's last arrest, she was previously arrested on July 10, 2019, while visiting practitioner Ms. Mao Kun. Although Ms. Huang was released on August 9, Ms. Mao was later sentenced to 11.5 years and died in custody.
Woman Dies in Custody Eight Days After Being Arrested and Denied Medical Treatment
Ms. Zhang Siqin, a 69-year-old woman in Dalian City, Liaoning Province, died at the Yaojia Detention Centre, eight days after she was arrested for practicing Falun Gong.
Ms. Zhang began to experience severe medical problems on the first night at the detention centre, yet the authorities refused to provide any treatment for her, except feeding her unknown drugs without any diagnosis.
Ms. Zhang was taken back into custody on January 19, 2022, to serve a two-year term. She was terrified and was struck with a wave of nausea. Even though the doctor advised against her detention due to her medical condition, the police insisted that she was fine and took her to the Yaojia Detention Centre.
On the first evening at the detention centre, Ms. Zhang was unable to walk on her own or fall asleep. The guards refused to provide her with any food. The next morning, she was so weak that she wasn't able to put on clothes herself and had to rely on her roommate's help.
For the next few days, she was unable to keep any food down and vomited everything she ate. The food the guards provided was only congee and steamed buns. She remained too weak to stand on her own.
When she was admitted to the detention centre, the guards took away her denture. She asked several times to have it back, but the guards refused to return it to her, which made it even more difficult for her to eat.
Despite her medical issues, the guards didn't take her to see a doctor and gave her some unknown drugs, which caused her condition to further deteriorate.
On January 25, the sixth day of her detention, Ms. Zhang began to shake uncontrollably and was unable to sit up on her own. Her roommate reported it to the guards, who insisted on giving her an unknown drug, with no medical assessment. When she was unable to take the drug, the guards ordered five inmates to hold her and force-feed her the drug. She became incapacitated and lost the strength to sit up afterwards.
At 2:20 a.m. on January 26, Ms. Zhang began to shake uncontrollably. The inmates in the room were all awake, yet the guards still ignored her. At 9 a.m., Ms. Zhang was taken out in a wheelchair but was brought back in just ten minutes. The guards continued to force-feed her the unknown drug.
Ms. Zhang began to run a fever around midnight. By 2:40 a.m. she was in critical condition. The guards still refused to take her to a hospital and ordered the inmates in her room to keep monitoring her.
By the morning, she was unable to sit up even with her roommate's help. Although the inmates reported her situation at 7:07 a.m., the doctor hadn't shown up by 7:25 a.m. Her roommate kept calling the guards, but no one showed up either.
By the time the doctor arrived at 7:30 a.m., Ms. Zhang had stopped breathing and didn't have any blood pressure. The doctor tried to resuscitate her, but she didn't respond. The doctor called the guards at 7:34 a.m., but they didn't answer until the doctor called the third time. Ms. Zhang was pronounced dead at 7:35 a.m. and removed from the cell.
Delivery Worker Dies 35 Days Following Arrest for Giving Out a Falun Gong Pamphlet
Mr. Dai Zhidong and Mr. Sun Deguo, both residents of Daqing City, Heilongjiang Province, were arrested on January 8, 2022, after they were reported for giving out a pamphlet with information about Falun Gong at a gas station in nearby Lindian County.
After they were taken to the Lindian Police Department, Wei Fang of the Domestic Security Office snatched their keys and ransacked their homes without a warrant. While searching Mr. Sun's home, the police arrested two more practitioners, Mr. Sun Wenzhong and Mr. Zhang Liguo, who happened to be visiting at the time.
Mr. Sun Deguo's Falun Gong books, computer, and over 20,000 yuan in cash were confiscated. But Wei claimed that she only took 10,000 yuan.
Mr. Sun Wenzhong claimed the responsibility for making Falun Gong materials and was held at the Taikang Detention Centre on charges of "undermining law enforcement with a cult organisation," the standard pretext used to frame Falun Gong practitioners. The other three practitioners were released on bail after paying a 10,000 yuan bond each.
All the practitioners later filed complaints with the Daqing City Procuratorate against the police's violation of legal procedures in arresting them and ransacking their homes.
Upon returning home, Mr. Dai, a delivery worker, was under tremendous pressure with the newest round of financial persecution. His wife died of a disease a year ago, and he was still struggling to pay off her medical bill. With the police confiscating his only 5,000 yuan cash in saving and his son paying the 10,000 yuan bond for him, he worried when he would be able to pay off all the debts. Meanwhile, the police threatened him not to report the persecution to Minghui.org. The mental pressure took a toll on his health and he passed away on February 11, 2022. He was 60.
Arrests and Harassment Ahead of the Winter Olympics
Falun Gong Practitioners Arrested in Winter Olympics Host City Near Beijing
Weeks ahead of the Beijing Winter Olympics in February 2022, the authorities in Zhangjiakou City, Hebei Province, one of the three zones to host the snow sports, arrested five local Falun Gong practitioners under the pretext of preventing them from speaking out about Falun Gong during the games.
The five practitioners, from Chongli District, where the ski resorts are located, were arrested on January 20 and 21, 2022. The authorities claimed that they would detain the practitioners until February 6, two days after the opening of the Winter Olympics.
Under the directive of Zheng Jianguo, of the Chongli District Domestic Security Office, the police arrested Ms. Bai Mei at her daughter's home at 9 p.m. on January 20. Her cellphone and other personal belongings were confiscated.
Around the same time, the police also broke into the home of Ms. Bai's brother, Mr. Bai Tao, and confiscated his Falun Gong books, a photo of Falun Gong's founder, a speaker and a tablet. As Mr. Bai wasn't home when the police came, they returned the next day and arrested him.
At midnight on January 21, the police arrested three more practitioners, Ms. Kang Cuiqing, Director of Pediatrics for the Chongli District Hospital; Ms. Qin Yulan, a teacher at the Chongli Education Bureau; and Ms. Wei Jiansheng, a teacher at Chongli No. 1 Middle School.
The three practitioners were held at the local police station and then transferred to the Zhangjiakou City Lockup for 15 days.
In addition to Falun Gong practitioners, the local residents are also facing extreme restrictions on their daily life, as part of the authorities' effort to ensure a successful international sports event.
Beijing Woman Arrested Prior to Winter Olympics, Accused of Distributing Falun Gong Materials a Year Ago
Ms. Jiao Shuying was arrested by police officers who broke into her apartment on January 23, 2022. She was taken to Changping Detention Centre the next day. The resident of Changping District in Beijing is accused of distributing Falun Gong informational materials a year ago.
In early 2021, the Hongfuyuan Residential Area, where Ms. Jiao lives, was locked down due to the Zero-COVID policy. All the residents were required to submit their personal information when the authorities ordered massive PCR tests of local residents. The police located her via the information her family submitted for her. But instead of arresting her back then, they waited a year and arrested her weeks before the Winter Olympic Games were to be held in Beijing.
The police ransacked Ms. Jiao's apartment and confiscated two calendars and several card readers. Before her arrest, a Pingxifu Police Station officer went to confirm she was at home by claiming to be conducting a census. Her 90-year-old mother is now on her own, struggling to care for herself.
Tightened Surveillance
In addition to the arrests, most Falun Gong practitioners in seven central districts in Beijing, including Haidian District, Shijingshan District, Chaoyang District, Shunyi District, Changping District, Fangshan District, and Tongzhou District, were closely monitored by the authorities.
In Chaoyang and Haidian, each local practitioner was under 24-hour surveillance by four people in two shifts. It's reported that each of the "community watchers" earned a daily stipend of 180 yuan in Chaoyang and 200 yuan in Haidian.
Similar surveillance was also reported in Shanghai. Mr. Qu Fei was about to take a flight on January 28, 2022, to visit his brother in the U.S., when he was stopped at the airport by officer Huang Jia of the Domestic Security Office. He is now under 24-hour surveillance.
Elderly Not Spared
66-year-old Woman in Critical Condition After Holding Hunger Strike to Protest Arbitrary Detention
Ms. Ji Yunzhi, a 66-year-old Chifeng City, Inner Mongolia resident, is in a coma after weeks of being on a hunger strike to protest her latest arrest on February 1, 2022, for practicing Falun Gong. The police refused to release her despite her critical condition.
Ms. Ji was arrested at home at around 8 a.m. on February 1, Chinese New Year's Day. The police broke in when her family left briefly to take out the trash. Another practitioner, Ms. Sun Zhifang, who happened to be visiting, was also arrested. The police searched Ms. Ji's residence and confiscated 40 Falun Gong books and a photo of Falun Gong's founder.
As Ms. Ji refused to go with the police, they forcibly took her and Ms. Sun to the police car. Both women were taken to the Bahrain Left Banner Detention Centre. Ms. Ji went on a hunger strike to protest the arbitrary arrest and detention.
Ms. Ji's family was informed by the police on February 11 to go to the Bahrain Left Banner Hospital. When they went there, they were devastated to see Ms. Ji in a coma. Yet the police still had her feet shackled to the hospital bed. The doctor ordered them to sign a form acknowledging Ms. Ji's critical condition.
Ms. Ji's family applied to have her released on bail the next day. The police raised three conditions before they would approve the bail release. It's not clear what the conditions are. Ms. Ji was still at the hospital at the time of writing.
87-year-old Retired Professor Interrogated for Ten Hours for Speaking Up for Her Faith
Ms. Chen Shejie, an 87-year-old former Associate Professor of Central South University, was arrested at home on December 24, 2021. A group of plainclothes officers broke in and searched every room at her home in Changsha City, Hunan Province, without a warrant. Her Falun Gong books, computer, printer, and Falun Gong-themed paintings on the walls were confiscated.
The police brought Ms. Chen to the Yuelu Police Station for interrogation. She refuted their defamation of Falun Gong and demanded that they produce documents providing legal basis for the persecution. While the police claimed they had the documents, they never showed anything to her. One officer threatened her, "We've arrested you once in 2016. Now you did it again. If you continue to do it (speaking up for Falun Gong), we will throw you into jail."
Before allowing Ms. Chen to go home with her family at 1 a.m., another officer threatened to monitor her life and said to her family, "If she continues to talk to others about Falun Gong, we wouldn't let her go so easily!"
76-year-old Former Acupuncturist Arrested and Interrogated
When Ms. Nie Yulan, a 76-year-old retired acupuncturist in Zhengzhou City, Henan Province, returned home at noon on January 5, 2022, from buying some steamed buns, a dozen officers surrounded her and broke into her home.
While an officer restrained Ms. Nie in her bedroom, the rest of them confiscated her computer, Falun Gong books, a photo of Falun Gong's founder, and other Falun Gong materials. The police also forced Ms. Nie to open her locked drawers, from which they snatched 2,600 yuan in cash, including 2,000 yuan in banknotes printed with a short message about Falun Gong.
Due to strict information censorship in China, many practitioners use creative ways to raise awareness about the persecution, including printing information on banknotes.
The police took Ms. Nie to the Dianchanglu Police Station. They claimed that she was reported for trying to hire a lawyer for Ms. Zhang Hui, who was arrested days earlier for practicing Falun Gong. Ms. Nie demanded to know the police's names. They refused to answer, saying that she would submit their names to Minghui.org if she knew who they were.
Ms. Nie refused to answer the police's questions. As the police continued to interrogate her, she began to experience tightness in her chest and stomach pain. Her hands and feet first became cold, and then her body felt cold and couldn't stop shaking. She also had difficulty breathing. The police called an ambulance and the doctor found her heart rate was below 40 beats per minute. She was then taken to the hospital for resuscitation. She returned home at around 11 p.m.
Elderly Couple Arrested By Police Who Pretended to Be Healthcare Workers to Vaccinate Them
Four people knocked on Ms. Tang Peilian's home in Changsha City, Hunan Province on December 25, 2021, claiming to be from the local community and going door to door to give people shots against COVID-19.
Her husband, Mr. Huang Zhijie, opened the door. Without saying a word, the four people, with a female in police uniform, rushed in and ran to her bedroom. Ms. Tang, who was printing informational materials about Falun Gong, immediately locked her closet where she kept the printer and computer, despite their effort to stop her.
Turning around, Ms. Tang, in her 80s, demanded the four people show their IDs and search warrant. While they refused to show their IDs, one man introduced himself as a staff member from the residential committee, the other two males said they were with the Yueli District Police Department, surnamed Zhang and Wang, respectively.
Ordered by Wang, the other three agents searched Ms. Tang's home. Wang ordered Ms. Tang to turn in the key to her closet. When she refused to comply, Wang tore down the Falun Gong paintings hanging in her living room. All of Ms. Tang's Falun Gong books and informational materials were also ransacked.
The police claimed that they targeted the couple after Mr. Huang was recorded by surveillance camera distributing informational materials about Falun Gong. They tracked him down and found his address.
The elderly couple was brought to the Yueli District Police Department and interrogated in separate rooms. They were released at around 8 p.m.
Locked Up in Brainwashing Center and Psychiatric Hospital
Shandong Man Suspended from Work, Held in Brainwashing Center for a Month
Since the second half of 2020, Falun Gong practitioners at Gudao Oil Production Plant of Sinopec Shenli Oilfield in Dongying City, Shandong Province have been targeted in the "zero-out" campaign.
The "zero-out" harassment campaign aims to force all Falun Gong practitioners on the government's blacklist to renounce their faith. To that end, the police, street residential committees, and the targeted practitioners' workplaces were all mobilised.
At the Gudao Oil Production Plant, the company's Party Committee, Petition Office, and Workers' Union together arranged meetings with practitioners, both current and retired employees, mostly with the presence of the police. During the meetings, practitioners were threatened with employment termination, pay and bonus deduction, or obstacles for their children in seeking jobs or promotions if they refused to renounce their faith in Falun Gong. Some practitioners were required to surrender their ID cards.
One of the company's employees, Mr. Li Bing, in his 30s, was first taken to a brainwashing session at Jindao Hotel in early December 2020. Several psychological experts were hired by the authorities to give brainwashing lectures, aiming to force him to give up Falun Gong.
While Mr. Li was released weeks later, Liu Shuting, the company manager, suspended him from his position on April 1, 2021, under the order of the company 610 Office. Mr. Li was held in isolation and ordered to hand-copy the history of the Chinese Communist Party, as well as writing statements to renounce Falun Gong.
As Mr. Li refused to comply, the authorities withheld 2,500 yuan from his monthly pay, leaving him with 500 yuan each month only. With rapidly increasing prices, the financial persecution caused tremendous difficulty to Mr. Li's family, especially given that he needs to support his parents and child. He appealed to manager Liu several times. Liu claimed that the decision came from the company's leadership, but he couldn't provide any formal documents about it, with an excuse that it's confidential.
Weeks later, Liu took out a notice that one would be deprived of "pay for performance" compensation if one can't generate income for the company. He used that as the justification to suspend Mr. Li's pay and ordered him to sign it. Mr. Li said he had no objection to the notice, but it's not that he can't work and generate income for the company, but the company itself suspended him from his job. As such, it shouldn't be him who bears the consequences. He refused to sign the notice.
To seek justice, Mr. Li appealed with the company's workers' union and Dongying City Human Resource and Social Security Bureau, accusing his manager of violating his employment contract. While an officer accepted his appeal, he later returned it, hinting that they received a call from the local Political and Legal Affairs Committee, which pressured them not to accept Mr. Li's case.
Between November 16 and 17, Wen Shuming, an agent of Shengli Oil Production Plant 610 Office, pressured Mr. Li and tried to force him to renounce Falun Gong.
After Mr. Li exposed Wen's persecution on Minghui, overseas Falun Gong practitioners called Wen and urged him to stop participating in the persecution. Wen found Mr. Li on December 2 and said he was very angry to receive those calls. He reported Mr. Li to the police, who harassed Mr. Li the day after and ordered him to write a repentance letter.
Police officers Ren Anyuan and Ma Yuqiang harassed Mr. Li again on December 6 and asked him how he submitted the information to Minghui.
Weeks later, in late December, Mr. Li was arrested and taken to the Jishu Brainwashing Center. His company arranged for four employees to take turns monitoring him. He was held there for a month and released around January 22, 2022.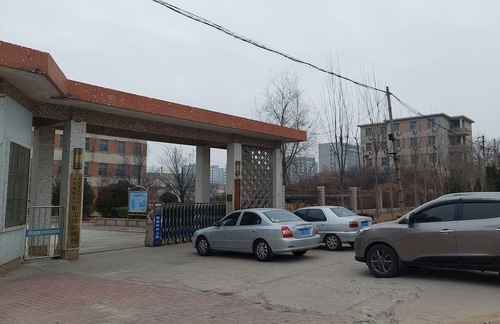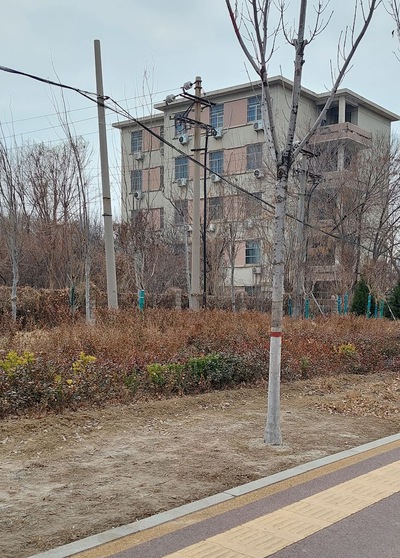 Healthy Woman Held in Psychiatric Hospital for 27 Days
Ms. Wu Xiuying, a Pengzhou City, Sichuan Province resident, was held in a psychiatric hospital for 27 days, simply for upholding her faith in Falun Gong.
Ms. Wu was arrested at home by agents from her local village committee, township government and police on October 5, 2021. They confiscated her Falun Gong books and forced her to fingerprint a document about her case.
Ms. Wu was then held in Pengzhou City Psychiatric Hospital for 27 days. She was forced to take psychiatric drugs three times during her stay and was beaten when she resisted. The authorities have continued to harass her after she was released.
Guangxi Woman Detained at Brainwashing Center for Practicing Falun Gong
Ms. Meng Liuli is a native of Baise City, Guangxi Province, who currently resides in Nanning City of the same province. She was arrested close to midnight on December 15, 2021 by a group of police officers who barged into her home. Her family was informed the next day that she has been sent to Baise Law Education Centre (brainwashing centre) for "further education."
Recently, several Falun Gong practitioners in Guangxi Province were harassed by officers from the 610 Office for refusing to renounce their faith. When the practitioners refused, some were arrested on the spot and taken to the brainwashing centre, often known as "Law Education Centre" to the outside.
The Baise Law Education Centre is located in the Paibaiyun Hotel, which has been rented by the 610 Office for many years to persecute Falun Gong practitioners. Many practitioners from the 12 counties and districts in Baise have been detained here and subjected to brainwashing and torture. Ms. Wang Zhen, a medical school employee, died on September 22, 2016, following a ten-day detention at the brainwashing centre two months ago. She was 47.
Repeatedly Targeted
Jilin Woman Arrested Five Months After Serving 1.5 Years
Ms. Sun Yazhen, a 62-year-old woman in Jilin City, Jilin Province, was arrested on February 14, 2022, one day before the Lantern Festival, the last day of the Chinese New Year holiday season.
Ms. Sun's latest arrest came only five months after she was released from serving 1.5 years for her faith in Falun Gong. Her family has been kept in the dark about her current situation, and they are very worried about her.
Four years ago, on February 3, 2018, also near the Lantern Festival, Ms. Sun was arrested for talking to people about Falun Gong at a shopping mall. She was later sentenced to 1.5 years in prison with three years probation.
Although she was released after seven months of detention, she was placed under close surveillance upon returning home and was ordered to report to the residential committee every month. She used these opportunities to tell the staff members there about Falun Gong. After a few times, she was ordered to go there every week.
Since Ms. Sun remained steadfast in her belief, eight people from the local 610 Office and the residential committee showed up at her home in March 2019. They videotaped her home and searched for Falun Gong materials to use as "evidence" to persecute her. To avoid the harassment, Ms. Sun left home to live at her sister's home, only to be arrested again on November 17, 2020.
The authorities suspended Ms. Sun's probation and took her to the Jilin Province Women's Prison to finish serving her term. After she was released a year later in November 2021, the residential committee staff members kept calling her family and asking about her situation.
Ms. Sun was arrested one more time on February 14, 2022, while visiting another practitioner, Mr. Yue Nailiang, who was arrested on the same day for pasting a New Year decoration with information about Falun Gong on his mother's door. With Mr. Yue's younger brother, Mr. Yue Naiming, still serving a three-year term for his faith in Falun Gong, their 83-year-old mother was dealt a heavy blow by Mr. Yue Nailiang's arrest.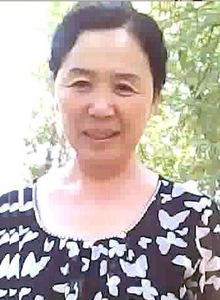 Arrested While Job Hunting, Former Teacher Faces Prosecution Again
Having served 5.5 years for practicing Falun Gong, Ms. Liu Yurong, a Jinzhou City, Liaoning Province resident, is facing prison time again for her faith.
Ms. Liu, a 60-year-old former teacher at Cuiyan Town Middle School, began to practice Falun Gong in September 1997. She credits the practice for curing her conditions in her kidney, stomach and liver.
Ms. Liu was previously arrested in 2008 and sentenced to six years for upholding her faith. She suffered a stroke due to the torture in custody and was released one year ahead of time in 2013. Upon returning home, she was devastated to find that she had been fired by the Linghai City Education Bureau and her 14 years of service was wiped out from pension formula, resulting in no retirement benefits. She did part-time jobs caring for seniors to make a living.
While visiting another practitioner Ms. Kang, in her 70s, on November 27, 2021, to ask for her help to find job opportunities, Ms. Liu was arrested by the police on the lookout. She was put on criminal detention and taken to the Jinzhou City Women's Detention Centre that evening.
Her family frequented the Beijiao Police Station to seek her release, but to no avail. Officers of Taihe District Domestic Security Office quickly submitted her case to the Linghai City Procuratorate, which approved her arrest soon after.
In order to frame Ms. Liu, Liu Changjie and Li Lei of the Domestic Security Office attempted to force her to plead guilty and admit that she went to Ms. Kang's home to deliver Falun Gong materials, instead of looking for a job. Ms. Liu refused to comply.
Without sufficient evidence, the prosecutor charged Ms. Liu with "attempting to commit a crime" in the indictment.
As Ms. Liu was still recovering from the physical damage caused by the torture in her previous prison term, her family is very concerned whether her symptoms would relapse due to the poor living condition and possible abuse she might face following her latest arrest.
Large Quantities of Cash Confiscated in Police Raid
Over 10,000 USD and Expensive Jewelry Taken from Shandong Woman
Ms. Liu Binghuan, of Jinan City, Shandong Province, was arrested on December 30, 2021, as soon as she left her apartment building. The police claimed that they had monitored her for over six months and they knew she often went out to distribute Falun Gong materials and talk to people about Falun Gong. They listened to her cellphone and recorded videos of her. One officer mentioned that he often stayed outside of her apartment and followed her when she went out on her electric bike.
The police snatched Ms. Liu's keys and confiscated her Falun Gong books, photo of Falun Gong's founder, Falun pins, her younger brother's 10,100 yuan USD, four cellphones, three iPads, as well as her passport and fine jewelry.
At the police station, an officer beat Ms. Liu. She asked for his name, but he refused to answer. He pulled her ears so hard that the skin behind her ears was rubbed off. He also slapped her in the face and choked her neck. He didn't let go until she was almost suffocated.
The police also kept Ms. Liu handcuffed behind her back for a long time and covered her head with a black plastic bag. Only after her strong protest did the police remove the bag.
During the three rounds of interrogation, Ms. Liu wasn't allowed to sleep for an entire day. In addition to questioning which practitioners she had contact with, the police also asked how many people were in her family and how much was the balance of her bank account. Her brother, Mr. Liu Binglei, was also arrested, beaten and interrogated.
Ms. Liu was released on the next evening after she was found to have high blood pressure and rapid heartbeat. She demanded the police return her personal belongings, but they only gave her 500 yuan back. She has been living away from home since to avoid further persecution.
In addition to her latest arrest, Ms. Liu has served a year of forced labor between 2008 and 2009. Her mother, Ms. Li Sufang, who also practiced Falun Gong, was sentenced to five years in 2017 for talking to people about Falun Gong. She developed high blood pressure due to the mental pressure and physical torture and passed away in late 2019.
200,000 Yuan Debit Card Snatched
On November 20, 2021, one day after Ms. Li Ping, of Jiujiang City, Jiangxi Province, was arrested for practicing Falun Gong, the police went into her home, with the keys taken from her, and ransacked the place, when no one was at home.
The police confiscated Ms. Li's computer, over 10,000 yuan in cash and a debit card with 200,000 yuan saving, without providing a confiscation list. They also threatened her family not to report the raid, or Ms. Li would face a heavier prison term.
At the police station, Ms. Li was forced to wear handcuffs and shackle. She was denied of restroom use and not allowed to sleep. Pressured by the police and worried about her son still in elementary school, she was forced to sign the "confession" prepared by the police against her will. The officers who handled her case refused to reveal their names.
Ms. Li's mother later hired a lawyer to represent her. After the police found out, they intimidated her younger brother and husband. The police also questioned her husband about other Falun Gong practitioners she had contact with, claiming that as long as he reported on other practitioners, she would be released.
150,000 yuan Cash Confiscated in Home Raid
Ms. Liu Yuhua, 69, and Ms. Yu Guilan, 73, of Tonghua City, Jilin Province, were arrested on February 13, 2022, while talking to people on the street about Falun Gong. The police snatched their keys and ransacked their homes. A total of 150,000 yuan in cash was taken away from Ms. Liu's home, as well as a few thousand yuan kept in a separate place. Her computer, printer and other personal belongings were also confiscated.
Another group of officers ransacking Ms. Yu's home also took away tens of thousands yuan in cash.
Both women were released on the evening of February 14, 2022, after they were rejected admission by the Tonghua Detention Center due to their physical conditions.
More Harassment Cases
Four Members of an Extended Family Harassed for Their Shared Faith
Four members of an extended family in Pengzhou City, Sichuan Province were harassed multiple times in 2021 for their faith in Falun Gong. The police forced them to fingerprint statements to renounce Falun Gong during the latest harassment on December 7, 2021.
In the wee hours of December 7, 2021, a dozen police officers and village secretaries arrived at Ms. Li Yongxian's home in Xijing Village.
After Ms. Li opened the door, the police searched every corner of her home, including inside her shoes, in between the layers of her bedding, and inside her closets. When Ms. Li was pushed into the police car, she was surprised to see her younger brother Mr. Li Yonggang and his wife Ms. Wang Xiaoping.
Ms. Li's younger sister, Ms. Hu Guofen, who lived next door, was awakened by the barking of her and her neighbors' dogs. She opened the door to see what was going on, only to find the police officers standing outside of her home.
Officer Liu Yong came over and ordered Ms. Hu to turn in her Falun Gong materials. He threatened to search her home if she didn't. Ms. Hu refused to comply and the police came to raid her home. As they were searching, the light in her room suddenly went out and the police decided to stop.
When the police tried to arrest Ms. Hu, her daughter cried and begged them not to take her away. But the police insisted to arrest her.
Ms. Hu, her two siblings, and her sister-in-law were then brought to the village office. They were held in separate rooms and interrogated. When all of them refused to sign the prepared statements to renounce Falun Gong, the police forced them to put their fingerprints on the documents. None of the officers showed their IDs during the entire process.
Ms. Hu said she tried to clarify the facts about Falun Gong to the police. The police listened and didn't argue with her. One officer still ordered her to sign three documents, while only allowing her to take a look at the titles. The first one was a statement for her to promise never to practice Falun Gong again. The second one was to renounce Falun Gong and admit her mistake in practicing it. Before she could read the title for the third one, the police had already taken them away. Ms. Hu refused to sign the documents, but Liu ordered the officers to force her to fingerprint them.
Chinese Police Stop at Nothing to Pressure Elderly Woman to Give Up Her Faith
After Ms. Xin Chunting moved to the Longting District in Kaifeng City, Henan Province, in November 2018, she has been constantly harassed by Zhao Penghui, the deputy chief of Beijiao Township Police Station.
Following an arrest on December 16, 2020, the police stole her keys and secretly installed tapping devices on her electric scooter and tricycle. Since then, she often felt something was wrong after she got home; it was either something wasn't working or things were misplaced.
Fearing for her safety, she spent hundreds of yuan to switch to fingerprint locks, in order to prevent the police from coming in again.
When Ms. Xin returned home at 4 p.m. on December 27, 2021, she found her door open and the lock broken. A bag was missing, and the new switchboard was broken. Some of her Falun Gong books were gone but showed up a few days later.
She asked the property manager to show her the surveillance video for that day, but was told the video stopped at around 3:10 p.m. She suspected that Zhao had ordered the property manager to delete the video of him entering her home. She later discovered that, to monitor her, Zhao had wiretapped her room and had her community's surveillance videos streamed to his device.
She wrote letters to the local police departments, appeal offices, procuratorate, and courts, explaining why practicing Falun Gong was legal. Zhao called her on January 12, 2022, and accused her of propagating freedom of belief. She told him that the only thing that was illegal here was him wiretapping and breaking into her home.
Six days later, Zhao and three men from the local procuratorate came to interrogate her on the morning of January 18. They went to her daughter's home to intimidate her family and in-laws in an attempt to pressure her into giving up my faith. Her family was worried sick and couldn't spend the Chinese New Year holiday in peace.
Police Continue to Harass Elderly Woman After Prosecutor Dismisses Her Case for Practicing Falun Gong
A prosecutor in Ju County, Shandong Province dismissed the case against local resident Ms. Sun Shifen for practicing Falun Gong, but the police continued to harass the elderly woman, who is in her 70s.
Ms. Sun's ordeal started in June 2019 after she was noticed by the police for putting up two stickers that said "Falun Dafa is good" and "Truthfulness, Compassion, Forbearance is good" on utility poles. A group of officers first harassed her at home on the morning of June 18, 2019. After the police left, she sought shelter at her son-in-law's home in the nearby village, only to be followed there by police.
Three officers ransacked Ms. Sun's home on the next morning and took away her Falun Gong related materials, including magazines, calendars and posters. Ms. Sun was brought to the Guozhuang Police Station, forced to fingerprint some case documents and given ten days of administrative detention. Due to her advanced age, the detention wasn't enforced.
The police ransacked Ms. Sun's home again on November 4, 2020 and confiscated her Falun Gong books, a computer memory card with Falun Gong's teachings and eight posters.
The police returned a day later and forced her to fingerprint more documents. They came again on November 10 and questioned her on where she got the informational materials about Falun Gong. Her oldest daughter was taken to the Guozhuang Police Station on the same day and threatened with monetary fines. On November 11, the police issued a notice to put Ms. Sun on bail.
On January 7, 2021, the Wulian County Procuratorate returned Ms. Sun's case to the police, citing insufficient evidence. In June 2021, the prosecutor decided to dismiss her case and also lift her bail condition.
The police, however, didn't give up targeting Ms. Sun. They harassed her again on September 27, and removed the decoration at her home that said "Falun Dafa is good; Truthfulness, Compassion, Forbearance is good." They also attempted to take away her music player for Falun Gong exercises music.
Another group of officers harassed Ms. Sun one more time on October 13, 2021 and attempted to force her to write a statement to renounce Falun Gong.
Views expressed in this article represent the author's own opinions or understandings. All content published on this website are copyrighted by Minghui.org. Minghui will produce compilations of its online content regularly and on special occasions.