______________________________
(Minghui.org) The first month of 2022 recorded 132 Falun Gong practitioners sentenced to prison for their faith, including 8 cases that took place in 2020, 88 cases in 2021 and 36 cases in 2022.
Falun Gong, also known as Falun Dafa, is a spiritual discipline that has been persecuted by the Chinese communist regime since 1999. Since then, countless practitioners have been arrested, detained, sentenced, and tortured for upholding their faith. But due to strict information censorship in China, the persecution cases can't always be reported in a timely manner, nor is all the information readily available.
The newly-confirmed 132 sentencing cases are scattered across 20 provinces and municipalities. Beijing, the host city of the 2022 Winter Olympics, registered the highest number at 17 cases, followed by 16 in Guangdong Province and 14 in Heilongjiang Province. Liaoning (12), Jilin (11), Hebei (10) and Shandong (10) also had double-digit cases. The remaining regions had cases numbering between 8 and 1.
At least 31 of the practitioners sentenced were 60 years or older as of January 2022, including 13 in their 60s, 12 in their 70s and 6 in their 80s.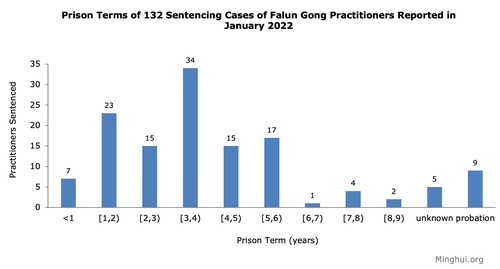 In mid-January 2022, weeks before the Winter Olympics kicked off in Beijing, the authorities sentenced 11 local residents from two to eight years for sending photos of the empty city during the pandemic to overseas media.
In response to the blatant human rights violation, the U.S. Department of State urged the Chinese Communist Party to "immediately end its depraved abuse and mistreatment of Falun Gong practitioners, release those imprisoned due to their beliefs, and address the whereabouts of missing practitioners," reported a State Department official in an email to The Epoch Times.
"Since 1999, the Communist Party of China (CCP) has sought to eradicate Falun Gong, a spiritual practice originating in China, and its peaceful practitioners and human rights defenders who have fought for their right to practice their beliefs," the email continued.
"Extensive evidence shows the PRC government continues to repress and abuse this community to this day," the official wrote, adding that thousands of Falun Gong practitioners face detention, harassment, and reported torture and abuse each year for simply practicing their beliefs.
David Matas, a human rights lawyer in Canada, sees a direct connection between heavy sentences and the upcoming Winter Olympics. The sentencing shows that the CCP intends to intimidate those who dare to voice opinions different from those allowed by the regime.
In fact, it has become a protocol for the CCP to intensify persecution before and during the Olympics to discourage dissidents from exposing the regime's brutality during such major events.
The heavy sentences are totally politically driven, explained Matas. In China, punishment such as prison sentence would put a damper on any behaviors or belief different from the CCP's official voice. The prison sentences are based on the regime's "political needs" and lacks consistency. With the Winter Olympics, the CCP hands down heavier sentences to suppress different voices in order to look good in front of visitors. These measures, of course, make the CCP look even worse.
Below are snapshots of some of the sentencing cases reported in January 2022.
Sentenced Before the Beijing Winter Olympics
Eleven Falun Gong Practitioners in Beijing Sentenced to Prison Ahead of Winter Olympics
Eleven Falun Gong practitioners were sentenced by the Dongcheng District Court in Beijing on January 14, 2022, after being arrested for sending photos of the empty city during the pandemic to overseas media. The sentencing came weeks before the 2022 Winter Olympics, set to be held in China from February 4 to 20.
– Ms. Xu Na was sentenced to eight years with a 20,000-yuan fine.– Mr. Li Zongze, Mr. Li Lixin, Ms. Zheng Yujie, and Ms. Zheng Yanmei were each sentenced to five years with 10,000-yuan fines.– Ms. Deng Jingjing, Mr. Zhang Renfei, Mr. Liu Qiang, and Ms. Meng Qingxia were each sentenced to four years with 8,000-yuan fines.– Ms. Li Jiaxuan and Ms. Jiao Mengjiao were each sentenced to two years with 4,000-yuan fines.
The eleven practitioners were arrested on July 19, 2020 by over 100 police officers. Officers from the Ministry of State Security saw photos of Beijing published on The Epoch Times website in June 2020. By examining surveillance videos, the officers saw Ms. Xu and other practitioners walking by and thus began to monitor them.
After the practitioners were indicted on April 2, 2021, the judge for the Dongcheng District Court hampered their lawyers from reviewing their case documents. He ruled that only when all the lawyers representing the eleven practitioners came to the court at the same time, would he allow them to see the documents. Additionally, the lawyers weren't allowed to make copies or take photos of the documents, nor would the court provide any paper or electronic copies of the files.
The practitioners stood trial on October 15, 2021 and were sentenced on January 14, 2022.
Prior to her latest sentencing, Ms. Xu was also targeted during the 2008 Beijing Olympics and sentenced to three years in November 2008. Her husband, well-known folk singer Mr. Yu Zhou, died in custody 11 days after their arrests in January 2008. He was 42.
Another Beijing Resident Sentenced Before the Winter Olympics
Another Beijing resident, Mr. Lei Zhongfu, was also sentenced to prison prior to the Winter Olympics.
Mr. Lei was arrested around August 2020 and has been detained incommunicado since. His latest arrest was due to his determination to uphold his faith in Falun Gong during the "Zero-out" campaign in March 2020, a coordinated harassment operation targeting every practitioner on the government's blacklist. Another practitioner arrested with him, Ms. Zhao Chunying, has also been detained incommunicado since March 2020.
Mr. Lei's family was notified in early 2022 to go to the courthouse to pick up his verdict. Details about his sentencing aren't yet available.
Mr. Lei is retired from the China Construction Second Bureau. Since the onset of the persecution in 1999, he has been arrested and incarcerated several times. He was arrested on March 9, 2002, and sentenced to three years. Similar to Ms. Xu, he was also arrested before the 2008 Beijing Olympics and held in the notorious Masanjia Forced Labor Camp in nearby Liaoning Province for over three years.
During the harassment campaign in March 2020, he was forced to submit to a physical examination and have blood samples and photos taken. The police also forced him to sign a form alleging that he had the physical exam voluntarily before allowing him to go home.
Two Beijing Residents in Their 30s Sentenced to Prison
The Haidian District Court announced guilty verdicts against Ms. Liu Zixuan and Ms. Ye Linlin on December 10, 2021. Both were sentenced to four years for practicing Falun Gong.
Ms. Liu, 30, and Ms. Ye, 32, were arrested at their shared apartment in Beijing at around 10 p.m. on August 7, 2019. Officers from the Xisanqi Police Station ransacked their place and confiscated their Falun Gong books, printers, laptop computers, and 40-50 copies of informational booklets about Falun Gong.
A prosecutor later revealed that the two women were recorded by surveillance cameras entering a residential area, and that they were thus suspected of distributing Falun Gong materials there. Pamphlets found by officers in the neighborhood were later used as prosecution evidence against them.
The police ordered both practitioners to write statements renouncing Falun Gong. They also showed them renunciation statements written by two other practitioners and told them they could shift the blame to the other practitioners to exonerate themselves. But both refused to betray their conscience. They have since been held at the Haidian District Detention Center.
The Haidian District Court initially scheduled a hearing in September 2020 but postponed it at least five times before finally holding a hearing on February 25, 2021.
During the practitioners' second hearing on August 4, both Ms. Liu's grandmother, in her 80s, and Ms. Ye's mother came to attend. Judge Tan claimed that Ms. Liu's grandmother, the only person from her family who was able to attend the hearing, wasn't her immediate family and blocked her entry into the courtroom.
When the elderly woman tried to reason with Tan, a male officer came over and shouted at her, and with another officer, they dragged the elderly woman outside of the courtroom. Ms. Ye's mother was allowed to attend the hearing.
Sentenced for Speaking Up for Their Faith
Man Secretly Sentenced After Being Reported by Village Secretary for Talking to Him about Falun Gong
Mr. Wang Defu, a Dingxing County, Hebei Province resident, went to the nearby Xiaojinzhuang Village to talk to people about the persecution of Falun Gong on March 23, 2021. He ran into village secretary Xiao Shan, who refused to listen to him and slammed his head against the wall. Mr. Wang's head was covered with blood. Xiao called the police, who took Mr. Wang to the Liuzhuo Village Police Station. After a coronavirus test, he was taken to the Dingxing County Detention Centre.
Mr. Wang's family was never allowed to visit him or send daily necessities to him. A guard later revealed to them that Mr. Wang had been sentenced to three years and would be transferred to the Jidong Prison.
Shortly after, Mr. Wang's wife received a letter from the prison, stating that he was sentenced to three years on charges of "undermining law enforcement" (the standard pretext used to criminalize Falun Gong practitioners) and is now held at the Jidong No. 4 Prison. Dated December 20, the letter also said that the prison sentence was determined by the authorities in Baoding and had nothing to do with Dingxing County, which is under the administration of Baoding.
Mr. Wang's sentence has left his family in deep distress. His mother had had back surgery and was only just able to begin walking on her own. His wife was saddened by his imprisonment. He also has an older brother, who is blind.
Hebei Woman Sentenced After Being Recorded by Surveillance Cameras Distributing Falun Gong Materials
Ms. Li Lianye, of Handan City, Hebei Province, was reported by the secretary of Dashe Town on June 30, 2021, for distributing informational materials about Falun Gong there the night before. The authorities identified the license plate of Ms. Li's car and located her residence from searching surveillance videos.
A group of officers arrested Ms. Li at home on July 15, 2021. Her private vehicle and a cellphone were confiscated. After being interrogated at the Tushan Village Police Station, she was taken to the Handan City No. 3 Detention Centre.
The police returned to Ms. Li's home on July 17 and searched her basement. Based on information from her cellphone, they found her other residence and ransacked it on July 18.
The Ci County Court held a video hearing of Ms. Li's case at the detention centre on December 6, 2021. Her lawyer entered a not guilty plea for her. The judge sentenced Ms. Li to three years with a 3,000-yuan fine on January 4, 2022.
Zhejiang Man Sentenced for Telling His Go Game Students About Falun Gong
A Hangzhou City, Zhejiang Province, man was arrested on April 24, 2021, for talking to his Go game students about Falun Gong. While Mr. Hong Chang was held at a local detention center, the guards arranged six inmates to monitor and torture him. They barred him from calling or meeting with his family. They also restricted him from talking to others or buying any daily necessities. The Xihu District Court sentenced him to a five-year prison term with a 50,000-yuan fine in late December 2021.
Prior to his latest sentencing, Mr. Hong, 53, had served a labor camp term and two prison terms, totaling eight years, for upholding his faith. As he refused to renounce Falun Gong in the labor camp, he was tortured with the tiger bench, force-fed chili pepper water, and had his toes burned with a lighter. While he was serving a prison term, the guards and inmates often deprived him of sleep and forced him to stand for up to 20 consecutive hours. They also starved him, handcuffed his wrists behind his back, and shocked his neck with electric batons.
Liaoning Woman Sentenced to 4.5 Years for Tweeting about the Persecution of Her Faith
Ms. Song Xiaomei, a 51-year-old Dalian City, Liaoning Province resident, was arrested at home on June 1, 2021. The police refused to show their IDs, even after her family repeatedly asked them to. Ms. Song's Falun Gong books (over 70 in number), several cellphones, and a computer were confiscated.
Officer Meng Fanyu struck Ms. Song on the head and verbally abused her at the Fude Police Station. He ordered her to unlock her cellphone. She refused to comply and her blood pressure increased. The police also tried to deceive Ms. Song's family into testifying against her by promising to give her a lighter sentence should they cooperate.
The police revealed that Ms. Song tweeted information about the persecution of Falun Gong and "slandered" the leaders of the Chinese Communist Party during a trip to Japan and her posts were retweeted by several people. Because of that, she was charged with "undermining law enforcement" and her arrest was approved on June 17.
Ms. Song's family later learned from her lawyer that officer Meng had beaten her following her arrest. When they tried to seek justice for her, another officer said to them, "We won't address any complaint about [the persecution of] Falun Gong. You can file the complaint with whomever you want."
Ms. Song appeared in the Pulandian District Court on November 29, 2021. Her lawyer entered a not guilty plea for her. Her family wasn't informed of the hearing, but recently learned that she has been sentenced to 4.5 years. Ms. Song has appealed the verdict.
Senior Instrumentation Engineer Sentenced for Distributing Informational Flyers
Ms. Jin Chengrong, a senior instrumentation engineer in Tianjin, was sentenced for distributing informational flyers about Falun Gong.
Ms. Jin, 57, was arrested and had her home ransacked in December 2020 by officers from the Ruijing Police Station. She was held at the Beichen District Detention Centre. Ms. Jin was secretly tried in August 2021 and sentenced to three years with a 10,000-yuan fine. The Tianjin City Women's Prison has denied her family visits since she was taken there.
Ms. Jin used to suffer low blood pressure, breast hyperplasia, chronic cough and thyroid cancer. After taking up Falun Gong in 1996, all of her ailments disappeared. She felt compelled to share her story with people and clarify the facts about Falun Gong, so she often distributed informational materials in her spare time.
Prior to her latest sentencing, Ms. Jin was arrested in January 2007 and sentenced to three years with three years of probation. Her family lived in fear as a result of the repeated persecution against their loved one. Her workplace also reduced her monthly salary to 700 yuan, between May 18, 2007 and May 18, 2010.
Guangdong Man Sentenced to Eight Years for Raising Awareness about the Persecution of Falun Gong
A man in Shenzhen City, Guangdong Province, was sentenced to eight years and fined 5,000 yuan for spreading information about Falun Gong.
Mr. Guan Yibo, 52, turned on a portable wifi server while taking the subway to work on May 30, 2019. When the passengers connected to the wifi, they would receive information about Falun Gong on their phones. One of the passengers who received the information reported Mr. Guan to the police. The police waited at the subway station the next morning and arrested Mr. Guan on his way to work. His home was also ransacked.
Mr. Guan was taken to the Shenzhen City No.2 Detention Centre on June 1 and transferred to the Nanshan District Detention Centre on September 16.
The Nanshan District Court held a video hearing on March 19, 2021. The judge announced the verdict on July 28. Mr. Guan appealed to the Shenzhen City Intermediate Court, which ruled to uphold his original verdict on September 18.
Mr. Guan is the sole breadwinner in his family. His sentencing has greatly distressed his elderly parents and young children.
Elderly Citizens Targeted
84-year-old Woman Sentenced for Her Faith After Losing Husband Due to Persecution
Ms. Yin Wenyan, a widow in Wuhan City, Hubei Province, was recently sentenced to one year with a one-year probation for practicing Falun Gong. Ms. Yin, 84, was also ordered to report to the local justice bureau twice a week. She has to apply for permission from the justice bureau if she plans to travel out of Wuhan. Her term is set to expire on October 21, 2022.
Ms. Yin, a retired senior medical engineer, was reported for distributing Falun Gong materials on August 2, 2019. The police located her residence through surveillance videos and arrested her three days later. Her home was also ransacked. She was interrogated at the police station until 2 a.m. and then released on bail. The police put her on residential surveillance a year later, on August 5, 2020.
The authorities have been constantly harassing her during that time. It also happened that her son passed away from illness. While still mourning their son's death, Ms. Yin and her ailing husband moved away from home to avoid further harassment. But her husband could not withstand the mental pressure and passed away soon after.
Worried about Ms. Yin, one of her relatives invited her to stay with her, yet the police continued to harass her over the phone. Not wanting her relative to be implicated, Ms. Yin returned home in December 2020. The police soon knocked on her door. An officer from the Wuchang District Justice Bureau also called her, but he refused to reveal his name when asked for it.
The police told Ms. Yin that they had submitted her case to the Wuchang District Procuratorate. The prosecutor indicted her on January 4, 2021, and moved her case to the Wuchang District Court. Ms. Yin stood trial on July 23, 2021.
In late December 2021, two staff members from the Wuchang District Court visited Ms. Yin and delivered the verdict to her: she was sentenced to one year with a one-year probation and fined 2,000 yuan. She was also ordered to attend a "community correction program" during her term.
Two Women in Their 80s Sentenced to Prison
Two women in Shuangyashan City, Heilongjiang Province, were sentenced on December 22, 2021, for their faith in Falun Gong. The Hongxinglong Court summoned Ms. Yang Wenshu and Ms. Liu Guiqing, both in their 80s, on December 20. When they refused to appear due to their health, court officials showed up at their homes two days later to announce the verdicts.
Ms. Yang, 80, and Ms. Liu, 83, were each sentenced to one year and fined. Ms. Yang was originally given six months, but because she refused to plead guilty and urged the court employees not to participate in the persecution, they extended her term to one year.
The women were reported by the parents of a student for talking to the student about Falun Gong on October 14, 2020. The police located the practitioners via surveillance cameras and followed them for the next two days.
Ms. Yang and Ms. Liu were arrested on October 16 as they were distributing informational materials about Falun Gong in a residential area. The police ransacked their homes and confiscated their Falun Gong books, photos of Falun Gong's founder, computers, printers, copy paper, and banknotes with information about Falun Gong printed on them.
(Due to strict information censorship in China, many practitioners use creative ways to raise awareness about the persecution, including printing short messages on banknotes.)
Both women were released at 9 p.m. on the day of their arrests They were forced to wear GPS tracking bracelets and prohibited from leaving a police-designated area. Ms. Liu started to have difficulty walking. The police stayed outside of the two women's apartments to monitor them. As the two women were neighbors, they were accused of having a "gathering" every time they visited each other. The police, who then submitted their case to the procuratorate, harassed the women several times, asked them questions, and took their photos.
73-year-old Woman Sentenced to 5.5 Years
Ms. Liu Lili, of Tangshan City, Hebei Province, was recently sentenced to 5.5 years for practicing Falun Gong. It was reported that no formal trial was held and that the verdict was announced at the Tangshan City No. 1 Detention Centre. Other details of her sentencing aren't available at the time of writing.
Ms. Liu's latest sentencing stemmed from a police raid on July 13, 2019, when over 30 officers broke into her home and ransacked her residence. Although the police relented and didn't arrest Ms. Liu after her bedridden mother-in-law begged them not to, the officers frequently came back to harass Ms. Liu and her family, sometimes taking photos of them.
Traumatized by the police, Ms. Liu's mother-in-law, in her 90s, and Ms. Liu's husband, who had been struggling with sequelae from a stroke and blindness for over two decades, passed away one after another.
Ms. Liu had always enjoyed good health since she took up Falun Gong in 1996, enabling her to care for her bedridden husband and mother-in-law. But the frequent harassment took a toll on her health.
The police searched Ms. Liu's home again in August 2020 and took her to the local police station for interrogation. She denied any wrongdoing in practicing Falun Gong. After the Tangshan City No. 1 Detention Centre refused to admit her upon finding out she had multiple ailments, the police forced her son to pay a 10,000-yuan bail bond before releasing her.
Over the next few months, the police harassed and intimidated Ms. Liu several more times. Shortly after she was taken to the procuratorate to answer questions in February 2021, the police made another attempt to detain her on March 17. The Tangshan City No. 1 Detention Centre again refused to accept her due to a serious medical condition, but the police managed to force the guards to accept her on March 20.
Two Henan Women, 60 and 80, Sentenced to Prison
Two Xinyang City, Henan Province residents are appealing their wrongful sentences for practicing Falun Gong.
Ms. Bai Yuzhen, 80, was arrested at home on June 22, 2021. The other practitioner, Ms. Jin Yuling, 60, who happened to be visiting her, was also arrested. Both women also had their homes ransacked.
Ms. Jin and Ms. Bai were tried by the Huangchuan County Court at the Xinyang City No. 1 Detention Centre on December 14, 2021. Due to Ms. Bai's advanced age, she staggered while walking into the makeshift courtroom. The judge kept both of them handcuffed throughout the hearing.
Prosecutor Wu Weichen of the Huangchuan County Procuratorate accused the women of "undermining law enforcement," the standard pretext used to criminalise Falun Gong practitioners. He presented Falun Gong books, informational materials, media players, and banknotes confiscated from their homes as prosecution evidence.
Another piece of evidence was the footage of two women recorded by surveillance camera in a mall. In the video, both women were wearing masks and hats. It can't be seen clearly whether they truly were Ms. Bai and Ms. Jin. It was also not clear whether Ms. Bai and Ms. Jin have acknowledged whether it was they who were recorded.
The two practitioners' lawyers entered not guilty pleas for them. The practitioners also testified in their own defense and recounted how they benefitted from practicing Falun Gong. They argued that the police ransacked their homes when no one was present. They argued that since the police violated the law in the first place, the items presented shouldn't be admissible as prosecution evidence against them. Judge Zhang Junjun constantly interrupted the women.
The judge announced the practitioners' verdicts on January 11, 2022. Ms. Jin was sentenced to 3.5 years in prison with an 8,000-yuan fine. Ms. Bai was given 3 years with a 5,000-yuan fine. They have appealed with the Xinyang City Intermediate Court.
Families' Plights
Senior Software Engineer Sentenced to Prison and Wife Awaiting Her Verdict, for Their Shared Faith
A senior software engineer in Changchun City, Jilin Province was sentenced to a 1.5-year prison term for practicing Falun Gong. His wife is awaiting the verdict for her shared faith.
Mr. Xie Rongchun, 51, and his wife, Ms. Xu Lina, 40, were first harassed by residential committee staff members on April 17, 2021. The residential committee staff members attempted to deceive the couple into opening the door by claiming to be providing free coronavirus vaccine shots. As the couple refused to open the door, the police came back three days later and arrested them.
They were first given 15 days of administrative detention in the Weizigou Lockup, then put on criminal detention on May 5. Mr. Xie was transferred to the Changchun City No. 3 Detention Centre, and Ms. Xu was taken to the Changchun City No. 4 Detention Centre.
The police submitted Mr. Xie's case to Liu Yang of the Chaoyang District Procuratorate. He was tried by the Chaoyang District Court through video conference on September 29. The presiding judge, Zhao Ruoyu, later sentenced him to 1.5 years on December 29, 2021. Mr. Xie is scheduled to be released on November 5, 2022.
Ms. Xu's case is being prosecuted separately. She has made one court appearance and is now awaiting the verdict.
When Mr. Xie's parents, who are in their 80s, went to the detention centers to visit the couple, they were so grief-stricken by their incarceration that they were unable to stand on their own.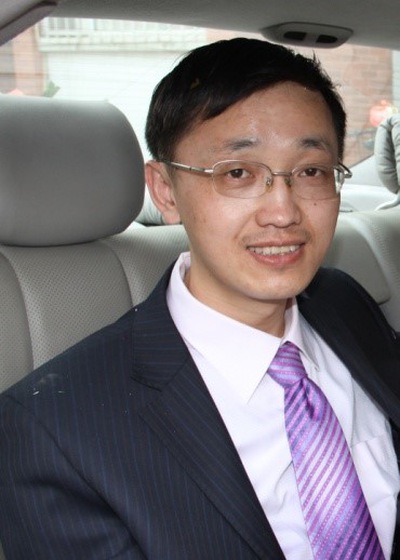 Husband Sentenced to 5.5 Years, Wife Struggles to Care for Their Toddler by Herself
A few booklets with information about Falun Gong appeared in a neighborhood in Shanwei City, Guangdong Province in early February 2020. Neighborhood secretary Zheng Zequn reported it to the police, who treated it as a major case. After months of investigation, the police arrested Mr. Huang Shengwei, 50, and seven other practitioners on April 9 and June 9, 2020, after accusing them of distributing the booklets.
The police took Mr. Huang's key and ransacked his home when no one was present. His wife's valuables, including more than a dozen pieces of gold jewelry, 7,500 yuan in cash, computers, and bank cards, went missing after the police raid.
The police searched Mr. Huang's home again two days later and left behind disposable gloves and cigarette butts. Mr. Huang's family reported the incident to the police, who denied having taken the valuables and refused to investigate the theft.
When Mr. Huang's wife went to the police department on April 21, 2020 to seek his release, officer Zhong Weicheng said to her, "I'm just going to frame him."
Zhong also recorded videos of Mr. Huang's wife in order to intimidate him and force him to admit to the fabricated charges. Judge Huang Weiqun of the Shanwei City Court later sentenced Mr. Huang to 5.5 years in prison.
When Mr. Huang was arrested on April 9, 2020, his wife was six months pregnant. With his sentencing, she is struggling to care for their toddler, now around 17 months old, and her mother-in-law, who is in her 70s.
Sichuan Couple Sentenced Again for Their Faith, Elderly Mother Dies Due to Grief
A married couple in Chengdu City, Sichuan Province were both sentenced to prison for practicing Falun Gong. The husband's grief-stricken mother, in her 80s, passed away three months following their arrests.
Mr. Li Fuquan and Ms. Liu Kequn were arrested on September 28, 2020, after they were recorded by surveillance cameras distributing informational materials about Falun Gong. Mr. Li was held at the Dayi County Detention Centre and Ms. Liu was kept at the Pi County Detention Centre.
Ms. Liu was arrested at the hospital, while caring for her aunt, who is mute and has trouble walking on her own. The couple's arrests left Mr. Li's mother and Ms. Liu's aunt, both in their 80s, in deep despair.
Mr. Li's mother cried so hard due to the couple's previous arrests and sentencing that she had gone blind. This time, she fell ill from the grief and passed away on January 16, 2021. The couple were sentenced to three years each in mid-August 2021.
Prior to this latest round of persecution, the couple were arrested earlier on May 28, 2004. Mr. Li was sentenced to eight years in the Huangxu Town Prison and Ms. Liu to seven years in the Yangmahe Prison. Mr. Li was beaten by the inmates and suffered broken ribs while in prison.
Repeatedly Targeted for Their Faith
Former Engineer, Paralyzed from Previous Imprisonment, Sentenced Again for His Faith
A former engineer in Dalian City, Liaoning Province who became paralysed after ten years of prison torture was sentenced again for his faith in Falun Gong.
Mr. Lu Kaili (also translated as Lyu Kaili), 57, was arrested on June 20, 2021, after the police saw couplets on his door frame that said, "Truthfulness, Compassion, and Forbearance are the most important; Virtue and good deeds will bring blessings."
June 20, 2021 happened to be Father's Day. As Mr. Lu's own parents passed away many years ago, his only family in Dalian are his wife and parents-in-law, who are in their 80s. His arrest dealt them a heavy blow, especially to his father-in-law who was still recovering from surgery.
After five days at the Dalian City Lockup, Mr. Lu was transferred to the Yaojia detention Centre. The guards initially refused to admit him due to his poor health, but were forced by the police to take him. When his family sought Mr. Lu's release, a police officer said to them, "It's useless for you to talk to me. It's an order from above to arrest him."
Mr. Lu previously sustained a spinal injury after ten years of torture at the Panjin Prison. He had just learned to walk with a single crutch not long before being arrested again. His disability caused him much suffering at the detention centre, where he had to walk without a crutch, on top of suffering from incontinence. The pain in his legs often kept him awake at night. When his lawyer visited him, he was carried out on an inmate's back.
Mr. Lu stood trial at the Ganjingzi Court on December 16, 2021 and was sentenced to an eight-month prison term and fined 5,000 yuan. He has appealed the verdict.
Prior to his latest sentencing, Mr. Lu served two terms in forced labor camps, and one prison sentence. He has spent a total of 13.5 years of the past 23 years behind bars, and suffered torture, including the death bed, being hung up by handcuffs, and being shocked by high-voltage electric batons.
After Mr. Lu intercepted TV signals in 2005 to broadcast a video exposing the crimes of the Chinese Communist Party, he was sentenced to ten years in prison. The prison guards frequently shocked him with electric batons, for hours each time. In 2010, he jumped from the roof of a building because he could no longer tolerate the extreme physical pain. His tailbone was injured and he became paralysed and incontinent.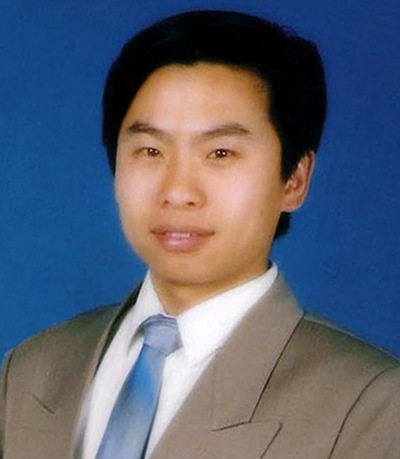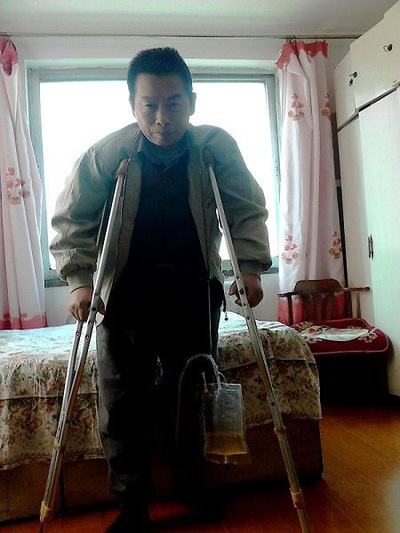 After Spending Over Six Years in Custody, Former Physician Gets Four More Years for His Faith
A former doctor in Kunming City, Yunnan Province, was seized from his home at night on April 21, 2021, for refusing to renounce his faith in Falun Gong.
Dr. Hu Jinzhao, 54, was detained in the Panlong District Second Detention Centre and denied family visits. His family asked around and finally learned that he has been sentenced to four years in prison and was fined 8,000 yuan in early December 2021. He has filed an appeal from the detention centre.
Before his most recent arrest, Dr. Hu, a former attending physician at Yunnan Province Psychiatric Hospital, suffered multiple arrests since the persecution of Falun Gong started in July 1999.
He was tortured in a detention centre for a month, a forced labor camp for 3 years and 40 days, a brainwashing centre for a week, and a prison for 3 years. As a result of the persecution, his employer removed him from his job as a doctor and prevented him from working elsewhere. Unable to withstand the pressure and constant harassment from the authorities, his wife divorced him.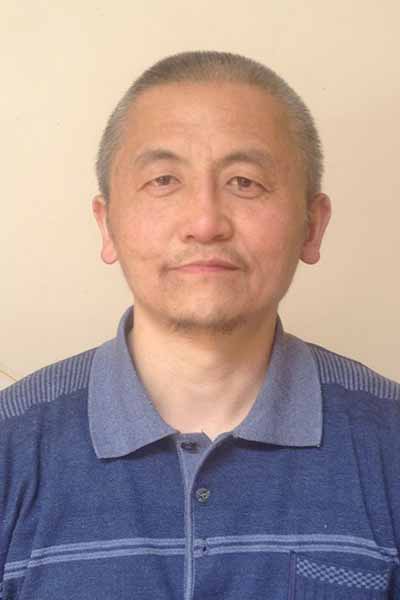 Violation of Legal Procedure by the Police
Roughed Up by Police During Her Arrest, Liaoning Woman Sentenced to Three Years
When Ms. Shen Xiaona, of Anshan City, Liaoning Province, returned home with her child on the evening of April 27, 2021, she was dragged inside by several policemen who had been hiding inside her apartment. About twenty officers had broken into her home earlier that evening.
The police director, Xu Tong, hit Ms. Shen in the head and kicked her in the back. Neither he nor his officers were in uniform. One officer waved his ID in front of Ms. Shen and quickly put it away. They ransacked her home without a search warrant and confiscated her Falun Gong books and jewelry. Although the police later returned her jewelry, they refused to return her Falun Gong books.
After witnessing the police beating her mother and ransacking their home, Ms. Shen's daughter becomes very frightened whenever she sees any police officer on the street.
Ms. Shen was brought to the Qidashan Police Station at around midnight. She was tied up in a metal chair, had her blood sample forcibly taken, and was beaten by the police.
Ms. Shen's family hired a lawyer for her. The lawyer filed complaints against the police officers for the arbitrary arrest and violence, yet the Gaoxin Police Department still approved her arrest on June 3, 2021.
Ms. Shen was tried by the Lishan Court on December 27, 2021. The prosecutor accused her of talking to Jiang Juan about Falun Gong and giving the latter two flash drives with Falun Gong information on them. Jiang didn't appear in court for cross examination.
Ms. Shen's lawyer argued that it's her freedom of belief and expression to practice Falun Gong and talk to people about it. He said that she didn't violate any law or cause harm to anyone. While the lawyer demanded an acquittal, the judge sentenced her to three years on December 27, 2021.
Two Guangdong Residents Sentenced for Practicing Falun Gong, Children Terrified during Mother's Arrest
Two Qingyuan City, Guangdong Province residents were sentenced to prison in October 2021 for practicing Falun Gong.
Ms. Shao Yanfang, 36, and Ms. Lai Chengmei, 57, were arrested on the evening of April 11, 2021. Thirty-two officers arrived in several cars and a bus at Ms. Shao's home, when she was having dinner with her 13-year-old daughter and 11-year-old son. When she refused to let the police in, they broke down the door and turned off her power supply several times. Her two children were terrified when the lights went on and off at their home.
The police barged in after Ms. Shao was forced to open the door. They attempted to put a black hood on her head, but were stopped by her son. Ms. Shao kept shouting in protest "Falun Dafa is good!" The police then tried to stuff her mouth with a rag, but relented under strong protest from her daughter.
Upon hearing about the incident, Ms. Shao's husband rushed home, only to be blocked outside by the police.
The police spent four hours searching Ms. Shao's home, confiscating her computer, printer, paper cutter, laminator, copy paper and many other office supplies. They accused her of using the equipment to produce Falun Gong materials. She was handcuffed and taken away.
Police officers went to Ms. Lai's home, handcuffed her and put a black hood on her head, before taking her away.
Both Ms. Shao and Ms. Lai were forced to undergo a comprehensive physical examination and ordered to read one and a half pages of words. They suspected that the police were recording their voices for their surveillance database. The two women were later taken to the Yangshan County Detention Centre and transferred to the Yingde City Detention Centre after the police submitted their cases to the Yingde City Procuratorate, which was assigned to handle Falun Gong cases in the Qingyuan region.
Ms. Shao was sentenced to five years with a 30,000-yuan fine by the Yingde City Court on October 28, 2021. Ms. Lai received two and a half years with a 10,000-yuan fine.
Jilin Woman Sentenced to Prison, 200K Yuan in Cash Confiscated By the Police
Ms. Cui Weiwei, of Changchun City, Jilin Province, was arrested on November 9, 2020. The police confiscated her laptop, her husband's work printer, 200,000 yuan in cash and other belongings. When the family later sought the return of the confiscated money, the police refused and only returned her son's cellphone.
The Chaoyang District Court held two secret hearings, on May 14 and September 5, 2021, without informing Ms. Cui's family. She refused to plead guilty and maintained that she didn't violate any law in practicing Falun Gong.
The presiding judge, Chen Xiaojing, sentenced Ms. Cui to three years with a 10,000-yuan fine on December 15. She has appealed the verdict and is still held at the Changchun City No. 4 Detention Centre at the time of writing.
Views expressed in this article represent the author's own opinions or understandings. All content published on this website are copyrighted by Minghui.org. Minghui will produce compilations of its online content regularly and on special occasions.