____________________________________
(Minghui.org) With Chinese New Year just around the corner, student, teachers and parents from the Minghui School in Sydney sent their greetings to wish Mr. Li Hongzhi, founder of Falun Dafa, a Happy Chinese New Year at Darling Harbour on January 30, 2022.
Minghui School: A Untainted Place to Nurture Students
The Minghui School in Sydney was established 20 years ago. Each year teachers encourage students to perform in talent shows that present music, dance and the visual arts. The school's goal is to nurture students of high moral values.
Over the years, students in the dance program have participated in multiple community events. The students were selected to perform in the grand finale during a local community banquet. They gained much recognition and many praised them for doing well. Students and teachers gave out nearly one hundred paper lotuses to many local organisers and politicians after the performance.
Students also participate in the annual drawing contest held by the local district or education department, and one Minghui School student came in second place this year. His drawing was gifted to a member of the Australian Parliament. The student and the member of Parliament took a photo together.
Every year up to 10 students from community language schools are recognised for their excellence through the Minister's Awards. One Minghui School student was nominated this year and received the "Highly Commended Award."
Minghui School students also take classes in traditional Chinese characters, which Chinese people believe are passed down by the divine. China's written language embodies the essence of five thousand years of civilisation. Each character's form and pronunciation, and the idioms and literary allusions composed through combinations of Chinese characters, contain profound cultural meanings. The teachers at the Minghui School implement this Chinese curriculum by introducing the cartoon series, "The Wonderful World of Chinese Characters," broadcast by NTD television. It seamlessly puts together the truth of Falun Dafa and how Chinese characters were passed down by the divine.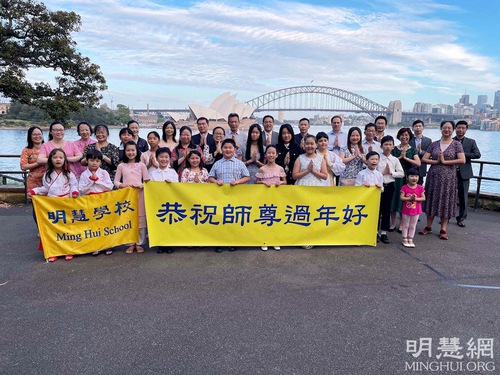 Minghui School Principal: Not Letting Compassionate Master Down
Ms. Yan Zhihui, principal of the Minghui School since 2007, said that she wanted to give up and step down as the principal of Minghui School several times when things were tough. However, thinking about Master's hopes and compassion for practitioners, she told herself to persist. Witnessing these young students growing and becoming diligent in cultivation gave her the encouragement to continue.
"The students often display the demeanor of a Dafa disciple. I remember that we drove long distances to Brisbane, Melbourne and Adelaide and the students gave over 40 media interviews and met with politicians and mayors from those cities. They did everything wholeheartedly while clarifying the truth during community activities."
"Many students were even accepted to the world renowned Shen Yun Performing Arts. These accomplishments are due to their parents' and teachers' many selfless contributions. I am very touched by it."
Minghui School Teacher: Abiding by the Principles of Truthfulness-Compassion-Forbearance Is Very Important in Children's Upbringing
Ms. Lin Yuanxun brought her four-year-old son to the school five years ago. It was the first time she saw her son imitating other children as they did the five sets of Falun Dafa exercises. She was very happy since her son refused to do them at home. She decided to send him to Minghui School. She regarded the school as a cultivation environment that Master has bestowed for young Dafa disciples.
Ms. Lin gradually went from being a teacher to an assistant principal at the Minghui School. She carefully assesses each child and proposes educational plans. During parent meetings, they read Master's lectures on how to educate children. Ms. Lin also read How the Specter of Communism Is Ruling Our World in her spare time.
She said, "I enlightened to the fact the Chinese Communist Party (CCP) is training the next generation to have talent, but no virtues, while also infiltrating the Western educational system to dumb down children—since the CCP is afraid of people who have both talent and virtue. We have to bring up young Dafa disciples with both characteristics. This is a long and arduous process, but in order to do everything well, we need to lead young disciples in studying the Fa, doing the exercises and do well the three things. Only by abiding by Falun Dafa's principles of Truthfulness-Compassion-Forbearance will Master help them and eliminate interference."
"How are we able to help parents when the Minghui School is only held every Sunday?" Ms. Lin and several other teachers came up with the idea of establishing small Fa study and exercise groups.
"I started a group that studies the Fa and practices the exercises every morning from 6:30 a.m. to 7:30 a.m. This way the children are able to establish a good habit. As the saying goes, 'The whole day's work depends on a good start in the morning.' Many other parents and teachers also established small groups ranging from two to five people. Many different age groups that study the Fa and practice the exercises were established in December 2019. Some read Hong Yin while others read Zhuan Falun. Within a year, I was able to see how children improved in other areas as well as the ability to recognise Chinese characters."
Parent: The School Is a Land of Purity
Ms. Ruan Fengmei moved to Sydney in 2018 and sent her daughter to Minghui School as soon as she arrived. She said, "The Minghui School is a land of purity. We are very fortunate that our daughter is able to have this cultivation environment. She is also fortunate to learn authentic Chinese classical dance from her teachers. In addition to the support and the encouragement from her teachers, my daughter is also very happy to be with her classmates. I know that Master has arranged this for us. Thank you Master! Thank you to all the teachers, parents and students from Minghui School. We cherish this!"
Although Ms. Ruan lives an hour and half away, she still persists in bringing her daughter to the school. She has to transfer bus stations and take trains. One time, due to inclement weather, it took them over two hours to get to the school. "Even though it is a long journey, I will persist to take my daughter to Minghui School every week because it is very important."
Ms. Ruan is Vietnamese and knows how important it is to recognise Chinese characters. She started to read the Zhuyin version of Zhuan Falun. Her daughter was unwilling to read the Zhuyin version in the beginning because she was already able to read the Chinese language version. Shesaid, "I created some Zhuyin memorising games for her, but she still read slowly whenever we read the Zhuyin version. When she saw me reading the Chinese language version of Zhuan Falun one time, she took the initiative to study Zhuyin. Dafa is truly miraculous. Within a year, both of us were knowledgeable in Zhuyin and can read the Zhuyin version of Zhuan Falun. My daughter is now able to study Chinese independently. She does her homework and reads Master's lectures. She also decided that she likes the Chinese language."
Ms. Ruan recollected that Master once said to revive traditional values. "When I educate my daughter I compare people's actions in the past versus those in the present. I also talked to her about benevolence, righteousness, courtesy, wisdom, and credit and filial piety, the basic values in ancient Chinese culture. I also read some cultivation stories or traditional culture stories mentioned in Zhuan Falun. Through these stories, my daughter was better able to distinguish the fragmented views, actions and art of today's society.
My daughter likes the story of General Yue Fei. She told me, "Mommy, I want to be like General Yue Fei." One time when she argued with me I told her, "Though General Yue Fei is chivalrous and has command over thousands of soldiers, he'd never argued with his mother like you do. He would have utmost respect for his mother." My daughter remained silent and later apologised to me. Through this experience I realised how important traditional values are in raising children."
Student: I Want to Cultivate Diligently
Nine year old Jiang Zhenhong was born and raised in Australia, and has attended Minghui School since he was four years old. "I study the Fa with my friends at Minghui School every morning at 6:30 a.m. I eliminated my attachment to comfort by waking up early every morning. Recently, I have been encouraging my cousin to wake up and study the Fa with me. We started reading Hong Yin and now we are reading Hong Yin V."
"I also started to practice the five sets of Falun Dafa exercises outdoors. Some people gave me a thumbs up. I wasn't as diligent in practicing the exercises before and moved around a lot. I began to take practicing the exercises seriously and attended the online nine-day lecture classes. Even though I did not listen to the entire series, I was still very happy seeing Master. Thank you Master!"
Xie Tianrui is eight years old and said that he wanted to be a diligent cultivator. "Since last year, my mother, younger sister and I read Hong Yin for forty minutes every morning. We read Zhuan Falun and practice the exercises at night. I was also able to send forth righteous thoughts in the morning, midday and at night with my mother after my school classes went online. I am not as impatient as I was before. I used to get frustrated in the past when my mother told me to rewrite my homework. I am able to rewrite my homework with more patience and I even scored full marks on my vocabulary test."
Meng Shangen is a primary school student at the Minghui School. "I began studying the Fa and practicing the exercises with my mother when I was little. I also like reciting Hong Yin with my mother.
Shangen continued, "The happiest time of my day is when I read the Fa and practice the exercises with other young Dafa disciples. In the past I often woke up late and rushed to get to school. I wasn't able to focus and concentrate in my classes. After studying the Fa and practicing the exercises in the morning, I was able to overcome my sleepiness. I am able to wake up by myself and get ready to study the Fa with other young disciples. I learned to recognise a lot of Chinese characters during this past year. In addition, I also enlightened to many Fa principles.
Views expressed in this article represent the author's own opinions or understandings. All content published on this website are copyrighted by Minghui.org. Minghui will produce compilations of its online content regularly and on special occasions.