___________________________________________________
(Minghui.org) To usher in the New Year, Falun Dafa practitioners held activities in Tainan City in southern Taiwan. They demonstrated the exercises and held performances and a parade on January 1 and 2. Tourists and locals welcomed them and learned about the health benefits of the meditation practice, as well as the ongoing persecution of practitioners in China.
Each morning before the events, practitioners demonstrated the exercises at a local university campus. In the afternoons, they gave vocal and musical performances, including Meet Beautiful Falun Dafa, near Anping Fort where tourists gathered. They played the lute, piano, and waist drums. They also demonstrated the exercises. In the evening, they paraded through Tainan's old districts.
Because it was a holiday weekend, the streets in Tainan were filled with people. Many remarked that they could feel positive energy from the practitioners' activities, which was especially welcome during these uncertain times of the Covid pandemic.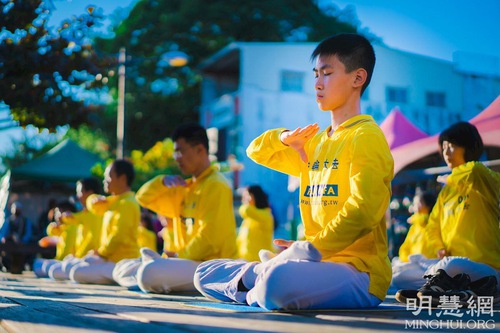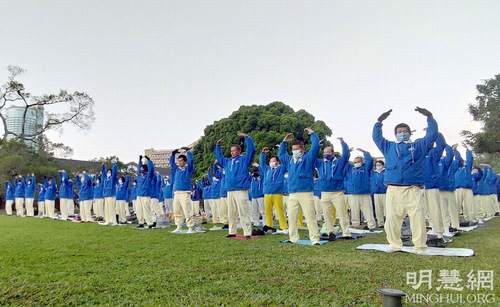 Conveying Positive Energy through Music and Song
The practitioners wished to convey positive energy through singing and music. After Shujuan sang "Falun Dafa Is Good," she said, "I hope to let people know how wonderful Falun Dafa is through my song. The practice can calm people's emotions during this pandemic. A peaceful mind will help boost their immunity to fight off the virus. I hope everyone can give it a try and stay healthy and safe."
Jiahui, another practitioner who sang, said that she wished to soothe people's hearts through music and offer hope for the new year. "I'd like to spread positive energy so that people can stay optimistic. When people believe that Truthfulness, Compassion, Forbearance is good, they will live in peace and happiness."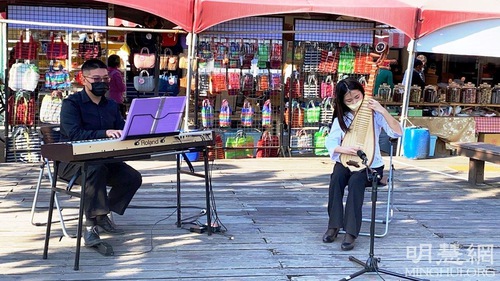 Serene Atmosphere Relaxes Body and Mind
Mr. Tseng works in Tainan and stopped to watch practitioners while they demonstrated the exercises. "The atmosphere here makes me feel serene and relaxed. I feel that the practice can calm me down physically and mentally. I will read the flier carefully after I go home and get a good understanding of Falun Dafa," he said.
In the evenings the Waist Drum Team led the parade and circled around the old district of the city. Some people in the crowds mimicked the practitioners' exercise movements, while others took photos of the parade. The spectators gladly took the Falun Dafa fliers, cards, and keepsakes that practitioners offered. Many asked where they could learn the practice.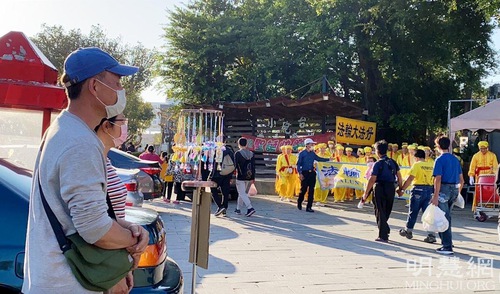 Young Mother: Dafa's Principles Show Me What Is Right
Mr. and Mrs. Fang joined the activities with their newborn child. Mr. Fang began practicing with his parents when he was ten years old. It's been 25 years and he said, "I've participated in activities every year and feel touched each time."
Mrs. Fang began practicing Falun Dafa in 2007. She said that as society's morals continue to decline, the line between good and bad is blurred. "After I began following Falun Dafa's principles, I had a clear understanding of what is good and bad. I feel more confident in insisting on doing the right thing, and I'm no longer confused. I gradually let go of my jealousy and attachment to personal interest and fame. I live a happy life now," she smiled.
Chienyi said that practicing Falun Dafa helped her end her addiction to cell phones and her life became calm and orderly. "I used to work in the financial industry and my health fell apart because of the stressful lifestyle. My stomach hurt all the time and I became anemic. A month after I began practicing Falun Dafa, the symptoms disappeared, without the help of any medicine.
"The friendly people in Tainan welcome everyone. When you come visit, perhaps you can slow down and find out about Falun Dafa. It may help you find peace," she said.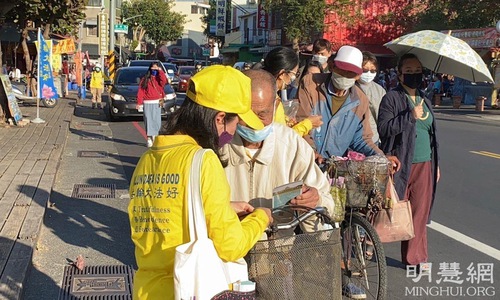 All articles, graphics, and content published on Minghui.org are copyrighted. Non-commercial reproduction is allowed but requires attribution with the article title and a link to the original article.
10 total views