---
(Minghui.org) Severe blizzards, freezing rain, snow, cold waves, and strong winds blasted through Liaoning Province from November 7 to 9. The Chinese Communist Party (CCP) government officially issued red alerts for the snowstorms, which were the most severe.
On November 6 and 7, a cold wave, strong winds, ice particles, a blizzard, haze, and black fog struck Beijing. A rare weather phenomenon—thundersnow—appeared in many areas as well.
Of the 62 national meteorological stations in Liaoning Province, 39 reported heavy snowstorms, accompanied by wind gusts of up to level 11 while the temperature dropped by 16 degrees Celsius in a short period of time.
Record snowfall was reported by nearly half of the stations, with Shenyang, the provincial capital, being hit the worst. As many as 6.4 million domestic fowl and other livestock in the province froze to death, accounting for an economic loss of about 1.7 billion yuan.
Videos and photos on social media showed how bad the snow was in Northeast China, where many areas were buried in it.
The blizzards were accompanied by freezing rain. For example, it snowed first in Harbin City and then rained. The freezing rain quickly turned the fallen snow into ice. Icicles hung from the eaves, electrical wires, and street signs, while the railways and roads were covered with a thick sheet of ice, making clean-up difficult.
Tree limbs that could not bear the weight of the icicles broke off and littered the roads. Icicles on buildings and branches also posed a safety threat to pedestrians walking below.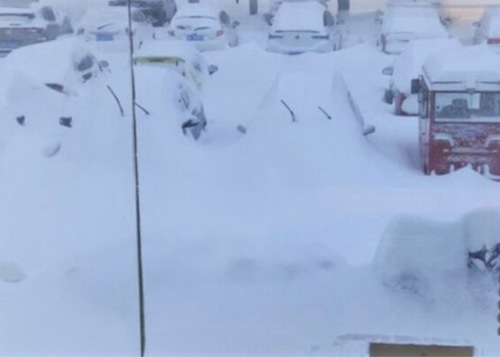 Rare Weather Phenomena in Many Areas in China
According to statistics collected by the local weather bureau, Beijing's first snowfall of the winter occurred on the night of November 6. Since 1961, the average first winter snow day in Beijing has been November 29. In other words, this year's first snowfall was 23 days earlier than in previous years.
The cold wave drove the temperatures in Beijing on November 7 to minus 3°C (26.6°F). The next day, there were wind gusts of up to level 7 and the temperature fell to minus 4°C (24.8°F), nearly 17 degrees colder than the 12.7 ℃ recorded on November 6.
Heavy haze appeared in Beijing on November 7. From video taken by the local residents, all of Beijing was covered in darkness, almost like nighttime.
Within two short days, Beijing was hit with cold waves, strong winds, ice particles, blizzards, haze, and black fog. Thundersnow (snowfall accompanied by thunder) appeared in many areas.
In addition to the strange weather in Beijing, state media reported that from the evening of November 7 to November 9, extremely rare thundersnow storms pounded Tianjin City, Liaoning Province (Shenyang City), Shandong Province (Dezhou City), and Inner Mongolia (Baotou City and Xilingol League).
According to modern meteorology, cumulonimbus clouds, also known as thunderclouds, must be present for there to be thunder. In the summer, the warm ground temperatures create a strong convection current. With lots of water vapor in the air, thunderclouds form easily. But in the winter, especially when there is snow, the ground temperature is generally below 2°C (35.6°F), making it almost impossible for thunderclouds to form. That is why thundersnow is viewed as such a rare event.
All articles, graphics, and content published on Minghui.org are copyrighted. Non-commercial reproduction is allowed but requires attribution with the article title and a link to the original article.
22 total views