_____________________
(Minghui.org) A Chinese tennis superstar's recent sexual assault accusation against a former vice premier has caught the world's attention. Many people have viewed the scandal as retribution for that official's other, bigger crimes.
Peng Shuai, 35, is one of China's tennis superstars. She won the women's doubles championship at Wimbledon in 2013 and at the French Open in 2014. She published a long article on her verified account on Weibo, China's version of Twitter, on November 2, accusing Zhang Gaoli of sexually assaulting her.
Zhang, 75, was a member of the Chinese Communist Party's (CCP) Politburo Standing Committee – the CCP's top decision-making body – and the senior vice premier, from 2012 to 2017.
Peng accused Zhang of first sexually assaulting her many years ago, between 2007 and 2012, when Zhang was Party Secretary of Tianjin City. Zhang used his power to force her to maintain an on-and-off sexual relationship with him against her will.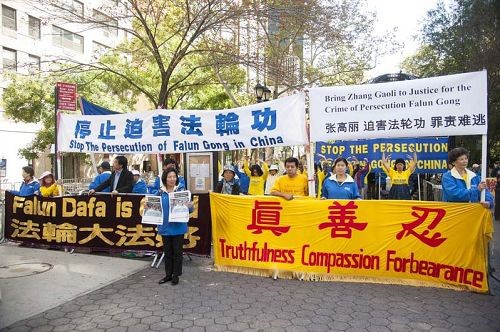 The contact stopped after Zhang moved to Beijing in 2013 to become China's senior vice premier. Zhang then reached out to her again in 2018 after he retired. Zhang and his wife took her to their home one day. Zhang, in front of his wife, requested to have sex with her. Zhang took her inside a room while his wife stood guard outside the room.
"I was scared that afternoon," Peng wrote, "I had never thought it would be like this. (Zhang's wife) stood guard outside [while he sexually assaulted me inside the room]. I thought no one could believe that a wife would be willing to do something like this."
Her post survived 20 minutes before being deleted. All of the re-posts and related comments were deleted. But it had already sent a shock wave to the Chinese people and the world. Many English media, including the New York Times, CBC, and BBC, reported the case.
The Chinese authorities did not deny or say a word about this accusation. It just kept deleting posts. It has long been an open secret that the CCP officials have corrupt sex lives.
Zhang is now a "scumbag" in the Chinese people's eyes, having his wife guard his raping of a woman who was 40 years his junior.
To many people, this may be the start of Zhang having to answer for his other crimes. Zhang's biggest crime was his involvement in the persecution of Falun Gong practitioners.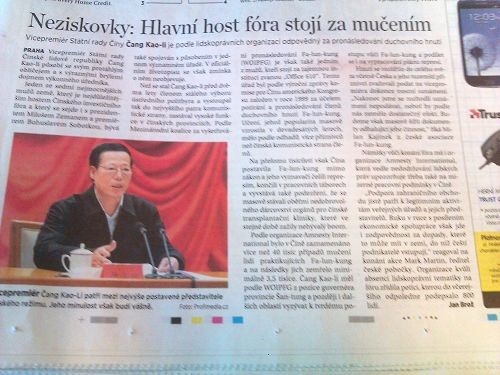 Falun Gong is an ancient mind-body Buddhist school practice. Former CCP head Jiang Zemin launched the persecution of the practice in July 1999.
Zhang was an active enforcer of Jiang's persecution policy during his tenure in Guangdong Province, Shandong Province, and Tianjin. He actively implemented the persecution policy, resulting in thousands of Falun Gong practitioners in these areas being arrested, detained, and sentenced. He was a culprit in the torture that caused a large number of deaths and disabilities of Falun Gong practitioners.
Zhang's career advancement was a result of him kissing up Jiang Zemin.
In May 2006, Jiang went to Mount Tai, one of the most well-known mountains in China. As the CCP's Party Secretary of Shandong Province where the mountain is located, Zhang ordered the closure of the mountain from public visits for two days, even though it was peak tourism time. He hosted Jiang in an eight-person-carried palanquin, carried him onto the mountain, and ordered local officials to line up along the road to welcome Jiang. Zhang himself walked right after the palanquin to serve Jiang.
Of course, simply flattering Jiang was not enough. Zhang worked fiercely to persecute Falun Gong practitioners, to continue Jiang's legacy. There are at least 90 reports on Minghui website mentioning Zhang as being responsible for the persecution.
A banner reading "Bring Jiang Zemin to Justice" appeared at Meng Mountain in Shandong in January 2004. Zhang, then governor of Shandong, ordered local authorities to arrest many Falun Gong practitioners and put them in brainwashing centres.
During the Beijing Olympic Games in 2008, Zhang, then Party secretary of Tianjin City, went to the city's Dagang District to mobilise police to force Falun Gong practitioners, their families, and their work units to write promises that they wouldn't join any group activities and wouldn't go to appeal for the justice of Falun Gong.
Even when Zhang took the CCP politburo standing committee seat, he still kept tabs on the persecution of Falun Gong in Tianjin. When thousands of Tianjin practitioners sent lawsuit papers against Jiang to the Supreme Court and Supreme Procuratorate, Zhang and the Tianjin police chief ordered a massive revenge. They arrested, detained, and sentenced the practitioners and their family members who sued Jiang.
Zhang may not have been involved much in individual persecution cases, but he was the enforcer of the persecution policy that caused massive abuse of innocent people in the provinces and cities where he was in charge.
As an accomplice of Jiang, Zhang would face, when tried, charges of genocide, torture, and crimes against humanity.
Some people have been discussing why Zhang's sexual assault case was exposed at this time, and why the post was allowed to stay for 20 minutes before being deleted. But from another angle, this could be the beginning of Zhang, needing to answer for his actions, the harm he has caused.
All articles, graphics, and content published on Minghui.org are copyrighted. Non-commercial reproduction is allowed but requires attribution with the article title and a link to the original article.