---
(Minghui.org) Falun Dafa practitioners in Denmark participated in a two-day health expo held in the city of Viborg, central Jutland on October 9 and 10, 2021. Many expo attendees said they were delighted to be introduced to Falun Dafa and wished to learn the exercises.
Ms. Clarkson attended the expo with two friends. They stopped at the Falun Dafa information booth and said they were interested in learning about the meditation practice. They learn the exercises on the spot.
After learning the first set of exercises, Ms. Clarkson suddenly said, "I can feel something spinning in my body." She gestured with her hands.
A practitioner told her, "That's wonderful! It looks like you have a predestined relationship with Falun Dafa. You will experience many things when you practice Falun Dafa. Bad things will be removed and you will become healthy and happy. The books on Falun Dafa talk about all these things in detail. As long as you read with a quiet mind, you will understand many things."
Ms. Clarkson's friends also decided to learn the exercises. They bought the books Falun Gong and Zhuan Falun in Danish. They left behind their contact numbers and said, "Let us know when you hold classes."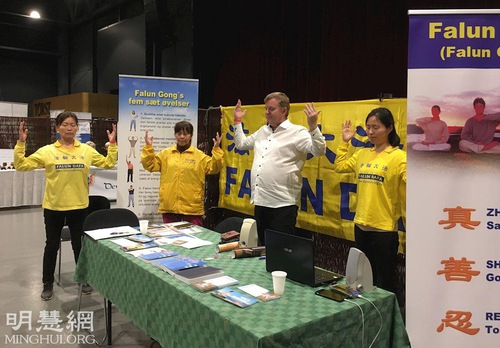 Anne, who works as a consultant for social work, has helped many people suffering from anxiety and other problems. She chatted with practitioners for a long time.
Anne learned that Falun Dafa is an ancient cultivation way from China that teaches people to follow the principles of Truthfulness, Compassion and Forbearance. Many have changed their perceptions after learning Falun Dafa and have experienced physical and mental improvements.
She said, "I came to the health expo to search for something that can help my body and mind. Truthfulness, Compassion, Forbearance is wonderful!"
She left her contact information when she heard there were online classes. She was delighted to receive a small lotus flower with the words "Truthfulness, Compassion, Forbearance."
A grade school teacher remarked, "I want to learn Falun Gong and teach it to my students so that they become good students by following Truthfulness, Compassion, Forbearance."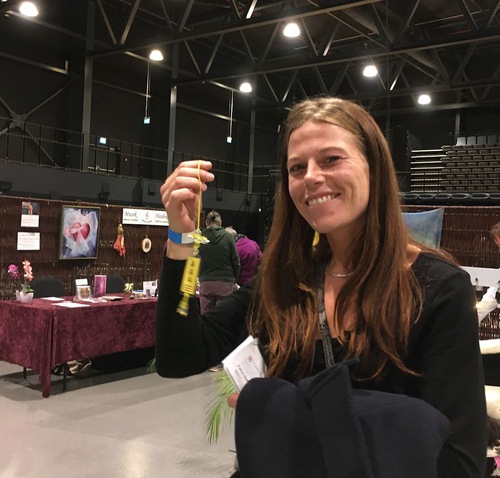 Falun Dafa Is Good!
One of the other expo exhibitors, Ms. Bodil uses music to treat illnesses. She was intrigued by Falun Dafa and asked about the spiritual practice. Practitioners explained, "What you do has similarities with traditional Chinese ways. Chinese culture believes that music and medicine are closely related. They come from the same source and music can heal illness. The five tones in music correspond to the five elements in the natural world and the five organs in the human body. Soothing music is beneficial to one's health."
Ms. Bodil was keen to learn more and asked what the Chinese characters on practitioners' T-shirts meant. A practitioner told her, "Falun Dafa is good!"
Another practitioner started to sing a song with the lyrics: "Falun Dafa is good, Falun Dafa is good, Falun Dafa is the righteous way."
Ms. Bodil hummed along and exclaimed in delight: "Falun Dafa is good, 1-2-3-4-5… this is five syllables!"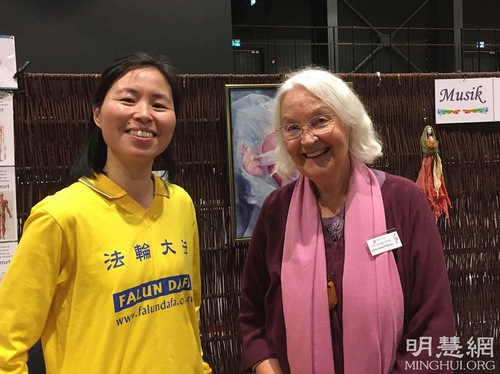 We Must Return to Believing in God
Mr. Yan's booth was across from the practitioners' booth. When he wasn't busy he watched as they did the five sets of exercises. He said he agreed with Falun Dafa's principles and said he once had a severe illness and his faith in God brought a miracle.
Yan said, "Miracles do happen often. Truthfulness, Compassion, Forbearance, Tolerance, these are wonderful. I believe your way is good. People should be forgiving."
Practitioners spoke about the present declining moral values in society and how the cause of disasters, pandemics and chaos come from disbelief in God. Mr. Yan agreed saying, "That's right, we must help people return to faith in God."
He bought two books – Falun Gong and Zhuan Falun and said, " I want to know more about Falun Dafa."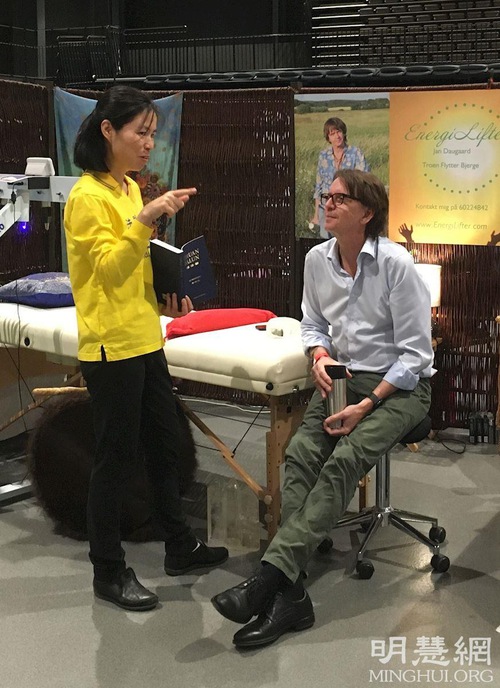 All articles, graphics, and content published on Minghui.org are copyrighted. Non-commercial reproduction is allowed but requires attribution with the article title and a link to the original article.