---
(Minghui.org) During the week of October 24, 2021, Shen Yun Performing Arts presented six performances in three cities in two U.S. states: Modesto and Escondido, California, and Cedar Rapids, Iowa. Audience members were moved by Shen Yun's presentation of values that many said are especially relevant today.
Shen Yun Performing Arts received a welcome letter from the Stanislaus County Board of Supervisors, prior to the company's performance in Modesto, California. The letter read, "We appreciate Shen Yun's vision of reviving the lost world of traditional Chinese culture by incorporating beautiful cultural dances and legends that are inspired by 5,000 years of Chinese culture and tradition through classical Chinese dance and music."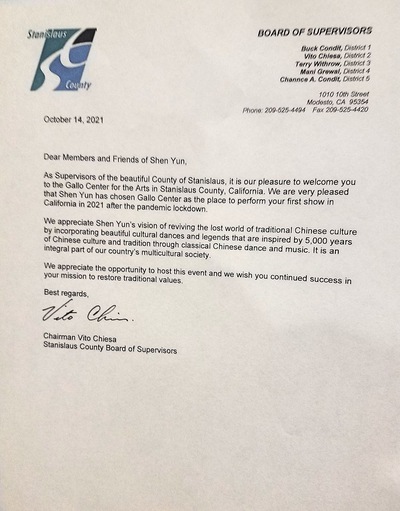 "Care and Love of the People of China"
Pastor Paul Hanson and his daughter Emma saw Shen Yun in Cedar Rapids, Iowa, on October 24. Mr. Hanson said, "I was just totally blown away… Just so enthralled by the whole production."
"It was not only excellent, but I just loved the values that it was able to communicate," he said.
He highlighted the fact that Shen Yun points out communism as the culprit responsible for modern society's deepest woes. "A lot of times there are folks that don't really understand the perils of communism," he said.
He noted the contrast with China's "legitimate culture," as he put it, adding that China has 5,000 years of history.
"You know, most countries don't have that. And China is just filled with such a rich culture," he said. "I think the production did such a beautiful job getting a chance to share the cultural values and the care and the love of the people of China."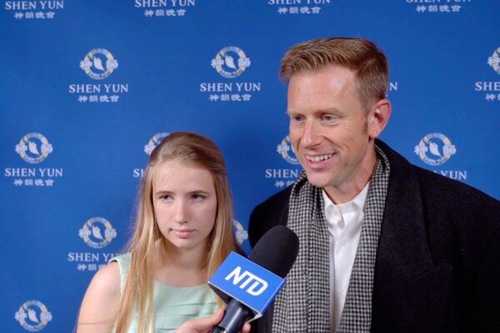 "An Entire Universe on the Stage"
Mr. Harley Baker, a professor, and his wife Connie, a retired professor, saw Shen Yun in Modesto, California, on October 19, 2021, at the Gallo Center for the Arts – Mary Stuart Rogers Theater. "Their movements were well-choreographed… synchronised, well-articulated with the music. It moved me emotionally," Mr. Baker said.
Ms. Baker also thought the performance was "phenomenal."
"I thought that was lovely that they didn't give in to the kind of sensationalism or Westernism of showing as much as they possibly can," Mr. Baker said. "There was incredible modesty and incredible beauty in what they did."
He also spoke about Shen Yun's digital backdrops, "I thought that was brilliant… It was just so well-integrated. It brought such a depth and dimension to everything."
"It really felt like there was an entire universe on the stage," he added.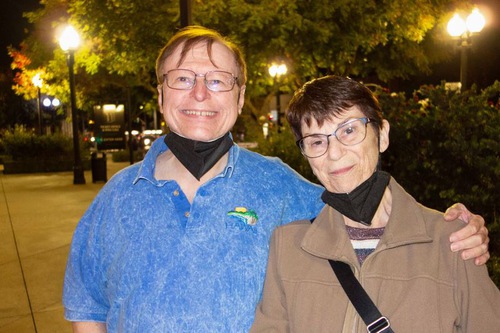 "Our Values"
Timothy Meyer, the owner of an interior design company, and Kathy Meyer, a grade teacher, saw Shen Yun at the Paramount Theatre in Cedar Rapids, Iowa, on October 23, 2021. "Absolutely beautiful, lovely evening," Timothy said. "The talent is amazing. It's so well put together."
"Such tremendous dancing and movements and the beauty were just wonderful, and the calmness is so nice. I think anyone who is interested in dance would love [Shen Yun]—children would love to see it," Kathy said.
"I think the story is so impressive when it's about our values," Timothy said.
"It talks about what atheism does to the soul… There's so much beauty and we just have to hang on to what we know is true and right, honoring our God, whoever our God is, at the top.
"And it's like the world is just heading in the wrong direction… trying to destroy the values that have made this world what it is. And now we're trying to take it someplace else, so to hang on to our true values is beautiful," he said.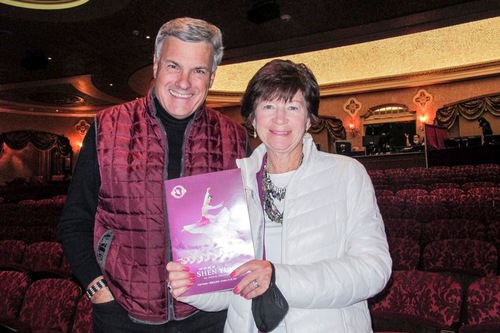 "Life-changing and Heartfelt"
"Magnificent as always," said Anne Serdy, a veterinarian at the High Valley Veterinary Hospital, after watching Shen Yun for what she estimated to be the seventh time.
"Everything is to perfection," she said. "The magnificent artistry and the costumes, and the sparkle and the laughter, and the orchestra."
Ms. Serdy also enjoyed Shen Yun's patented technology of background-stage performance interaction, "Amazing combination of technology… The merging [is] always flawless."
One of the pieces in Shen Yun is rooted in the belief in a divine power that descends to earth to help mankind.
"I think that definitely occurs for the people who believe in [the divine], and I feel that everybody is touched by [the divine] even if they don't believe," she said.
For Ms. Serdy, Shen Yun has been "life-changing and heartfelt."
"I come every year because it's the one day that really fills you for the rest of the year," she said.
"You can always think back on this day and think back on the things you've seen, and you can see how hard the people on the stage work—even the musicians and the orchestra. It's magnificent that they share their talent with you," she added.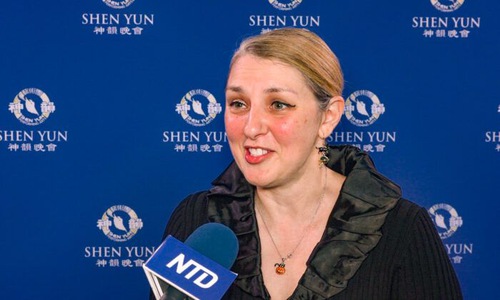 "Very In-depth"
Gary Beaudette, the owner of a consulting firm, a songwriter, and an author of children's books, saw Shen Yun with his wife Monica, their daughter, and friends in Modesto, California, on October 20, 2021.
"All [the] stories are great. They were very in-depth too," Monica said.
One of the dances told the story of Falun Gong practitioners being persecuted for their faith.
"The persecution was the one that was most surprising to me. The story, the context about [it still going] on today in China, too," she said.
Gary spoke about Shen Yun's mission to revive China's 5,000 years of tradition and civilisation.
"I think it is important… They said they won't be able to do this performance in China right now. [It's] not good to withhold culture. I think everyone should be able to express their culture and learn about it and then share with others," he said.
They were also struck by Shen Yun's bel canto singers, who sang about the importance of traditional values and morals. The Beaudettes said they agreed with the message in the songs.
"The singing evoked emotion in me. It was beautiful," Monica said.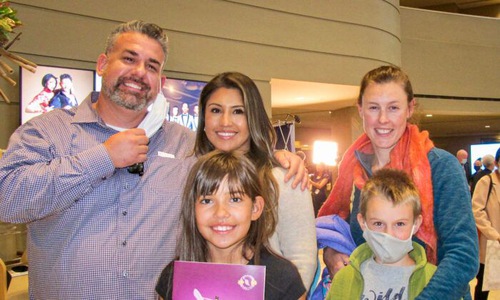 Upcoming Performances
Shen Yun continues its 2021-2022 tour with upcoming performances in:
Detroit, Michigan, October 29–31
Thousand Oaks, California, October 30–31
Fresno, California, October 30–31
Albuquerque, New Mexico, November 1–2
Boise, Idaho, November 2–3.
For more information on tickets and dates, please visit https://shenyun.com.
All articles, graphics, and content published on Minghui.org are copyrighted. Non-commercial reproduction is allowed but requires attribution with the article title and a link to the original article.