---
(Minghui.org) The European Union adopted a resolution in December 2013 condemning the Chinese regime's state-sanctioned organ harvesting crimes, but since then "it was silence all over the place," said Peter van Dalen, Member of the European Parliament (MEP), who is serving on the subcommittee on Human Rights and co-chair of the Parliament's Intergroup on Freedom of Religion or Belief and Religious Tolerance.
The remark was made on October 27, 2021 during an online forum at the Brussels Press Club, adjacent to the European Union (EU) headquarters. Titled "China – Forced Organ Harvesting and the Chinese Communist Party," the forum consisted of a panel of MEP members, human rights lawyers, and experts who called for an end to the Chinese Communist Party's (CCP) organ harvesting of Falun Gong practitioners.
Trade Sanctions
"We do not want to attack China on sensitive issues like organ harvesting, but I really think we should, because organ harvesting is really a very blunt attack on basic human rights," van Dalen explained. "It's too much talking about trade, about money, and not enough about human rights and the rights of minorities."
After being accused of committing genocide in its treatment of the Uyghurs, the CCP imposed retaliatory sanctions against European politicians. The EU responded by suspending its investment plan with China.
Van Dalen welcomes this decision and hopes that such initiatives continue until the CCP stops its human rights violations. "We should use this as a whip stick to make clear to China that the violation of human rights is important," he said. In fact, known CCP violations are not just limited to forced organ harvesting; rather, they involve a wide range of human rights abuses.
Van Dalen warned EU countries to pay attention to what is going on in China. He emphasised that business people or medical professionals should be alert to the situation in China, especially the forced organ harvesting of prisoners of conscience. In the meantime, he has been working hard to bring this topic back to the European Parliament's agenda.
Annick Ponthier, Member of Parliament (MP) from Belgium, attended the forum. In an interview, she said that such a message needs to be passed to the politician circle and that she would work on this alongside her colleagues. MP Ponthier believes that forced organ harvesting in China is also an important issue for Europe and that human rights should be safeguarded across political venues.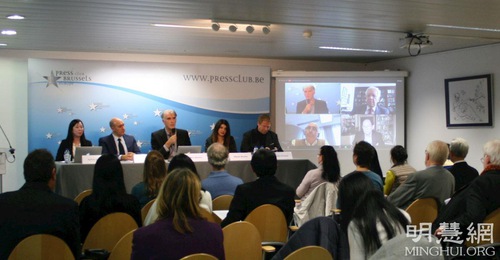 Details from Legal Counsel for China Tribunal
The China Tribunal, an independent tribunal in London set up to investigate allegations of organ harvesting of prisoners of conscience in China, concluded in June 2019 that the CCP's forced organ harvesting has existed for many years, with Falun Gong practitioners as the primary victims.
Hamid Sabi, human rights lawyers and a legal counsel for the China Tribunal, said during a 6-day hearing in 2019 that they reviewed thousands of pages of documents and testimonies from 55 witnesses. The court is independent of Falun Gong, and he found the findings astonishing – there is no doubt that organ harvesting has lasted in China for many years.
Consenting death row prisoners were at one time said to be a primary source of organs for transplantation surgeries. However, based on Chinese law, death row prisoners must be executed within 7 days of conviction. This makes the time to match organs between donors and patients very short. Plus, many on death row have poor health due to doing drugs or other dangerous activities, which disqualifies them as organ donors.
Despite these disparaties, the number of organ transplants in China far surpassed the number of executions between 2003 and 2004. For a certain period of time in 2000, the number of organ transplants in China also exceeded that of the U.S., which indicates that there were new organ sources in tandem with the expanded organ transplant industry.
Sabi said that, under pressure from European government agencies, the CCP also produced several "witnesses" from the Chinese Red Cross. However, as an internal CCP agency, the Chinese Red Cross has nothing to do with the International Committee of the Red Cross and only provides information approved by the CCP.
The rise in transplant surgeries correlates with the Chinese government's persecution of Falun Gong, in which hundreds of thousands of Falun Gong practitioners have been incarcerated in prisons, forced labor camps, and brainwashing centers.
In addition to being forced to undergo blood tests while in custody, Sabi said that all of the targeted Falun Gong practitioners were also subjected to medical examination once every three months, including ultrasound tests. One witness stated that detainees were labeled with various colors and that some of them vanished within a short time.
Sabi suggested sanctions against the CCP through professional medical organizations with relationships with China, such as organ transplant associations.
Former Vice-President of European Parliament: Boycott Beijing Winter Olympics
Edward McMillan-Scott, former Vice-President of the European Parliament (2004 – 2014), said he had learned of the CCP's suppression of Falun Gong back in 2006. When visiting Beijing, he met with several Falun Gong practitioners including one who had been detained for his faith. This practitioner testified that he had seen the body of a practitioner who had died in custody. The body showed evidence of organs having been removed.
McMillan-Scott said that the abovementioned example suggests that the hideous crime was occurring and that more and more evidence, including the volumes provided by Sir Geoffrey Nice QC from the China Tribunal, and Sabi, indicates that the CCP's forced organ harvesting is on the scale of genocide and the killing of Falun Gong practitioners and Uyghurs for their organs have become crimes against humanity.
McMillan-Scott hopes that the international community will boycott the 2022 winter Olympic Games in Beijing, which would help raise awareness of the CCP's suppression of minorities and groups such as Uyghurs, Tibetans, and Falun Gong practitioners.
Matas: We Cannot Lose the Platform of the United Nations
David Matas, Canadian human rights lawyer, said that the United Nations (UN) has been slow in responding to China's forced organ harvesting and calling for an independent investigation. Specifically, he said that response has been isolated, late, and insufficient.
A joint statement from experts on the United States Human Rights Council in June 2016 highlighted the CCP's organ harvesting. It called on China to allow independent investigations by international human rights organisations.
Matas considers this development as progress by the United Nations, because it provides a platform for governments and experts who pay attention to human rights condition in China. More specifically, when prisoners of conscience are subjected to organ harvesting, this platform can be used by various governments and human rights experts to take action.
Organ Harvesting Will Not End As Long As the CCP Persecutes Falun Gong
Using both statistical data and graphs, Harold King, Deputy Director of the medical ethics group Doctors Against Forced Organ Harvesting, illustrated the seriousness of organ harvesting in China.
He said that the organ harvesting is a campaign launched by the CCP to eradicate Falun Gong practitioners and other minority groups. It is a threat to the entire world because it violates the universal values of society, turning the healthcare industry into a venue of killing.
Equally egregious, the CCP has been covering up the crime so that the world is ignorant to the fact that the regime is killing its own citizens. King believes that as long as the CCP continues to persecute Falun Gong, the atrocity of forced organ harvesting will not stop.
He urged governments, international organisations, and individuals to establish a global mechanism to end the crime. "Europe and indeed every single world state," he said, "are at a crossroads, a crossroads that will determine their very future."
Media Professionals: Raising Awareness
The forum was hosted by Gary Cartwright, publishing editor of the London-based media EU Today, and Andy Vermaut, journalist and human rights advocate.
"When I started to do my research, it's not an exaggeration to say that sometimes I had to just close my computer and walk away and take some deep breaths," explained Cartwright in an interview. He called the organ harvesting "one of the most dehumanising policies that I've ever come across." He feels a sense of guilt that such abuse is happening "on our watch" in modern society.
Vermaut also called for more public attention to this ruthless practice. "Everybody talks about the holocaust. Everybody talks about the Rwandan genocides. But there's not enough attention for this [organ harvesting]," he remarked.
All articles, graphics, and content published on Minghui.org are copyrighted. Non-commercial reproduction is allowed but requires attribution with the article title and a link to the original article.