July 15, 2021 | By Minghui correspondent Xu Jing
---
This July 20th marks the 22nd anniversary of the onset of the Chinese Communist Party (CCP)'s persecution of Falun Dafa (also known as Falun Gong), a mind-body practice based on the principles of Truthfulness-Compassion-Tolerance. Through the years, Falun Gong practitioners inside and outside China have persisted in informing the public of what Falun Gong is and debunking the CCP's hate propaganda.
In the United States, federal officials, congress members, and state representatives have been paying attention to the severe persecution and urging the CCP to stop its atrocities against Falun Gong practitioners in China. In recent years, more and more local officials in the U.S. have also added their voices to condemning the persecution and expressing support for practitioners.
During the World Falun Dafa Day celebration in May this year, Falun Dafa Associations across the U.S. received many proclamation letters from their state-, county-, and city-level officials expressing admiration for practitioners' peaceful efforts to resist the persecution.
U.S. State Department Report: Human Rights Abuses Against Falun Gong And Other Groups
The U.S. Department of State published its 2020 Country Reports on Human Rights Practices on March 30. It repeatedly mentioned the CCP's abuses against Falun Gong practitioners and human rights lawyers.
"Significant human rights issues included: arbitrary or unlawful killings by the government; forced disappearances by the government; torture by the government; harsh and life-threatening prison and detention conditions; arbitrary detention by the government," the report states.
"Authorities used administrative detention to intimidate political and religious advocates and to prevent public demonstrations. Forms of administrative detention included compulsory drug rehabilitation treatment (for drug users), 'custody and training' (for minor criminal offenders), and 'legal education' centres for political activists and religious adherents, particularly Falun Gong practitioners," the report continues.
USCIRF Report Highlights Persecution of Falun Gong
The United States Commission on International Religious Freedom (USCIRF) released its Annual Report on April 21 summarizing human rights conditions in many countries. It specifically mentioned the suppression of Falun Gong in China.
"Although the CCP has long repressed religious freedom, in recent years it has become increasingly hostile toward religion," says the report. "Both registered and unregistered religious groups and individuals who run afoul of the CCP face harassment, detention, arrest, and imprisonment."
Citing information from Minghui.org, the report said thousands of Falun Gong practitioners were harassed and arrested in 2020 for "practicing their faith, and some likely died due to abuse and torture while in custody."
"Credible international reports also suggested that organ harvesting, including from Falun Gong practitioners, likely continued," the report states. In accordance with the International Religious Freedom Act (IRFA), China was redesignated as a "country of particular concern," or CPC, for "engaging in systematic, ongoing, and egregious violations of religious freedom."
Members of Congress: Genocide Is Unacceptable

In his letter marking World Falun Dafa Day this year, U.S. Senator Thomas R. Carper from Delaware wrote, "While we here in the United States we are fortunate to be able to practice freedom of religion and speech, we also remember that other countries are not as fortunate. Millions of Falun Dafa practitioners in China have been subjected to illegal imprisonment, torture, and forced organ harvesting. Their struggle will never be forgotten and must in turn fuel our efforts for change."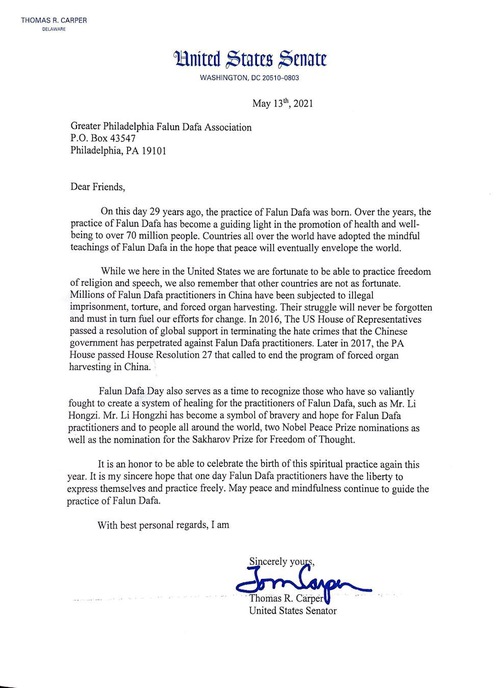 U.S. Representative Scott Perry from Pennsylvania wrote a letter condemning the persecution in China. "The heart wrenching trials borne patiently by Falun Gong practitioners in the face of a genocidal and dictatorial Chinese Communist Party (CCP) stand as a testament to the indomitable will of those who aspire to live in freedom," he wrote.
"What the Beijing government has inflicted on Falun Gong practitioners is nothing short of genocide. The United States Congress will continue to do everything possible to ensure that the CCP ceases its cruel and barbaric practices; it is intimidated by the courage and persistence of the Falun Gong and all those who believe in the free exercise of religion," he continued. "Our Nation earnestly hopes and prays that, like the Soviet Union, the CCP will be relegated to the dustbin of history."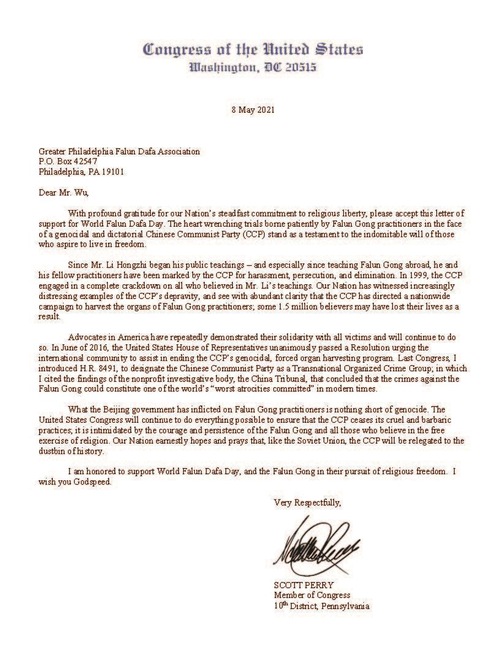 U.S. Representative Mike Doyle from Pennsylvania wrote in his letter. "The United States was founded on the principle of inalienable human rights, including the freedom of religion. Most Americans want our government to respect and promote human rights around the world. I have consistently worked to ensure that the U.S. Government stands up for human rights in its dealings with the Chinese Government," he wrote. "I welcome this opportunity to reaffirm my opposition to the Chinese Government's brutal repression of Falun Dafa practitioners."
Ken Calvert, U.S. Representative from California, said the CCP started to suppress the meditation and spiritual practice of Falun Gong 22 years ago. "Since then, Falun Gong's followers have been subject to abuse, torture, illegal imprisonment, and extremely cruel practice of organ harvesting. This brutal persecution is intolerable and must stop," he wrote. "Rest assured, I will also continue to be a strong supporter of ensuring basic rights to individuals throughout the world and will continue to support your community's fight for essential rights and freedoms."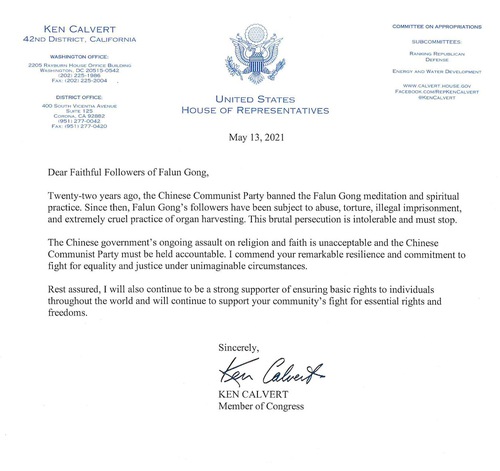 State Resolutions
The Illinois House of Representatives passed resolution HR0029 in April 2021 to condemn the persecution of Falun Gong and the state-sanctioned forced organ harvesting from prisoners of conscience in China. Initiated by Representative Anne Stava-Murray, the resolution was approved by the 102nd Illinois General Assembly.
"We condemn the persecution of Falun Gong, a traditional Buddhist-based meditation practice whose core principles are truthfulness, compassion, and tolerance, as it reaches the 22 year mark since the Chinese Communist Party launched a systematic and brutal campaign to 'eradicate' the spiritual discipline of Falun Gong," says the resolution.
"We encourage the medical community in the United States to help raise awareness of unethical organ transplant practices in China," the resolution continues. "We condemn the practice of state-sanctioned forced organ harvesting in the People's Republic of China."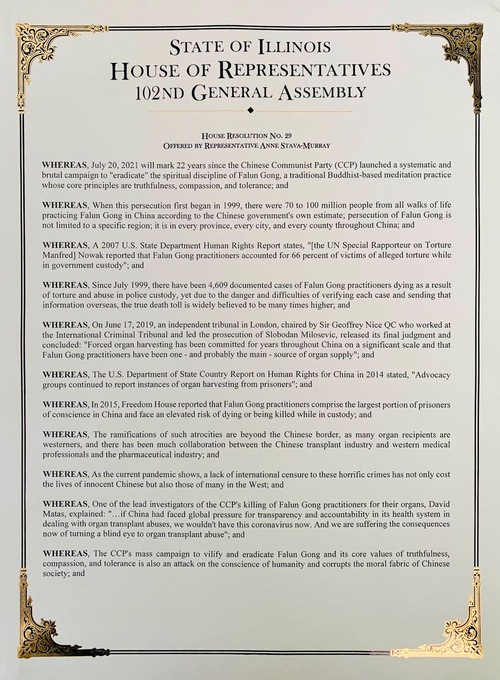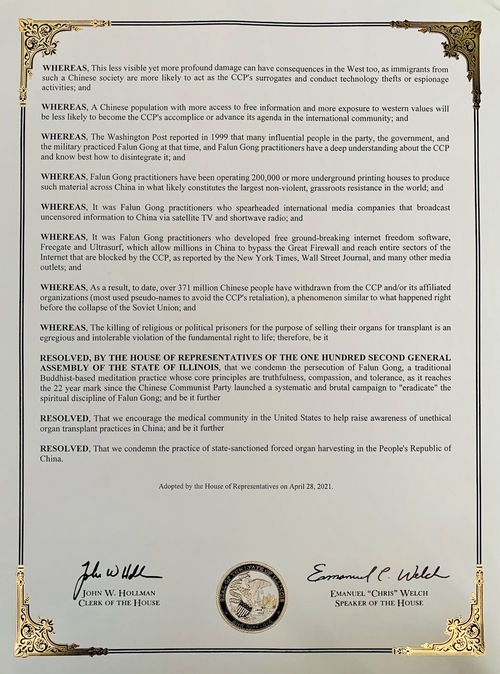 Also in April, the Texas State Senate passed Concurrent Resolution 3 (SCR3) condemning forced organ harvesting by the CCP. Citing a report from Freedom House in 2015, it says, "Falun Gong practitioners are the primary victims of forced organ removal and face an elevated risk of dying or being killed in custody." Quoting remarks from former Secretary of State Mike Pompeo, the report states, "We call on the PRC government to immediately end its depraved abuse and mistreatment of Falun Gong practitioners, release those imprisoned due to their beliefs, [. . .] and address the whereabouts of missing practitioners."
Angela Paxton, one of the state senators who introduced the resolution, said after the Senate vote, "Everything about it [the organ harvesting crime] goes against treating individuals with the dignity they deserve simply for being a human being."
She believes the resolution will serve to educate Texans about the atrocity. She said some people may have heard about it, but they don't speak up about it and simply treat it as a rumor. But "we want to go on record and say that 'this is happening' and we condemn it," she said. Donna Campbell, another state senator who sponsored the resolution, said, "That's an atrocity. That's a human rights violation that no nation should turn a blind eye to."
Letters from State Legislators
Five state representatives and state senators from Texas sent letters this month calling to end the persecution in China. Representative Lyle Larson said the CCP had brutally suppressed Falun Gong practitioners in the past 22 years and that the crime cannot continue anymore. In addition, he praised practitioners for their perseverance and commitment. He said he and other lawmakers will work hard to ensure basic human rights globally.
Representative Harold V. Dutton said everyone–including Falun Gong practitioners– should have the right to safety along with peaceful gathering and meditation. Due to pressure from the CCP, however, practitioners in China are forced to practice privately or stop practicing. He said he would continue advocating for human rights and dignity for everyone. He also hopes more people will stand together on this issue, as only then can the mistreatment of Falun Gong practitioners stop.
Many state representatives and state senators also sent congratulatory letters and greetings during the World Falun Dafa Day celebration this year.
Representative Dianne Herrin for the 156th district in Pennsylvania wrote, "I am writing in condemnation of the actions of the Chinese government against Falun Dafa (or Falun Gong) supporters. The documented persecution against Falun Dafa supporters is a direct violation of human rights and the abuses committed by the Chinese government must not be tolerated.
"As a collective, we must embrace cultural, religious, spiritual, and ethnic difference rather than demean, imprison, and commit violence to stifle opposition," she continued, "No one should be persecuted or imprisoned because their beliefs differ from those of their government, and the actions of the Chinese government are antithetical to a healthy democracy."
In a proclamation that commemorates World Falun Dafa Month, Senator Neil D. Breslin of the 44th District in New York said he did so "to celebrate the benefits of Falun Dafa in the lives of practicing, to introduce Falun Dafa to more people and to raise awareness about persecution faced by practitioners in China."
Three lawmakers in Michigan, Richard Steeenland of the 22nd district, Lori Stone of the 28th district, and Senator Paul Wojno, co-signed a special tribute and expressed their support for Falun Dafa practitioners' efforts to resist the CCP's persecution.
"As Americans, we uphold the freedom of belief and protect human rights both at home and abroad. We stand in solidarity with the members of Falun Dafa, who have the fundamental right to live freely without the threat of violence, harm and repression for their beliefs," the tribute says.
Representative Mark A. Tisdel, also from Michigan, wrote in his letter, "Since 1999, hundreds of Falun Gong adherents have allegedly died in custody from torture, abuse, and neglect. In 2018 the United Nations Human Rights Council recommended that China end its persecution of religious minorities, including Falun Gong practitioners. Please do not hesitate to contact me if I can be of any assistance to you in the years ahead."
Representative Jewell Jones represents the 11th district of Michigan. "We stand with the members of the Falun Dafa. Every person has a fundamental right to live free. We call for the end of this persecution and allow them to openly exercise their right to practice their beliefs free from the oppression from the Chinese government," he wrote.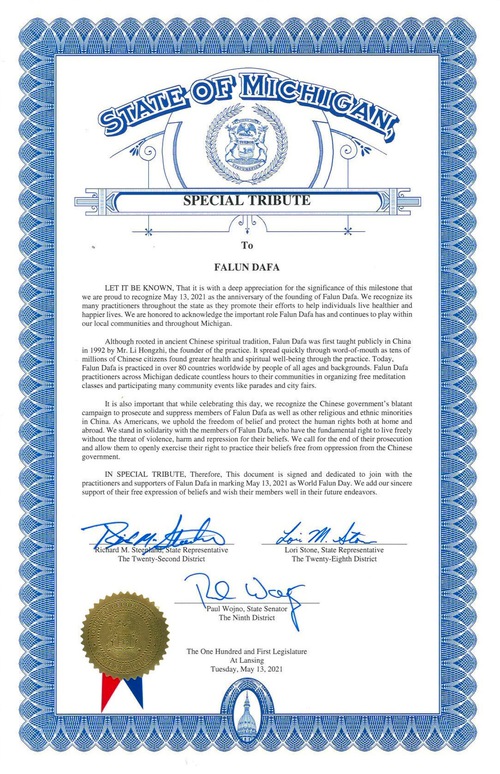 Local Governments
In 2021 alone, 11 counties in Virginia passed resolutions calling to stop the CCP's forced organ harvesting from prisoners of conscience in China. "Extensive and credible reports have revealed mass killing of prisoners of conscience in the People's Republic of China, primarily practitioners of the Chinese spiritual practice of Falun Gong, but also other religious and ethnic minority groups, in order to obtain organs for transplants," wrote the resolution in Warren County. "In June 2016, the United States House of Representatives unanimously passed House Resolution 343, condemning the systemic, state-sanctioned organ harvesting from practitioners of Falun Gong and other prisoners of conscience."
"The Warren County Board of Supervisors, that the residents and the medical community servicing Warren and the immediate region be informed about the risks or travel to China for organ transplants to help prevent local citizens from becoming accomplices in state-sponsored forced organ harvesting from prisoners of conscience," the resolution says.
Similar progress has also been made in other states. County Executive Steven M. Neuhaus of the Orange County in New York wrote in a proclamation, "Falun Dafa practitioners' determination and courage to stand up for Truthfulness-Compassion-Tolerance while facing severe persecution from the Chinese Communist Party has shown the world the value of life and the preciousness of human dignity."
In her proclamation, Mayor Sue Himmelrich of the City of Santa Monica in California wrote, "Falun Dafa practitioners helped defend universal values of human rights and freedom. Since July 1999, the former Chinese Communist dictator Jiang Zemin launched an unprecedented persecutory campaign to eradicate it after it outnumbered Chinese Communist Party membership in 1998. Falun Dafa practitioners have been tirelessly raising public awareness and resisting persecution through remarkable peaceful means in the past two decades.
"This proclamation will help recognise the values of Truthfulness, Compassion, and Forbearance, which can benefit everyone, send a powerful message of solidarity to those suffering in China, and an unmistakable rejection of the Chinese regime's campaign to wipe out a peaceful faith," she continued.
Buddy Dyer, Mayor of Orlando in Florida, wrote, "In 1999, the Chinese Regime, which estimated that 70-100 million Chinese were practicing Falun Dafa, launched a brutal all-out campaign against the peaceful group on a nationwide scale. The ongoing suppression has potentially claimed hundreds of thousands of lives according to researchers. Since 1999, numerous western governments and human rights organizations have expressed condemnation of the Chinese government's suppression of Falun Dafa."
In May this year, the Missouri cities of O'Fallon, St. Peters, St. Charles, and Wentzville issued proclamations to honor Falun Dafa Day. "This year, 2021, marks 22 years of peaceful appeals and worldwide efforts to end the communist regime's brutal persecution of Falun Dafa in China," reads the proclamation from Mayor Bill Hennessy of the City of O'Fallon.
"Falun Dafa has transcended cultural and national boundaries to bring better health and inner peace to millions around the World, including Missouri," says the letter. "Practitioners of Falun Dafa in Missouri cherish the freedom of belief, while in China their counterparts have continued to peacefully stand up for freedom in the face of brutal persecution under the communist regime's repression since 1999."
All articles, graphics, and content published on Minghui.org are copyrighted. Non-commercial reproduction is allowed but requires attribution with the article title and a link to the original article.
Chinese version available
(Clearwisdom)