June 10, 2021 | By a Minghui correspondent
---
The month of May 2021 recorded 96 Falun Gong practitioners being sentenced to prison for their faith, which has been persecuted by the Chinese communist regime since 1999.
The newly reported 96 cases included one that took place in 2019, 37 cases in 2020, 2 cases in January 2021, 32 cases in April 2021 and 22 cases in May 2021, as well as 2 cases in 2021 with unknown month of occurrence. The delay in the reporting of the cases was mostly caused by the strict information censorship in China, which makes it difficult for Minghui correspondents to collect and send out information.
In the past five months, a total of 592 sentencing cases have been reported, including 1 in 2019, 266 in 2020, and 325 in 2021. The total confirmed sentencing cases for 2020 have now become 888.
For the 96 cases confirmed in May 2021, the practitioners hailed from 41 cities in 21 provinces and municipalities. Henan registered the most cases of 31. Heilongjiang ranked the second with 10 cases. The remaining regions had single digit cases between 1 and 6.
Twenty-six of the 31 wrongly-convicted practitioners in Henan were sentenced together, after being targeted in a mass arrest in 2019. Another 14 Henan practitioners arrested on the same day were also sentenced to 2-9 years in March 2021. Other group sentencing, though in smaller scale, were reported in Heilongjiang, Shanxi and Ningxia.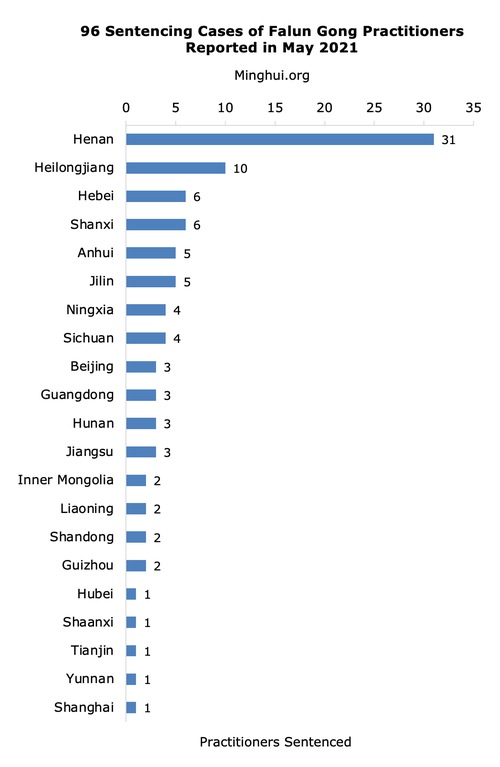 Except for 3 unknown prison terms and 11 practitioners who were given probation (who don't have to serve the specified sentences in prison unless the probation conditions are violated during the specified probation periods), the remaining 82 practitioners received between 6 months and 13 years in prison. The average term was 3 years and 10 months.
Several of the practitioners were secretly sentenced and their families were kept in the dark of their detention location and details of their trial.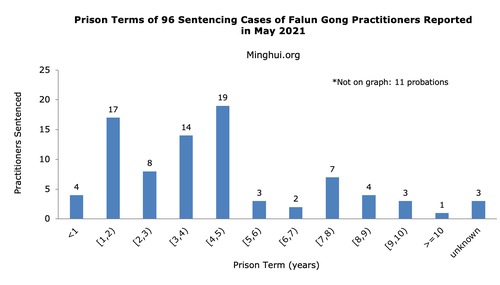 Thirteen of the 96 practitioners were 65 or older, with 2 of them being 81 and one of them ordered to serve 9 years. A 79-year-old man was sentenced to 8.5 years.
A 72-year-old mother was sentenced to three years in prison in early May 2021, after being arrested for seeking the release of her daughter, who had been detained for their shared faith in Falun Gong.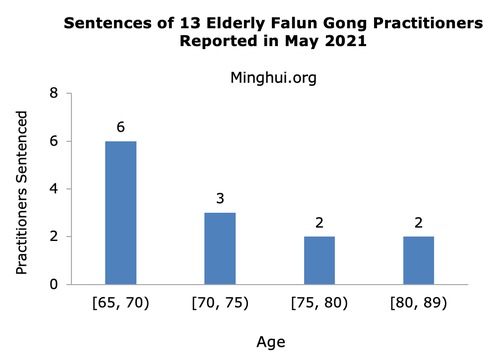 Half of the 96 practitioners were given court fines between 900 to 50,000 yuan, with a total of 690,900 yuan and an average of 14,394 yuan.
Below are snapshots of cases reported in May 2021. The full list of sentenced practitioners can be downloaded here (PDF).
Group Sentencing
Nanyang City, Henan Province: 26 Falun Gong Practitioners Targeted in Mass Arrest Sentenced to Prison, Appeals Rejected
Twenty-six residents of Nanyang City, Henan Province were given prison terms ranging from seven months to thirteen years and fined between 3,000 to 50,000 yuan on December 30, 2020.
Seventeen of the practitioners were sentenced to a combined 80 years and another 9 practitioners were given probation. The total court fine of the 26 practitioners was 499,000 yuan, with an average of 19,192 yuan per person.
The 26 practitioners were targeted during a mass arrest of over 160 practitioners between August 30 and 31, 2019. Most of the arrests took place between 4 a.m. and 5 a.m. It was reported that the police and Political and Legal Affairs Committee, an extra-judiciary agency tasked with persecuting Falun Gong, had been monitoring the practitioners since April 2019.
In July 2019, police officers and residential committee staffers visited the practitioners at home, collecting information about their IDs and household registration. Most practitioners also had their photos taken.
The 26 practitioners were tried by the Wancheng District Court on August 11, 2020. The court didn't allow the practitioners to hire lawyers, but appointed lawyers to represent and enter guilty pleas for them.
The judge announced the verdicts on December 30, 2020. The practitioners appealed the verdicts, but the Nanyang City Intermediate Court ruled to uphold their original sentences without a hearing on March 31, 2021.
In addition to the 26 practitioners, 14 other practitioners who were arrested on the same day were sentenced to 2-9 years in March 2021.
Four Shanxi Residents, Including a 78-year-old Man, Sentenced to Prison
Four Taiyuan City, Shanxi Province residents were sentenced to prison on April 30, 2021. Mr. Zhang Bianying was sentenced to 9.5 years, Mr. Gong Guoqing, 78, to 8.5 years, Ms. Chang Ying to 7.5 years, and Ms. Li Zhonge to 5.5 years.
The practitioners were arrested on May 17, 2020. The authorities barred their families from visiting them or sending in daily necessities for them, citing the pandemic as an excuse.
Prior to Mr. Gong's latest sentencing, he has been repeatedly harassed in the past two decades for his faith. The mental pressure from the persecution took a toll on his wife's health and she fell into a delirious state at times. Her vision gradually worsened and she is completely blind now.
Since she fell ill, Mr. Gong has been taking good care of her. Despite his own advanced age, he said practicing Falun Gong truly gives him good health and strength to carry through the ordeals over the years. His imprisonment now left his wife in a dire situation.
Five Guests Arrested While Visiting a Falun Gong Practitioner Couple, All Seven Sentenced to Prison
Seven Falun Gong practitioners in Harbin City, Heilongjiang Province were sentenced to terms ranging from one to six years and fined between 2,000 and 20,000 yuan in April 2021. Their families recently received the court's notice to collect fines, but they never received the verdicts of their prison terms.
Police officers smashed a window and scaled the fence to break into the home of Mr. Liu Wenchang and his wife Ms. Wang Shuren at around 6 p.m. on November 27, 2020. The couple and their five guests, Ms. Feng Xiumei, Ms. Meng Qiuyan, Ms. Bai Lixia, Ms. Liu Qiu and Ms. Liu Shuying, were arrested.
In the evening, all seven Falun Gong practitioners' families went to the Xingfuxiang Police Station and demanded their release. Several of the practitioners' children said their mothers' health had improved after taking up Falun Gong and that they didn't do anything wrong in upholding their faith.
The police refused to release the practitioners and ordered them to sign statements to renounce Falun Gong. The village Party secretary, Liu Ming, told Ms. Wang's son to kneel in front of her and beg her to sign the statement. But Ms. Wang didn't comply. Later in the evening, the six female practitioners were transferred to the Harbin City No. 2 Detention Center, and Mr. Liu was taken to the Shuangcheng District Detention Center.
The next day, the police asked the husbands of the five guests, mostly in their 70s, to sign their arrest warrants, which were dated December 8, one day after the actual arrests.
The practitioners' families found the village secretary Liu Ming and sought his help to rescue their loved ones. Liu instead asked each family to turn in 50,000 yuan for him to bribe the police officers in charge of the case.
The seven practitioners were tried by the Daoli District Court on April 2, 2021, through a video conference. The hearing lasted only half an hour.
When the practitioners' families called the judge two weeks later, the judge told them that Ms. Wang was sentenced to six years with a 20,000-yuan fine and Mr. Liu was given three years with a 10,000-yuan fine. The other five practitioners were all sentenced to one year with a 2,000-yuan fine.
It was reported that Mr. Liu is having episodes of epilepsy, which was healed years ago after he took up Falun Gong but recurred due to the poor living conditions in the detention center. His family is now very worried about his situation.
Four Ningxia Women Sentenced to Prison
Four women in Shizuishan City, Ningxia Autonomous Region, were sentenced to prison on April 22, 2021.
Ms. Yu Dezhen was sentenced to four years and fined 30,000 yuan.Ms. Chen Xiuping was sentenced to three and a half years and fined 25,000 yuan.Ms. Shi Meilan was sentenced to three years and two months and fined 10,000 yuan.Ms. Liu Cuimei was sentenced to three years and fined 10,000 yuan.
Ms. Yu, Ms. Chen, and Ms. Shi were followed by the police on April 30, 2020, as they were putting up informational materials about Falun Gong in a residential area. The police arrested them and ransacked their homes. Although the police released them later that evening, they secretly monitored the women afterward, including where they went and whom they talked to. Some of the photos they took were later used as evidence for the prosecution.
The police arrested the three women again on May 16, 2020. The fourth practitioner, Ms. Liu, was also arrested that day. To break into Ms. Yu's home, the police removed the peephole in her door from the outside and then used a wire to reach in through the opening and unlock her door. The police beat Ms. Liu when they interrogated her at the station.
All four women were released on bail that same evening, only to be taken back into custody on July 27, 2020, and held in the Shizuishan Detention Centre.
On January 12, 2021, the practitioners were tried by the Dawukou District Court via a video conference. They received their verdicts, dated April 22, on April 26. The presiding judge was Wang Yu. All four are appealing their sentences. Two of them have had their families hire lawyers to represent them in their appeals.
Elderly Targeted
Two Henan Residents, 81 and 66, Sentenced to Prison
Mr. Zheng Jiajin, an 81-year-old Xinxiang City, Henan Province, was recently sentenced to a one-year and eight-month prison term for practicing Falun Gong. Since he had previously been sentenced to 7.5 years in 2015 but had not served his sentence, he was ordered to serve a total of nine years and two months after the latest prison sentence.
Another practitioner, Ms. Zhu Fenglan, 66, was sentenced to 7.5 years. Both have appealed to the Xinxiang City Intermediate Court.
Both Mr. Zheng and Ms. Zhu were arrested on August 28, 2020, at a place that they rented to make informational materials about Falun Gong for distribution. Their computer, printer, and a large number of office supplies were confiscated.
The police interrogated the two practitioners at the Nanqiao Police Station and took them to the Xinxiang City Detention Centre the next afternoon. Mr. Zheng was denied admission due to having dangerously high blood pressure, and was released in the evening. Ms. Zhu has been held there since.
After three hearings, on February 23, April 8, and May 8, 2021, the judge sentenced the two practitioners to prison. Both were also fined 10,000 yuan.
The local social security office has suspended Mr. Zheng's pension since September 2020, using the funds withheld to pay back the funds he has received between his prior arrest in November 2014 and his latest arrest in August 2020.
The authorities claimed that according to a new policy, no Falun Gong practitioners serving time for their faith are entitled to any retirement benefits, even though no Chinese labor law stipulates this. While Mr. Zheng was released on medical parole following his previous arrest in November 2014, the authorities said he still shouldn't have received his pension payments.
Mr. Zheng, a retired railway tunnel engineer, was previously arrested on November 3, 2014, and sentenced to 7.5 years on April 30, 2015. He appealed with the Xinxiang City Intermediate Court, which returned the case to the lower court in July 2015 and ordered a re-trial. The judge of the lower court still sentenced him to 7.5 years after the retrial.
Mr. Zheng was taken to the Zhengzhou Prison in late 2015 but was later released on medical parole.
71-year-old Woman Secretly Sentenced the Third Time
Ms. Deng Tianyu, a 71-year-old Jingzhou City, Hubei Province resident, was secretly sentenced to five years in May 2021.
Ms. Deng was arrested on April 14, 2020, for distributing informational materials about Falun Gong. Shortly after she was released at around 5 p.m., the police ransacked her home in the evening and confiscated her Falun Gong books, photo of Falun Gong's founder and informational materials about Falun Gong.
The police put her under house arrest and arrested her again on October 18. She was first held at a detention center in Shishou City and then transferred to Jingzhou No.1 Detention Centre on November 4.
Her family learned in May 2021 that she has been sentenced to five years, but the authorities kept them in the dark of when her hearing took place and when she was convicted.
This is the third time that Ms. Deng has been sentenced for her faith, following a three-year term in 2001 and a four-year term in 2009. The Jingzhou City Social Security Office suddenly suspended her pension in February 2019 without providing an explanation.
Family Tragedies
Senior Engineer Sentenced to Four Years Again after Serving 11 Years in Prison
Ms. Yu Minghui's wish to reunite with her parents was shattered again when her 63-year-old mother was sentenced to four years in prison for practicing Falun Gong.
Since the Chinese communist regime started to persecute the spiritual discipline Falun Gong in 1999, Ms. Yu's family of three in Mudanjiang City, Heilongjiang Province has spent less than two years together. Her father was arrested in 2001 and sentenced to 15 years. His wife was arrested in 2003 and sentenced to 11 years.
As a teenager, Ms. Yu struggled to grow up by herself. After being admitted to Cambridge School of Visual & Performing Arts in 2010 to study fashion design, she moved to the U.K. and hasn't been able to return to China since.
When her father was released in 2016, two years after her mother returned to the empty home, they applied for passports in order to travel to the UK to visit Ms. Yu, only to be rejected by the police and told that there was no way for them to ever get their passports.
Ms. Yu's mother, Ms. Wang Meihong, a geological engineer, was arrested again on March 31, 2020 for talking to people about Falun Gong. After a year of detention, she was sentenced to a four-year prison term around early May 2021 and has been admitted to Heilongjiang Women's Prison to serve time.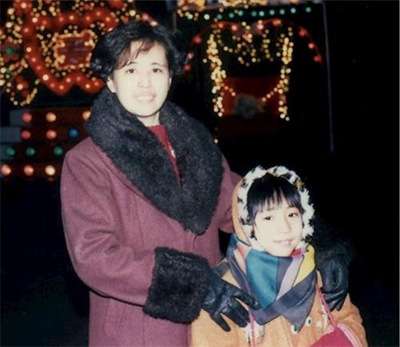 While attending an event in the UK in April 2021 calling for an end to the persecution, Ms. Yu said, "I don't know when my mother will be released. I came here today to protest the Chinese Communist Party (CCP) because my mother did not commit a crime in practicing Falun Dafa. My parents are now in their 60s. They were imprisoned for over a decade. Their lives are extremely difficult."
"I am very worried. I hope they can release my mother immediately and give her back her freedom. Stop harassing her. It is not wrong to believe in Truthfulness, Compassion, Forbearance," she said.
72-year-old Mother Sentenced to Three Years Following Arrest for Seeking Daughter's Release
A 72-year-old mother was sentenced to three years in prison in early May 2021, after she was arrested for seeking the release of her daughter, who had been detained for their shared faith in Falun Gong.
Ms. Chen Yan's daughter, Ms. Cao Yueling, was arrested on August 24, 2020, before boarding a flight to Shanghai to see her twin sons, who had been staying with their father in Shanghai. She hadn't seen them for five years.
Fifteen officers took Ms. Cao back to her parents' home in Fushun City, Liaoning Province, where she has been staying, and ransacked the place. The police also attempted to arrest Ms. Chen, but were stopped by her 78-year-old husband.
For the next few weeks, Ms. Chen went to the Leifeng Police Station several times to demand Ms. Cao's release, but to no avail.
Ms. Chen went to the police station to demand Ms. Cao's release again on September 21. After the security guard told her that the police chief wasn't there, Ms. Chen went to the Domestic Security Office and met with the director, Tu Gang. Tu asked Ms. Chen to wait for him at the police station. Ms. Chen returned to the police station, only to be arrested by Tu. She was sent to the Xinbin Detention Center at around 4 p.m. on the next day.
Ms. Chen's family recently confirmed that she has been sentenced to prison. She is appealing the verdict. It's not clear whether her daughter, Ms. Cao, has been sentenced.
Prior to the mother-daughter duo's latest ordeal, Ms. Cao was arrested in Shanghai on April 2, 2015 for handing out information about Falun Gong and sentenced to 4.5 years on March 25, 2016. She was released around March 2019 and arrested again 18 months later.
Ms. Chen's arrest came only four months after she returned home on May 10, 2020 after serving a three-year term, which she was given for talking to people about Falun Gong.
Arrested in a Police Sweep, Sichuan Couple Each Sentenced to Eight Years
A married couple in Chengdu City, Sichuan Province, were both sentenced to eight years in prison on April 27, 2021, for their shared faith in Falun Gong.
Mr. Liu Wei and Ms. Ai Chaoyu were arrested in a police sweep of 40 local Falun Gong practitioners on July 10, 2019. The couple's home was filled with police officers during the home raid. According to a housekeeping staff member from the apartment building, the police extracted a dozen videos from the surveillance camera, probably in search of other practitioners who had visited the couple.
The police kept the couple at the Pi County Detention Centre and approved their arrests on August 17. The prosecutor twice returned their cases for insufficient evidence. To frame the couple, the police attempted to extract confessions from them using violence and threatened them with the safety of their family and children. The couple insisted that they hadn't done anything wrong in practicing Falun Gong.
The Chenghua District Procuratorate indicted the couple on April 3, 2020. Their lawyer visited them at the detention center on April 18. Due to the pandemic, the detention center only allowed the lawyer to talk to the couple through a video conference, and also limited the meeting to 20 minutes.
The lawyer also went to the Chenghua District Court to review the couple's case document. The receptionist claimed that the case hadn't been put on the docket yet and refused to give the lawyer access to the documents.
On March 9, 2021, after another eleven months of detention, the couple was tried through a video conference at the detention centre. The guards didn't provide chairs or microphones for them. As a result, the couple stood throughout the hours-long hearing and had to shout into the microphone on the wall, in order to talk to the judge.
After a second hearing on March 30, the judge sentenced both of them to eight years on April 27. They have appealed the verdicts.
In addition to the couple, another four practitioners were arrested on the same day and were also given heavy terms. Ms. Mao Kun was given 11.5 years. Mr. Du Rong was sentenced to 9 years with a 10,000 yuan fine. Ms. Zhang Zhenhua was sentenced to 8 years with an 8,000 yuan fine. And Mr. Chen Shigui was given 7.5 years with a 6,000 yuan fine.
While awaiting the result of her appeal case, Ms. Mao was suddenly hospitalized on April 9, 2021, and died two days later. Her family suspected that she might have been tortured in custody.
For upholding her faith in the face of the persecution, Ms. Ai has been subjected to constant harassment and monitoring of her daily life. Unable to bear the pressure, her husband divorced her in February 2002. Ms. Ai married Mr. Liu in 2004. The police continued to harass her and forced her to live away from home to avoid persecution several times.
Guangxi Couple Sentenced to Prison, Husband Suffers Medical Problems
Mr. Xie Jianxin is having gastrointestinal bleeding and swelling on his neck, while being imprisoned for distributing informational materials about Falun Gong. The situation of his wife, Ms. Zhao Renyuan, who was arrested and sentenced with him, remains unclear, as the prison is blocking any form of contact between her and her family.
The couple, from Guilin City, Guangxi Province, were arrested at home in the middle of the night on February 5, 2020. The police claimed that they were there to take the couple's temperature. After Mr. Xie refused to open the door, the police broke in and arrested them.
When the couple's family called the police on February 8 to inquire about their case, a police officer said that the two were arrested for handing out Falun Gong materials, but he refused to provide any other information.
The couple stood trial at the Xiufeng District Court on November 6, 2020. The judge sentenced them to four years with a 5,000-yuan fine each on December 1, 2020.
The Guilin City Intermediate Court accepted their cases on December 16, nine days after they filed the appeal. In early January 2021, Ms. Zhao's lawyer tried to contact the judge assigned to the appeal cases, but to no avail. A court clerk later told him that the judge has issued the ruling to uphold the couple's sentences at the end of December 2020, but without informing the lawyer. Now six months have passed, and the couple's family has yet to receive the verdict from the intermediate court.
Ms. Zhao was transferred to the Guangxi Province Women's Prison in Nanning on February 9, 2021. When her family called the prison in mid-February, the guards said they wouldn't allow them to visit her due to the pandemic. They wrote a letter to her, but haven't heard back. They called the prison again in May and the guards still refused to provide any information about Ms. Zhao.
Mr. Xie was taken to the Liuzhou Prison on April 8, 2021. According to his lawyer, he has had several episodes of gastrointestinal bleeding at the detention centre. In the letter Mr. Xie wrote to his family, he noted that the swelling on his neck was getting worse.
Jilin Lawyer Sentenced to Seven Years, Wife Awaits Verdict
Mr. Du Jingyi, a lawyer in Changchun City, Jilin Province, recently had his appeal against a seven-year prison sentence for his faith in Falun Gong rejected. His wife, who was arrested a year after him, is awaiting a verdict following a court hearing in December 2020.
Mr. Du, in his 60s, was arrested at 6 a.m. on September 9, 2019, when he went out to buy groceries. The officers took his keys and ransacked his home. Although Mr. Du's wife, Ms. Cui Yuqiu, and their daughter, Ms. Du Xin, were also arrested, they were released at around 11 p.m. that day.
Mr. Du was held at the Yihelu Police Station overnight and transferred to the Changchun City No. 2 Detention Centre the next day. He was once hospitalized after developing scabies due to the unsanitary conditions in his cell.
Two days after Mr. Du's first hearing by the Chaoyang District Court on July 13, 2020, the police broke into his home and arrested his wife and daughter again. While Ms. Du was released after 13 days of detention, Ms. Cui is still detained at Changchun City No. 4 Detention Centre.
During Mr. Du's second hearing on September 28, judge Zhang Dan barred his daughter from attending the hearing, with the excuse that she was listed as a prosecution witness against him. When Ms. Du went out to look for a family member to attend the hearing for her, the judge started the proceeding and refused to let Mr. Du's relative enter the courtroom.
On December 10, 2020, Mr. Du's family received a notice from the Chaoyang District Court that Ms. Cui was scheduled to appear in court the next day. The judge said the family wasn't allowed to attend the hearing, because the case was very special.
Mr. Du was sentenced to seven years around early May 2021. His family wasn't informed of his verdict. He appealed with the Changchun City Intermediate Court, but it ruled to uphold his original verdict.
Prior to Ms. Cui's latest arrest, the 68-year-old former employee of the library of Jilin University was given one year in April 2002 and one and a half years in November 2003, both at the Heizuizi Women's Forced Labor Camp. She was often beaten, shocked by electric shocks, deprived of sleep, and forced to do long hours of free labor.
Ms. Cui's second labor camp term dealt a heavy blow to her mother. The elderly woman in her 90s was depressed and soon passed away. Because of missing her, Ms. Cui's daughter, Ms. Du's, academic performance in high school dropped quickly. Once a top student in her class, she wasn't admitted to a college, which caused her tremendous difficulty in finding a job.
Secretly Sentenced
Shaanxi Man Secretly Sentenced to Four Years
When Mr. Liu Wei's family went to the detention centre to visit him in late May 2021, they were told that he has been sentenced to four years for practicing Falun Gong. This is the first time that his family has been given an update about his case following his arrest one and a half years ago.
Mr. Liu, a retired employee of the Grain and Oil Machinery Factory in Hanzhong City, Shaanxi Province, was arrested in nearby Xi'an City in September 2019. While another practitioner, Zhang Jing, who was arrested with him, was released after 30 days of detention in the Yanta District Detention Centre, Mr. Liu remains in custody. The police have kept his family in the dark about his whereabouts.
In early November 2019, Mr. Liu was taken back to his residence in Hanzhong. The police searched his home and confiscated his Falun Gong books and printer. He was then held at the Foping County Detention Centre under the jurisdiction of Hanzhong.
When Mr. Liu's family went to the Foping County Detention Centre to visit him in May, he had already been transferred to the Hantai Detention Centre while awaiting the result of his appeal. A guard revealed that he might be taken to the Weinan Prison soon to serve time.
This isn't the first time that Mr. Liu, in his 60s, has been persecuted for practicing Falun Gong. He was previously given two years at the Guozhen Forced Labor Camp following his arrest in September 2009. He was arrested again in January 2013 for distributing informational materials about Falun Gong and was sentenced to four years by the Nanzheng County Court. He was constantly tortured and forced to labor for no pay at the Weinan Prison.
Guizhou Woman Secretly Arrested and Sentenced
Since Ms. Zhou Qin was secretly arrested in September 2019, her family hasn't been allowed to see her once. They were recently notified that the 61-year-old former college English teacher has been imprisoned to serve a six-year term for practicing Falun Gong.
Ms. Zhou, a Guiyang City, Guizhou Province resident living by herself, suddenly lost contact with her family in September 2019. Unable to reach her, her cousin went to her home on September 25, but no one opened the door. None of her neighbors recalled having seen her recently.
Ms. Zhou's cousin returned a few days later and Ms. Zhou still wasn't home. She reported Ms. Zhou's disappearance to the local police station on October 4, only to be told that she had been arrested. When her cousin asked the police why she was arrested and where she was detained, they refused to answer.
For the next few months, Ms. Zhou's cousin and her friends visited almost every detention centre in Guiyang to look for her, but to no avail. Finally, they found her at the Sanjiang Women's Detention Centre, a facility in the suburban area of Guiyang.
Ms. Zhou's family made two cash deposits for her, in December 2019 and January 2020. After the coronavirus pandemic broke out, the detention centre stopped receiving them for the deposits.
In May 2021, Ms. Zhou's family received her six-year prison sentence dated April 19, 2021. It was reported that she had been taken to the Guizhou Province No. 1 Women's Prison (also known as the Yangai Prison), but the prison authorities also barred them from visiting her there.
Tianjin Man Secretly Sentenced to 3.5 Years
Mr. Xiao Shuqing, a Tianjin resident in his 70s, was secretly given a 3.5-year prison sentence in April 2021 for his faith in Falun Gong.
Mr. Xiao was arrested in March 2020 after being reported for talking to people about Falun Gong. Although he was released on bail shortly afterward, the police repeatedly took him back to the Ruijing Police Station for interrogation. He was also summoned to the local court and Procuratorate, and taken to hospitals for physicals. The police collected samples of his blood against his will on October 21, 2020, and in March 2021.
The police took Mr. Xiao back to the police station on April 19, 2021. They told him that his case wasn't closed yet and that he had been scheduled to appear in court. At 9:30 p.m. that day, officer Jin went to Mr. Xiao's home and informed his family that he had been sentenced to 3.5 years on charges of "undermining law enforcement with a cult organisation," the standard pretext used to incriminate Falun Gong practitioners.
Officer Jin said Mr. Xiao was being held at the Beichen Detention Centre and his case had been handled by judge Guo Huayang of the Beichen Court. No official verdict or hardcopy of Mr. Xiao's case document was ever given to his family.
A few days later, his family received his arrest warrant by express mail, but they refused to accept it.
Other Sentencing Cases
Judge Follows the 610 Office Instead of the Law in Sentencing Sichuan Man
When sentencing a Chengdu City, Sichuan Province resident to prison, the presiding judge indicated that they don't follow the law in prosecuting Falun Gong cases, but only listen to the 610 Office, an extralegal agency created on June 10, 1999, specifically to persecute Falun Gong.
Mr. Yang Huaming, a 53-year-old staff member of the Sichuan Province Maternal and Child Health Hospital, was arrested on October 1, 2019 when he went back to his hometown in Shehong. Both police from Chengdu and Shehong participated in the arrest.
After the police submitted his case to the Wuhou District Procuratorate, the prosecutor returned it twice, citing insufficient evidence. The police threatened Mr. Yang and his family that if he didn't plead guilty, he would be given a heavy sentence.
The prosecutor indicted Mr. Yang after the police's third attempt. Mr. Yang appeared in the Wuhou District Court on April 21, 2021. He pleaded not guilty and argued that no law has ever criminalized Falun Gong in China. He further stated that the Chinese Publication Bureau had lifted the ban on Falun Gong literature in 2011.
Despite the lack of legal basis, the judge still sentenced Mr. Yang to four years with a 10,000-yuan fine on May 12, 2021.
Anhui Woman Sentenced for Sharing Story of Her Recovery after Being Bedridden for 11 Years
After her twin daughters were born when she was 32, Ms. Kang Qihui developed pelvic congestion syndrome and was bedridden for the next 11 years. She visited large hospitals but was always sent home. Ms. Kang also tried Chinese medicine and different qigong schools, but nothing completely cured her. As her daughters grew up, they'd always first go see if she was still alive when they returned home from school.
Ms. Kang of Hefei City, Anhui Province, later received a flyer about Falun Gong, an ancient spiritual discipline. Interested in Falun Gong's health benefits, Ms. Kang began to read Zhuan Falun, the main text of the practice. She miraculously recovered in two days.
Deeply grateful to Falun Gong for giving her a new life, Ms. Kang was eager to tell more people about its health benefits. In her spare time, she began to go out and talk to people, and distribute informational materials.
On April 23, 2020, Ms. Kang was reported by people who misunderstood Falun Gong. Police officers arrested her, ransacked her home, and confiscated her Falun Gong books, informational materials, computer, printer, and laminator. She was put in criminal detention in Hefei City Women's Detention Centre after being interrogated at the police station.
The police submitted Ms. Kang's case to the Shushan District Procuratorate in July 2020, which indicted her and forwarded her case to the Shushan District Court. Both the Shushan District Procuratorate and Shushan District Court were designated as the main agencies to handle Falun Gong cases in the Hefei region two years ago.
During Ms. Kang's hearing on November 27, 2020, her husband, who hasn't seen her for seven months, wasn't allowed to attend, as the judge claimed that he was listed as a witness against Ms. Kang by the police.
Ms. Kang detailed her health recovery from practicing Falun Gong and she pleaded not guilty for talking to people about it. The presiding judge, Wu Xiaoshui, was so surprised to hear her story that she blurted out, "You said Falun Gong cured your disease?"
Ms. Kang's two lawyers entered a not guilty plea for her and refuted the charge of "undermining law enforcement with a cult organisation," a standard pretext used by the authorities to frame and imprison Falun Gong practitioners.
The lawyers pointed out that no law has ever criminalised Falun Gong in China or labeled it as a cult. When the lawyers presented a copy of a Chinese Publication Bureau notice issued in 2011, which revoked the ban on Falun Gong books, the prosecutor was shocked. "You downloaded this from the Internet?" he asked.
After the lawyers confirmed that it was an authentic, official notice, the prosecutor became dejected and mumbled that he and the court "were just following orders from above [in carrying out the persecution]."
The judge later sentenced Ms. Kang to 4.5 years with an 8,000-yuan fine. She appealed the verdict, but the higher court ruled to uphold her original sentence on April 19, 2021, without a hearing. She has been taken to the Anhui Province Women's Prison.
Related reports:
All articles, graphics, and content published on Minghui.org are copyrighted. Non-commercial reproduction is allowed but requires attribution with the article title and a link to the original article.
Chinese version available
(Clearwisdom)