By a Minghui reporter in Melbourne
______________________________
On the afternoon of April 24, 2021, Falun Dafa practitioners in Melbourne formed a "Great Wall of Courage." They stood together along both sides of Princes Bridge and held up banners to commemorate the historic April 25, 1999 appeal – when 10,000 Falun Dafa practitioners peacefully appealed to the Chinese government.
Later in the evening, the practitioners held a candlelight vigil in nearby City Square to mourn the many practitioners in China who have lost their lives in the ongoing persecution by the Chinese Communist Party (CCP).
Twenty-two years ago on April 25, 1999, 10,000 Falun Dafa practitioners stood along Fuyou St. in Beijing to peacefully appeal to the Chinese government. They had three requests: Release the Falun Dafa practitioners from Tianjin who were unjustly beaten and arrested; allow Falun Dafa books to be published legally; and allow for a peaceful cultivation environment in which practitioners could openly practice their belief.
The line of practitioners that day in Beijing was so long that one could not see the end of it. They quietly stood for hours. They did not shout slogans or impede traffic. When they were informed that the matter was resolved, everyone quietly left. Before leaving, they cleaned up the area and even picked up the cigarette butts tossed by police. Practitioners' display of compassion and tolerance showcased the great power of Truthfulness, Compassion and Forbearance – Dafa's principles – to the whole world for the first time.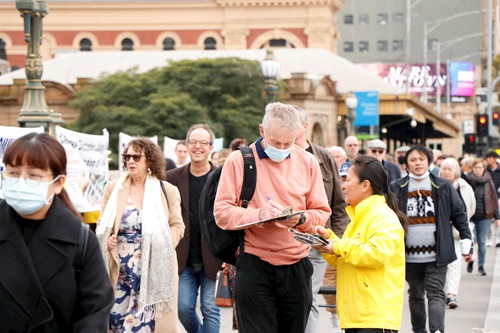 City Councillor: I Am Really Proud of All of You
That afternoon, Whitehorse City Councillor, Mr. Cr Blair Barker and his wife passed by Princes Bridge and saw the practitioners' "Great Wall of Courage." After reading the messages on the "wall," Mr. Barker and his wife were moved and said they admired their great efforts to spread the truth about the persecution of Falun Dafa in China.
"The world needs to know the truth," Mr. Cr Blair Barker said. "I really admire how Falun Dafa practitioners reveal the persecution to people in such a peaceful manner. Australians all think that citizens should have the freedom to speak and the freedom to believe. Therefore, all Australians, no matter their backgrounds, should reject the communist ideologies."
Mr. Barker also said, "I want to thank all the Falun Dafa practitioners who are here today. The weather is not good but the practitioners are still courageous in their hearts, fighting for their freedom and fighting on the front line to uphold all the esteemed traditional values that the Australians regard so highly. I am really proud of all of you."
He added, "The CCP persecutes Falun Dafa and other groups due to their beliefs. This is a crime against humankind and it is a real humiliation. The world needs to know the truth, and Falun Dafa brought hope to the world's people."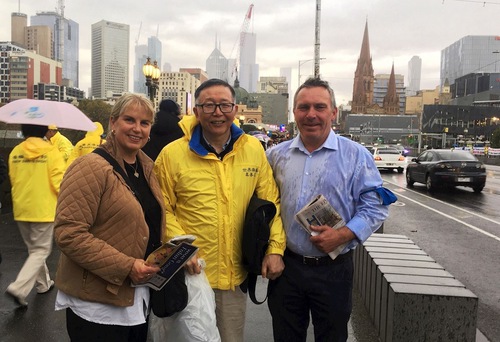 Melbourne Resident: Such a Touching Story Should Be 

Told



Mr. Chethan is a software engineer who moved to Australia from India. When he learned why 10,000 Falun Dafa practitioners appealed on April 25, he said, "People from all countries should not just feel sad for those innocent people who are being persecuted in China, they should also stand up and make their voices heard and oppose the persecution. This persecution should not have happened at all."
When he learned about the effects Falun Dafa has in restoring health and that it is taught free of charge, Mr. Chethan said he plans to introduce the practice to his family in India as the CCP virus (coronavirus) epidemic in India is very serious and he hopes that his family will give it a try.
Mr. Chethan said that Truthfulness, Compassion and Forbearance are universal values. "What the world today needs the most is compassion. If more and more people can abide by these principles, the world will become a better place," he said.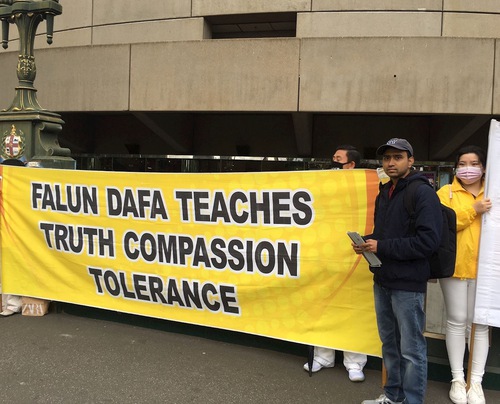 Rene, a retired cameraman, admired practitioners' courage in exposing the CCP's crimes. He said, "The CCP is very dangerous. Most people would not dare to stand up but Falun Dafa practitioners are very, very courageous. Their telling Australians the truth about what is happening in China is very important because currently, there are still many people who do not understand or do not care. But the CCP's recent infiltration into Australia is very serious. Now is a good chance to expose what's happening."
Rene also said, "Through some channels I learned that some things are about to happen. Therefore, I believe that the CCP will disintegrate soon. I am very confident about that. Let's see."
Mr. Norman, who traveled from New South Wales to Melbourne to visit his family, stopped to watch the candlelight vigil at City Square. After listening to a practitioner's explanation about the great appeal 22 years ago, Mr. Norman said, "The event that the Falun Dafa practitioners are holding today is very extraordinary. On such a cold night, there are so many people here meditating. This is definitely a very touching story which should be told, especially to the members of Parliament. They should take action."
Before his retirement, Mr. Norman worked in the advertising department of The Age, a mainstream newspaper in Australia. He said, "I am willing to do my meager part to write a letter to tell my member of Parliament what I have seen and heard for myself. Falun Dafa practitioners are very brave. I will go further to understand this matter and help spread the news about their efforts against the persecution."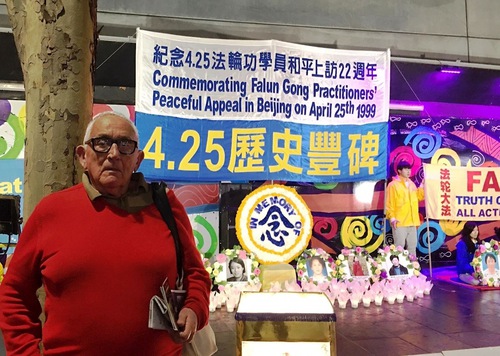 April 25 Appeal Participant: Experiencing and Understanding the Power of Compassion
Ms. Dong, who now lives in Melbourne, was a teacher in the Department of Computer Science and Technology at Tsinghua University.
Ms. Dong said, "I started practicing Falun Dafa in July 1997. A week later, my liver disease and all the health problems that were associated with it were quickly resolved. Although I was very young, I did not dare to read a book for long periods of time or look at the computer screen for too long as the part of my body where the liver is felt very uncomfortable. This really affected my work. However, soon after I began cultivating, very quickly, I felt very good. I could read Zhuan Falun (the main teachings of Falun Dafa) for hours, but I did not feel tired. I really experienced what it felt like to be free of illness."
When she heard that over 40 Falun Dafa practitioners had been unjustly arrested in Tianjin, Ms. Dong phoned the related department and shared her own experience of practicing Falun Dafa. She asked the authorities to immediately release them.
On April 24, 1999, practitioners at Tsinghua discussed what they should do. All of them wanted to go to the Office of Appeals in Beijing the next day.
Ms. Dong recalled, "The next morning we took a train and arrived near Fuyou Street around 10 a.m. Before we even reached the office, we noticed the very long queue of practitioners along Fuyou Street and on the streets near it. We later learned that many practitioners from Hebei had arrived early. We also noticed reporters who came to take photos of the scene, including foreign reporters."
Ms. Dong said, "I saw that some practitioners obviously came from villages. They are very simple and kindhearted. I was very touched as I had witnessed for myself, in the vast land of China, no matter what social strata, what ethnic group, what occupation, or what age, you can find Falun Dafa practitioners. Among these people, was a professor from China's top education academy who was from my practice site and there was also a farmer who toiled in the fields. All of them cultivate in the same Dafa. It is the great virtues of Falun Dafa that united so many people."
After the CCP began persecuting Falun Dafa in July 1999, Ms. Dong was abducted and monitored by the police and the district security office for long periods of time. She said, "Every time I was asked whether I still practiced [Falun Dafa], I always said that Falun Dafa is not illegal, it teaches people the three principles, Truthfulness, Compassion, and Forbearance. There is nothing wrong with Falun Dafa."
Even though 22 years have passed, Ms. Dong feels as if the April 25 Appeal just happened yesterday. "I was still a new practitioner. During the great appeal I witnessed for the first time Falun Dafa practitioners from all strata of society come together in a very rational, peaceful, and reasonable manner to request something compassionate. I also realised that their request was not for themselves but for all of society. It is the first time that I had this altruistic feeling, which is really inspirational."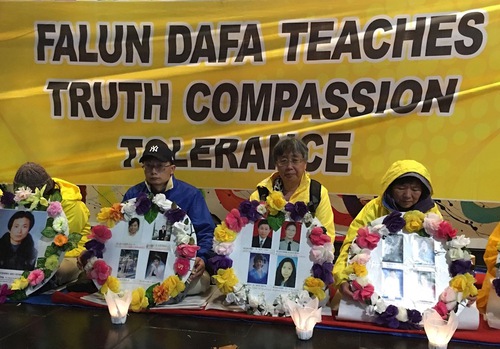 All articles, graphics, and content published on Minghui.org are copyrighted. Non-commercial reproduction is allowed but requires attribution with the article title and a link to the original article.
Chinese version available
(Clearwisdom)