Falun Dafa practitioners held a rally in downtown Adelaide on April 18, 2021, to protest the Chinese Communist Party (CCP)'s organ harvesting crimes and raise awareness of the escalating attacks on Falun Dafa practitioners in Hong Kong and the violent attack on the Epoch Times newspaper there.
Ramila Chanisheff, a human rights activist, addressed the rally and called for a louder voice and collective effort to end the CCP's atrocities.
Brian, a Falun Dafa practitioner, recounted the CCP's attacks on Falun Dafa information sites in Hong Kong and its escalated violence against practitioners since the National Security Law was forcibly passed in Hong Kong.
Brian said, "We call for the Australian government to pay attention to these attacks and urge the Hong Kong government and police to arrest the offenders. Hong Kong must protect the safety and basic freedoms of all its people. We also call on the international community to not cling to any hope that the CCP will somehow reform itself. Only by understanding the ideology of communism, eliminating the evil spectre behind the CCP, and defending traditional values will the world find a brighter and safer future."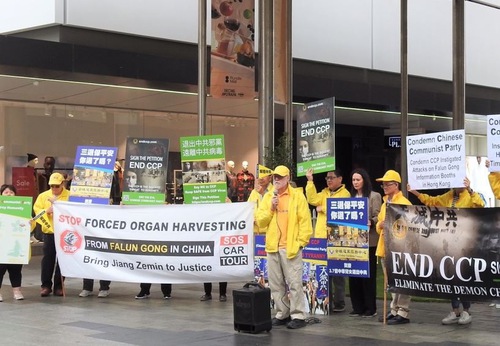 Ramila Chanisheff, a human rights activist, called for the public to support practitioners' efforts to end the persecution. She said, "As everyone is aware, there is genocide being committed in Xinjiang, northwestern China. We know what Falun Dafa is going through. We know what we are going through as well. We must stand up for human rights and stand against the Chinese communist regime." Chanisheff called on more people to use their voices and collectively stop the CCP's crimes.
Many pedestrians stopped to listen. Some lined up to sign a petition calling for an end to the CCP's persecution of Falun Dafa. They expressed their concern over the CCP's human rights violations and how the regime is harming the world.
A man said he was a Christian and supported Falun Dafa practitioners' efforts. "I know the Chinese Communist Party is a demon, and what you are doing is righteous."
All articles, graphics, and content published on Minghui.org are copyrighted. Non-commercial reproduction is allowed but requires attribution with the article title and a link to the original article.
Chinese version available
(Clearwisdom)