As the 2021 Lunar New Year is being celebrated in many countries around the world, Falun Dafa practitioners in Sydney continued to hold their usual activities to tell people about the spiritual discipline and raise awareness of the ongoing persecution in China.
Falun Dafa Brings Humanity Hope
Originally from Poland, Joanne Gramon Barmes is now an Australian citizen. After reading the information she said, "Practicing Falun Dafa can help a person relax and be free of ailments. Falun Dafa brings hope to the entire world. On the occasion of the Chinese New Year, I wish Master Li a Happy New Year!"
She also expressed her disdain for the Chinese Communist Party (CCP) and said, "We must get rid of communism because the CCP has done so many terrible things—stripping people of their rights to freedom of speech and knowledge. The regime even removes organs from prisoners of conscience without their consent and sells them for huge profits. This is abominable. Those who do bad things will be punished in the end."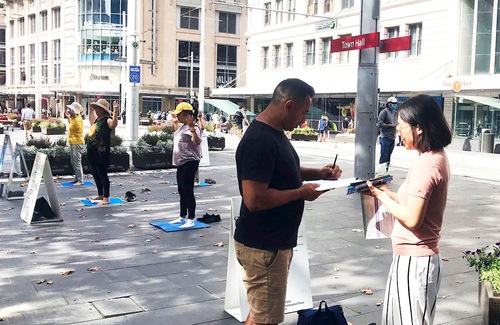 Passerby Wishes Practitioners and Founder "Happy Chinese New Year"
Taylor Wolfgramm stopped at the information booth outside Sydney Town Hall and read about the persecution in China. She thanked practitioners for telling people the truth and wished Master Li and all practitioners a Happy New Year.
Referring to the organ harvesting she said, "This is extremely evil—something demons do. We should eliminate communism. The CCP has committed many crimes people don't yet know about and we should expose them."
The Entire World Should Reject Communism
Kenneth Hills noticed practitioners doing the sitting meditation at Martin Place. He loves to meditate and thinks Falun Dafa is a great way to improve a person's health.
While talking about the persecution of Falun Dafa practitioners in China, he said, "The CCP is taking away people's most basic human rights. Organ harvesting is heinous but not many people know about this because the CCP has bribed politicians and infiltrated media companies around the world—and now they are afraid to stand up for justice. I will tell those I know to spread the word. That way we can come together to reject communism."
Rangel Domenciano thinks it is a good idea for practitioners to hold public activities to expose the atrocities in China. He said, "The CCP should be held accountable for all the bad things it has done. The Party has infiltrated governments around the world. It uses economic benefits to bribe them. It is expanding globally like fascism did. Activities like this are great because they spread the truth. Everyone should disseminate such information and stop the spread of communism worldwide."
25 total views