On December 10, Human Rights Day, practitioners of Falun Gong (also known as Falun Dafa) from the Bulgarian cities of Sofia, Stara Zagora, and Peshtera gathered peacefully in front of the Chinese Embassy in the capital city of Sofia to call on the Chinese government to immediately stop the persecution of the spiritual practice.
For 21 long years, the CCP has banned all public display of the meditative Falun Gong exercises and destroyed Falun Gong books. Even mentioning the phrase "Falun Dafa is good" can cost a person his job, freedom, and personal safety.
In July 2020, U.S. Secretary of State Mike Pompeo said in a press statement, "We call on the PRC government to immediately end its depraved abuse and mistreatment of Falun Gong practitioners, release those imprisoned due to their beliefs, such as Ma Zhenyu, and address the whereabouts of missing practitioners. Twenty-one years of persecution of Falun Gong practitioners is far too long, and it must end."
Pompeo's words echoed through the practitioners' speakers in front of the Chinese Embassy. The demonstrators also called on the Bulgarian government to take every opportunity to raise the issue of Falun Gong practitioners' human rights with its Chinese counterparts and to demand an end to the persecution.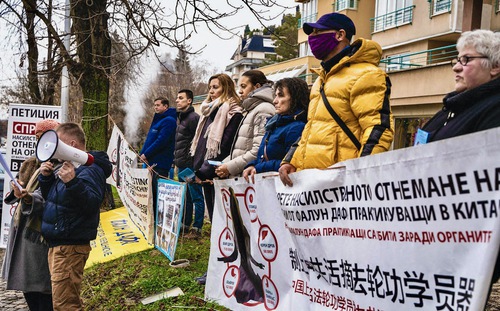 The practitioners also appealed to Bulgarian citizens to support Falun Gong by signing an international petition condemning the persecution. They have held such signature drives every week in Sofia and other Bulgarian cities.
Practitioners also screened the documentary "In the Name of Confucius" over Facebook on the evening of Human Rights Day. Radio stations in Sofia, Veliko Tarnovo, and Plovdiv, reported on the event.
The documentary follows the story of Sonia Zhao, a Chinese student and Falun Gong practitioner. She believed that teaching Chinese abroad in a Confucius Institute would free her from the CCP's persecution. But she found freedom only after she took the risk of leaving the institute with the help of Canadian Falun Gong practitioners. Thanks to Zhao's testimony, the Chinese community in Toronto managed to stop the establishment of the largest Confucius Institute in the world.
One viewer, Iva Ganev, said, "Very interesting movie. More people should know about these methods." Another viewer, Zornitsa Harizanova, commented, "Thank you for sharing the movie! I would have never guessed that the Confucius Institutes go far beyond their role of educational centres and in fact serve a completely different mission."
The same day, 12 regional TV stations broadcast the documentary "Hard to Believe," which reached 180,000 viewers. The film focuses on the CCP's state-sanctioned forced organ harvesting from living Falun Gong practitioners in China, an atrocity that continues to this day.
(Clearwisdom)
27 total views