Ann-Sofie Alm, member of the Swedish Parliament, delivered a speech on November 18, 2020 at a webinar, titled "Falun Dafa persecution in China: Then and now – 21 years of abuse of basic human rights." This webinar was a side event of the Ministerial to Advance Religious Freedom, which was held by the government of the Republic of Poland on November 16-17, 2020.
In her speech, MP Alm condemned the Chinese Communist Party (CCP)'s persecution of Falun Gong and called on the entire world to unite and hold the CCP responsible for its human rights abuses.
She said that although Sweden is a small country, she still needs to speak out for the Chinese people and the human rights abuses they are suffering.
She said, "Why do I think my voice could be heard all the way to Beijing, and why do I even bother to stand up for human rights in China? The answer is very simple. There is no other way. It is impossible to ignore the stories that you just heard. It's impossible to do nothing when you know such injustice, such cruelty, is made upon people just because they have a different belief."
"It has been 21 years since this persecution began. The really hard question here is how this has been able to go on for 21 years, and how it can still be ongoing. It's not only disgraceful to the CCP, it is shameful for the whole free world as I see it. The persecution of Falun Gong is inhuman. It's barbaric. And we must ask and demand a legal process to end it."
She continued, "All of these made me realise that to keep quiet, it's not an option. We need to raise awareness about the crimes against human rights, and that the CCP is conducting on a systematic and daily basis, crimes against human rights."
"I want to raise awareness of the many Falun Gong practitioners who have been detained in re-education through labor camps, in prisons, or other detention facilities as prisoners of conscience. There have been reports of torture, we have seen them here today. There have been reports of killings, and there have been reports of illegal organ harvestings. These reports must be taken extremely seriously and be tried in international courts."
"How can we know about this and be doing nothing?" she asked.
She also said, "The persecution of minorities in China gives us a little hint about what will happen if the CCP will succeed in its goal to become the greatest empire in the world. The world is now suffering hard from the pandemic, and a lot of companies are struggling hard with their economy all over the world. We are now vulnerable and easy targets for unfriendly takeover."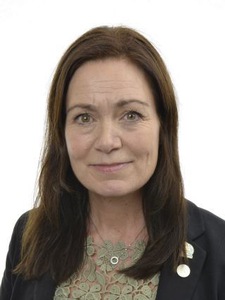 She talked about how the CCP is "buying our infrastructure, companies, technologies, and even schools," in an attempt to take over the free world, bit by bit. But the Swedish government is working to find ways to stop Chinese companies from investing in its important infrastructure, and they are also banning Huawei from participating in the 5G network.
She said she is glad that the "free world is slowly being aware about the cruelness that the Chinese Communist Party is doing to its own people. The Communist Party of China needs to know what the free world wants, and we want this persecution and all other persecutions to end. It needs to stop right now."
"The international community should speak up, more forcefully, and more publicly, in announcing the Chinese regime for its suppression of human rights. It's our duty to fight for all people's rights."
She expressed hope that the CCP can one day begin to respect the rule of law, freedom of speech, and the freedom for people to have their own minds.
In closing, she said, "Falun Gong is friendly and peaceful. Truthfulness, Compassion and Forbearance, maybe this is exactly what the world needs right now to get us through this pandemic."