October 30 is a day of remembrance for the victims of political repressions (in Russian: День памяти жертв политических репрессий). Every year on this day, people from Russia, Belarus and other countries in the former Soviet Union hold activities to commemorate victims of the Communist Party's political repression.
Falun Dafa practitioners in Irkutsk held a rally on Sunday, October 25, 2020, to tell people about the persecution of their faith by the communist regime China.
The city centre was crowded despite the snow and strong wind. Residents as well as visitors showed their support. Many young people signed the practitioners' petition condemning the Chinese Communist Party (CCP) for its genocidal policies after learning about the extent of the brutalities.
Irkutsk was where political exiles were sent when the Soviet government was in power. The harsh Siberian climate and the arduous slave labor in the Gulag system were used as means to "re-educate" prisoners of conscience.
The CCP in China has implemented the Soviet Union's forms of persecution in torturing Falun Dafa practitioners.
During the rally, people learned about the CCP's 21-year-long persecution of Falun Dafa practitioners, and some signed the petition and condemned the CCP's state-sanctioned killing of prisoners of conscience for organs.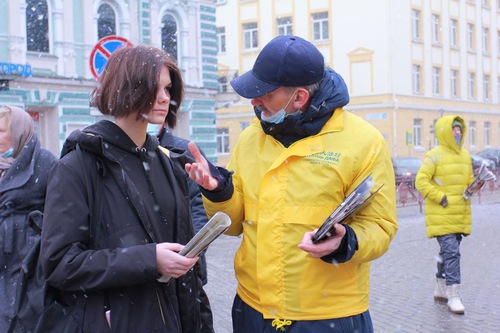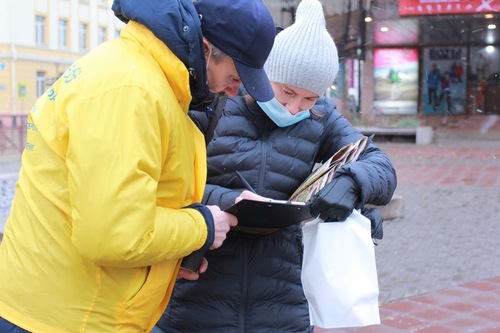 (Clearwisdom)