U.S. Representative Scott Perry introduced bill H.R.8491 on October 1, 2020, which designates the Chinese Communist Party (CCP) as a transnational organised crime group.
Rep. Perry said the bill will allow U.S. law enforcement agencies to apply the RICO (Racketeer Influenced and Corrupt Organisations Act) statutes to those involved in the Communist Party and hold them accountable for their criminal activities, including "coordinated and government-directed theft of American intellectual property, cyber-attacks on U.S. systems, espionage, and international fentanyl trafficking."
The bill was introduced one day before United States Citizenship and Immigration Services (USCIS) issued a policy guidance, highlighting the inadmissibility of members of the Communist Party and other totalitarian parties. Both moves signal major policy changes by the U.S. to confront CCP totalitarianism.
Rep. Perry stated on his website, "The CCP is an existential threat to American freedoms and liberties, and the United States must deploy an all-of-government approach to combat its malign behavior."
"The bill eliminates the sovereign immunity of the CCP, ensuring that even if they are diplomats who are working here, if they are involved in criminal activity, they can be subject to this [prison time]." said Rep. Perry during a human rights rally outside the U.S. Capitol on October 1.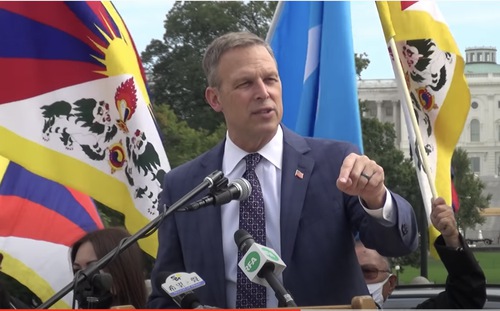 "We Must Be the Generation That Ends the Wicked CCP"
Rep. Perry said at the October 1 rally, "In the past hundred years, our world saw the rise of communism in the Soviet Union. And we witnessed freedom imperiled by evil. And we're witnessing it right now today."
He said the world has allowed the CCP to get away with its oppression, including its concentration camps and the horrific persecution of Falun Gong as well as the Mongolian and Tibetan people. "All of it has to end. And it's a criminal activity that must be recognised and stood against by the whole world community. And the United States must lead."
"The CCP is an abject moral failure. It is decrepit. It is demonic. It is an institution that subjugates and enslaves the people it has dominion over."
"We are going to hold them accountable, bring them to justice and end their tyranny. We must be the generation that confronts and defeats and ends the wicked regime of the CCP."