Many Falun Gong practitioners are being incarcerated in Liaoning Province Women's Prison, for their faith. It was reported recently that some of them were being severely persecuted in the prison's Seventh Division.
Ms. Li Fangfang suffered a heart attack due to torture; Ms. Ge Yanying became mentally unstable, Ms. Zhou Yafang was subjected to isolation torture and became emaciated, and Ms. Yin Xiuzhi became unable to move parts of her body.
Falun Gong, also known as Falun Dafa, is a spiritual discipline that has been persecuted by the Chinese communist regime since 1999.
Ms. Li Fangfang Suffered a Heart Attack
Ms. Li Fangfang, a resident of Shenyang City, Liaoning, in her 50s, was sentenced to seven years in prison and is being detained in the First Team of the Seventh Division. Because of her persistence in doing the Falun Gong exercises, the guards ordered all the inmates of the First Team to sit on small stools without moving for long periods of time, and forbade them from watching TV or going to the prison's supermarket during breaks, to provoke their hatred toward her.
Ms. Li did not compromise. She was moved to a small cell on July 2, 2019 with one of her hands pulled over her shoulder to be cuffed together with the other hand behind her back. She was handcuffed like that for more than 20 days.
It was the dog days of summer, and the small cell was extremely hot and airtight. The prisoners who took turns monitoring her complained that the small cell was so hot that the person inside could have heatstroke. Ms. Li ended up having a heart attack and was taken to the hospital.
Inmate Huang Xue, assigned to persecute Ms. Li, often dragged her around, didn't allow anyone to talk to her, and cursed her.
When Ms. Li shouted "Falun Dafa is good" repeatedly to resist persecution, she was beaten to the ground, mouth sealed with tape, and tied up. Her whole body convulsed. She became very thin and aged a lot.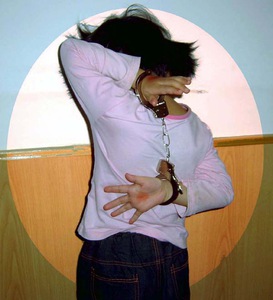 Ms. Ge Yanying Mentally Unstable
Ms. Ge Yanying, 24, was detained on the Second Team of the Seventh Division. The inmates often beat and scolded her, leaving her body full of bruises. Once her clothes and trousers were sewn together, which forced her to urinate and defecate in her pants.
The persecution caused her to become mentally unstable.
Ms. Zhou Yafang Subjected to Torture and Isolation
Ms. Zhou Yafang, in her 50s and from Chaoyang City, Liaoning, is serving a six-year prison term for her faith. She is being detained in the Second Team of the Seventh Division.
When she refused to do labor, to protest the inmates' bullying of her, she was subjected to solitary confinement several times, for a total of over two years, often with deprivation of sleep. She also protested by going on a hunger strike and was force-fed. She sometimes showed up at the workshop with hands cuffed behind her back and a feeding tube stuck in her nose.
An inmate dragged Ms. Zhou on the ground by her collar on September 29, 2018. Since she resisted, another inmate came up and helped to pull her away from the workshop. She was then confined in the warehouse. The prison official and the guards present at the scene ignored what happened.
Ms. Zhou became emaciated after long term torture, looking haggard with only one set of clothes year around.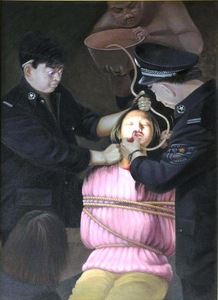 Ms. Yin Xiuzhi Losing Mobility
Another practitioner from Chaoyang City, Ms. Yin Xiuzhi, about 60, is serving seven years at the Ninth Team of Seventh Division. Inmate Chen Jing, who was assigned to monitor her, verbally abused her, kicked her, and beat her almost every day. Ms. Yin went on a hunger strike in protest. She became emaciated and became mentally unstable. She was sometimes unable to move her whole body or parts of it.
During recent months, the workshop head, Zheng Chunyan, handcuffed Ms. Yin to a wheelchair and yelled at her in front of the entire team. She was unable to move afterwards and could not eat her meals by herself. Zheng believed that Ms. Yin protested with a hunger strike, so she punished the whole team by not allowing them to watch TV, and stirred up hatred toward her.