The Qingming Festival fell on Saturday, April 4, 2020, and many people in Kaohsiung, Taiwan, were outside enjoying the beautiful weather. 
Local Falun Gong practitioners held activities in popular public places to promote the beauty of the spiritual practice, including at a traditional market, the Agongdian Reservoir Scenic Area and Leidishan Natural Park.
Many people stopped to chat with practitioners and some people asked to learn the Falun Gong exercises.
Taiwan has remained largely unscathed by the CCP Virus (the Chinese Communist Party Virus or COVID-19). The island nation has seen only five deaths and only a few hundred cases after restricting flights from China following news of the outbreak on December 31, 2019, and screening incoming passengers for symptoms, among a host of other measures.
Taiwan Businessman: I Must Tell My Friends in China This Amazing Anti-Virus Remedy
Mr. Peng often travels between Taiwan and China on business trips. He walked over to the Falun Gong practitioners and observed them doing the exercises for a long time.
He later told practitioners that he read about Falun Gong when he was in China and checked out a website about the practice. He said he thinks Falun Gong is an excellent form of exercise. He asked if practicing Falun Gong could help prevent people from contracting the coronavirus.
Practitioners told him that practicing Falun Gong can improve one's physical and mental wellbeing, and in China, where Falun Gong is persecuted by the Chinese Communist Party (CCP), if one dares to sincerely recite "Falun Dafa is good, Truthfulness-Compassion-Forbearance is good," the person will be spared from the epidemic.
Mr. Peng said excitedly, "I must quickly start doing the exercises and tell my friends in China about this anti-virus remedy!"
Mr. Cai is the director of a company. He was at the traditional market with his wife, and they both watched the Falun Gong exercise demonstration.
Mr. Cai struck up a conversation with practitioners and said he knew about the persecution in China and supports Falun Gong.
"I just observed you doing the exercises for a long time. You have no political motives. The Communist regime is atheist and they have always been fearful of people having their own faith. Now, even Christian churches are subject to forced demolition in China," he said.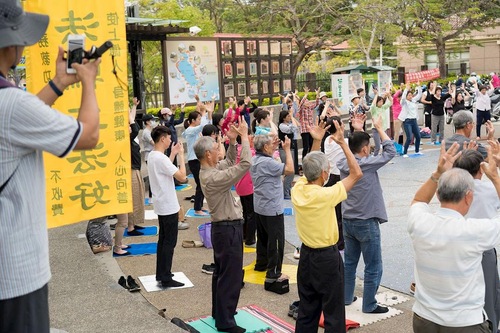 A Friend of Falun Gong Practitioners
Mr. Jiang walked past and cheerfully greeted practitioners at the traditional market by saying "Falun Dafa is good." He told a practitioner he has friends who practice Falun Gong.
"The Communist government tells people the practice is evil, but when I look at my friends, I know what it says are lies. The CCP disregards human life. In reality, it is inhuman."
Politician Supports Falun Dafa 
A Taiwanese politician who asked to remain anonymous came over to speak to practitioners at the market.
"We have come to see the CCP's true colors over the years," he said. "We are very clear on its brutal persecution and organ harvesting crimes. The CCP is truly evil. It is a dictatorship. It persecutes Falun Gong practitioners and even other religions like the Uyghurs. Falun Gong is good and I support you."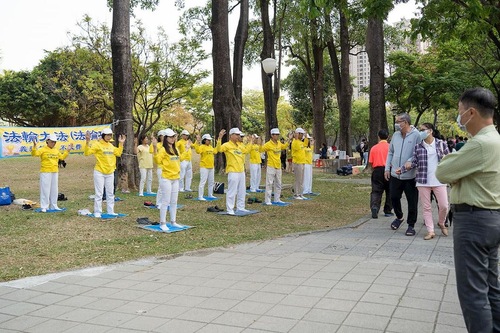 Bystander: Falun Gong Is Full of Positive Energy
A couple sat on a chair in the park and observed practitioners doing the exercises for a long time.
A practitioner came over and gave the man a brochure. The man happily took it and said, "I've seen you before, but did not get a chance to know more about [Falun Gong]. Today I was able to quietly observe what you do, and I am very touched. I feel very peaceful and calm. The practice is full of positive energy and makes one feel very relaxed. I don't want to leave." He eagerly asked where he could learn the exercises.
Mr. Liu, a man in his sixties, told practitioners he'd had a hard time finding the right qigong practice to take up, and was unsure about Falun Gong as well. "I have tried many things and all of them were dubious. I've wasted a lot of money," he explained.
A practitioner told Mr. Liu more about the principles of Falun Gong and suggested that he check out the FalunDafa.org website.
Mr. Liu asked the practitioner to write the website address down for him. He also asked when practitioners would hold an activity like this again.
(Clearwisdom)