Missouri Attorney General Eric Schmitt filed a lawsuit on April 21, 2020, against the Chinese Communist Party (CCP) for its "appalling campaign of deceit, concealment, misfeasance, and inaction" that "unleashed this pandemic."
It is the first state in the US to take legal action to hold the CCP accountable for the pandemic. 
The lawsuit stated, "During the critical weeks of the initial outbreak, Chinese authorities deceived the public, suppressed crucial information, arrested whistleblowers, denied human-to-human transmission in the face of mounting evidence, destroyed critical medical research, permitted millions of people to be exposed to the virus, and even hoarded personal protective equipment—thus causing a global pandemic that was unnecessary and preventable."
As of April 22, 2020, there have been nearly 6,000 confirmed COVID-19 cases and 220 deaths in Missouri, and these numbers are still increasing daily.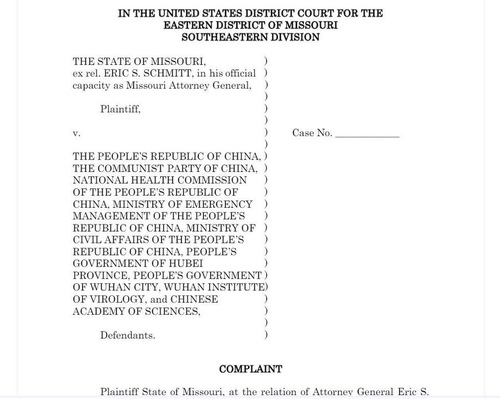 In addition to the public health crisis, the state is also facing an "unprecedented number of jobless claims" that could affect the economy for many years to come. 
"In Missouri, the impact of the virus is very real – thousands have been infected and many have died, families have been separated from dying loved ones, small businesses are shuttering their doors, and those living paycheck to paycheck are struggling to put food on their table," the state attorney general said in a statement. 
But Missouri isn't alone, as the virus "has left no community in the world untouched."
Missouri officials were quoted by Fox News as saying that, "In addition to extracting as large a financial judgment out of China as it can, Missouri is looking to hold the Chinese government officially accountable for its alleged actions to exacerbate the coronavirus pandemic and potentially bring further facts about how the Chinese government handled the virus, and possibly about the virus' origin, to light."
Notably, the lawsuit listed both "The People's Republic of China (the official Chinese government)" and also the ruling "Communist Party of China" as defendants, in an effort to go around restrictions set by the Foreign Sovereign Immunities Act (FSIA) that limits Americans from suing foreign governments except in certain circumstances.
Just one day before the Missouri lawsuit, twenty-two Congressmen sent a letter to Secretary of State Mike Pompeo and Attorney General William Barr, urging them to bring a case against China to the International Court of Justice (ICIJ) for its actions during the coronavirus pandemic.
Another seven other class-action suits have also been filed by private groups with federal courts in the US to hold the CCP accountable for the pandemic.
One of the lawsuits was filed by Larry Klayman, a prominent conservative lawyer and founder of Freedom Watch, seeking $20-trillion dollars from China for its "callous and reckless indifference and malicious acts."
(Clearwisdom)
21 total views