Calling on the Australian government to help end the Chinese communist regime's 20-year-long persecution of Falun Dafa, practitioners held a rally in front of the Australian Parliament in Canberra on September 18, 2019..
The Falun Dafa Association of Australia announced at the rally that a list of human rights violators has been submitted to the Australian Government in the hope that perpetrators of the persecution of the practice will be barred from entering Australia.
Practitioners also called upon the Chinese Communist Party (CCP) to immediately release all practitioners who are currently being detained in China.
The list of perpetrators submitted to the Australian Government includes Liu Yunshan, former member of the CCP Politburo Standing Committee, and Zheng Shusen, head of the Organ Transplant Division at Zhejiang University Hospital.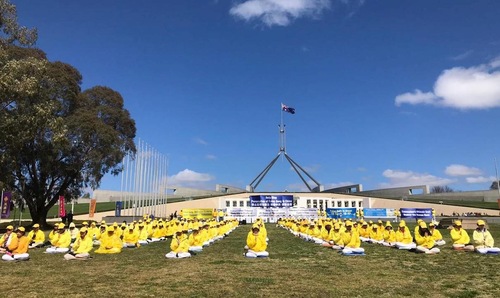 President of the Falun Dafa Association of Australia Lucy Zhao said that many countries have already openly censured the Chinese regime for its inhuman persecution of Falun Gong practitioners, and although Australia and China have close trade relations, this is no reason for the Australian government to remain silent about the Chinese regime's violation of human rights.
Zhao noted that the Canadian and U.S economies were not affected after criticising China's human rights record. She reiterated that if the Australian Government upholds international conventions on human rights issues, it will not affect economic trade between Australia and China. She said the Australian Government should not have such concerns.
Michelle Nguyen, spokesperson for the International Coalition to End Transplant Abuse in China (ETAC), also spoke at the rally.
"The Independent People's Tribunal comprised of judges, scholars, doctors, and other experts spent over a year going through thousands of pages of evidence, submissions, and over 50 witnesses.
The court passed a final judgment this year and found evidence on direct as well as indirect forced organ harvesting. This has been in operation throughout China for many years on an astonishing scale, and Falun Gong practitioners are the main source of organ supplies," she said.
She called on ETAC Australia and international organisations to publicly censure China for its forced organ trade and to call for China to stop persecuting Falun Gong practitioners, Uighurs, Tibetans, and other prisoners of conscience. She also asked the government to stop working with China regarding organ transplants before the persecution ends.
She appealed to the Australian Government: "Pass laws to stop people from going to China for organ trade as well as organ tourism. Restrict the movements of and punish those found to be involved in illegal organ trade."
She called on individuals, businesses, international organisations, governments, and lawyers to come together to help stop these atrocities.
Other speakers at the rally included Mr. Fan, president of the Victoria branch of the Falun Dafa Association of Australia, and Falun Gong practitioners with personal experience of the persecution in China.
Denise and George, Falun Gong practitioners from Melbourne, took part in the two days of events in Canberra. They held banners outside the Parliament building in the early morning, then visited various embassies in Canberra as well as government departments, non-governmental organisations, schools, and so on with other practitioners. They also gave out information about Falun Gong outside the Australian Parliament.
Denise hopes the Australian government will pass a motion that will pressure China to stop illegal organ harvesting and help end the persecution in China.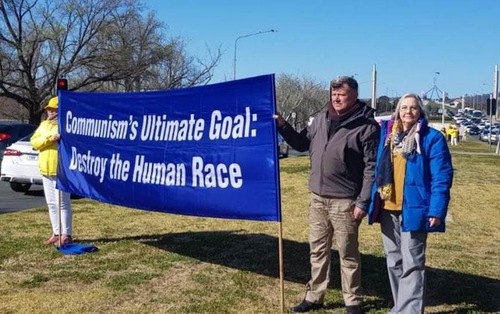 Ms. Culark said she knew about the persecution of Falun Gong in China from media reports. She said the CCP is a cruel executioner that is committing crimes against humanity.
Her father escaped from Slovakia in 1969, and she grew up with an understanding of crimes against humanity in authoritarian countries.
She is very sympathetic toward Falun Gong and said she was heartbroken to hear about the torture practitioners face in China.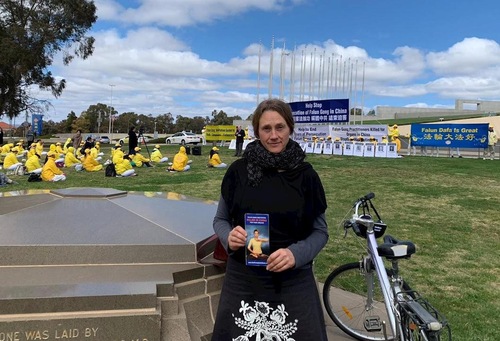 Victoria from Western Australia was visiting Canberra with her classmates. She said that she had not heard of Falun Gong before but thought it was wrong for the CCP to persecute its practitioners. She said that the principles of Falun Gong—Truthfulness, Compassion, and Forbearance—are wonderful and that everyone should follow them.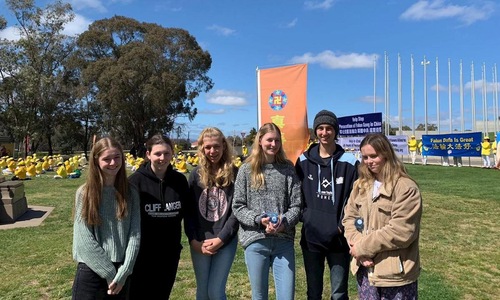 John, another student who was visiting the Australian Parliament, said he thought activities were necessary to inform people about what's happening in China. He promised to tell his friends about the persecution and said he would search the internet for more information.

Student: "Truthfulness, Compassion, and Forbearance are very important principles that everyone should follow"
Hannah and Jaxon are students at Australian National University. They told a Minghui correspondent that Falun Gong practitioners should have the right to pursue their belief unmolested.
"I support their efforts to stop the persecution," Hannah said. "Truthfulness, Compassion, and Forbearance are very important principles that everyone should follow. These values improve moral standards and help foster closer relationships. I hope our politicians can do something to stop this."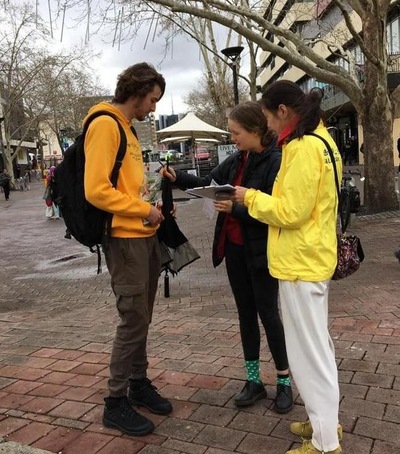 Nicole is an IT expert who works in the Canberra government's infrastructure department. She signed the petition calling for an end to forced organ harvesting. She said practitioners were doing something remarkable.
Megar, a migrant from Iran, heard about Falun Gong for the first time after coming across the activities in Canberra. She searched for information about the meditation practice on the internet and was impressed with how peaceful it is. She took three petition pages, because she wanted to help raise awareness about the persecution and collect signatures at community centers.
Janet from Western Australia also signed the petition. She and her family had attended the screening of the documentary Letter to Masanjia the night before. She hopes more Australians will find out about the persecution and do something to help Falun Gong practitioners in China.
---
40 total views