The annual Spring Festival at Whitehorse City was held on October 20, 2019. The City Council invited Falun Dafa practitioners to join the community celebration. The practitioners demonstrated the exercises and talked to people about this ancient spiritual practice.
Drawn by the melodious music, many festival-goers stopped by the practitioners' booth, where they learned about the health benefits of the practice as well as the 20-year-long persecution in China.
To show their support for the practitioners' efforts in standing up against the Chinese Communist Party (CCP), people signed the petition to help end the persecution.
Practitioner Barbara said that she met quite a few locals who were interested in ways to improve their mental and physical well-being.
She was glad to give out information about Falun Dafa to help people in the community. She also told people about the suppression of the practice in China.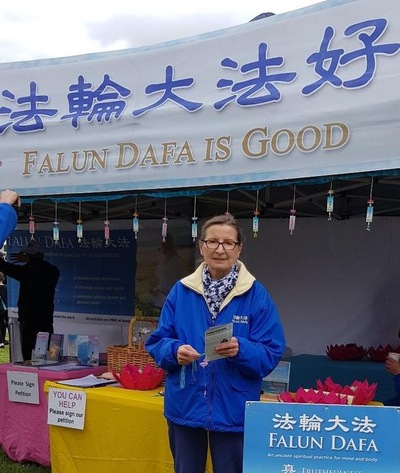 "The World Would Be a Better Place"
Jill is an environmental scientist. She said that if more people would follow the principles of Truthfulness-Compassion-Forbearance, "The world would be a better place."
When she heard about the details of the persecution, she said that she would help spread the information and raise awareness about it. "Justice and human rights are very important," she said. "I think meditation is a good idea. I'd like to learn more about the practice and try it."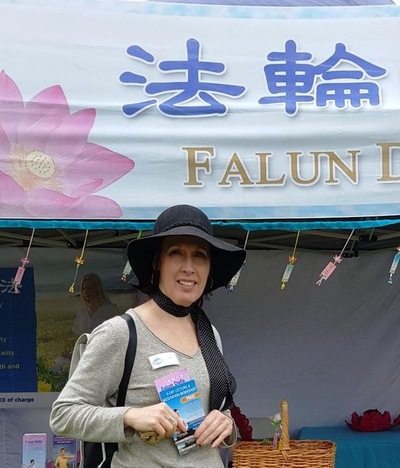 Julie came to the festival with her family. After watching practitioners demonstrate the exercises, she said, "The movements are beautiful and I can feel that Falun Dafa is peaceful."
During an event in May, she learned about the 20-year-long persecution of Falun Dafa and signed a petition to help end it. "It's terrible that a government tries to restrict its people's thoughts and freedom. People absolutely have the right to do things that are peaceful and that do not hurt anyone."
After she signed the petition Donna said, "Throughout history, when faith was persecuted, the believers always demonstrated great strength. It came from their faith and I admire their spirit."
Mr. Duanmu immigrated to Australia 55 years ago and he believes that Falun Dafa teaches kindness and high morals. "It poses no threat to the Chinese Communist regime." He said that the persecution hurts China's image and only makes people want to learn more about Falun Dafa.
Mr. Duanmu's wife, who recently came to Australia from China, did not know about the persecution because of the information blockade in China. After realising how severe the persecution is, she decided to withdraw from the Chinese Communist Party and its affiliated organisations.
---