Practitioners in Slovakia held an informational event and petition drive on August 23, 2019, in Trencin, Slovakia to raise awareness of the human rights violations in China, where the communist regime has been persecuting people for more than 20 years for practicing Falun Gong.
The event in Trencin took place as part of a weekly tour of similar events in Banská Bystrica, Zvolen, Ruzomberok, Martin, and Zilina. These cities are mid-sized cities in central and western Slovakia.
Practitioners in Trencin demonstrated the Falun Gong exercises and had display boards so that passersby could read more about Falun Gong, as well as the persecution of it in China.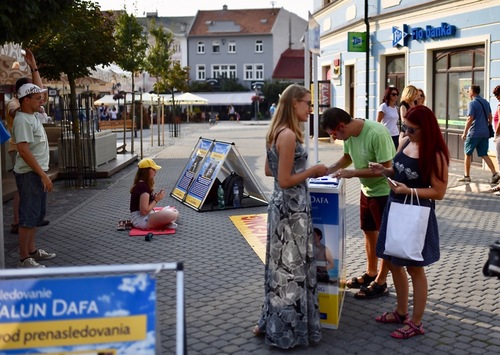 An elderly gentleman on a bike stopped by and was very interested in the meditation exercises. He had previously devoted himself to yoga and liked the exercises that also helped to develop the mind. After talking at length to practitioners, he signed the petition to help stop the persecution.
A woman who had heard about the persecution decided to sign the petition. Her teenage son, who was with her, also signed.
During the day, several people who we had previously met and given information about Falun Gong, also came to sign the petition.
One schoolgirl passed by with her friend. She remembered that she had seen a similar event in Trencin a few years ago. She said their teacher at school had told them about the persecution, and she said that she was interested in learning more. She took home a brochure for her parents.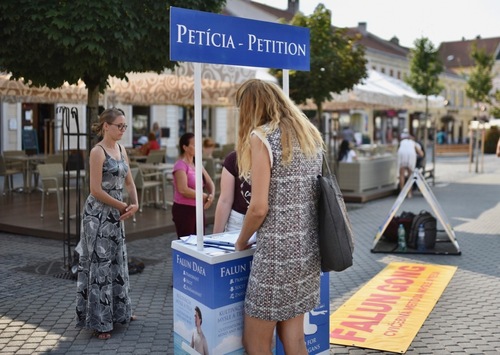 In previous cities, practitioners also experienced pleasant surprises. In Zvolen, for example, there was a gentleman who signed a petition and wanted to help practitioners more. As it was a hot day, he brought them mineral water to refresh them.
As the practitioners were packing up the petition table at the end of the event, one woman came at the last minute to ask if she could still sign the petition. She received a brochure during the event and after reading it, she decided to support the petition. She concluded her support by saying, "Let there be justice in the world."
(Clearwisdom)