During activities surrounding the 2019 European Experience Sharing Conference held in London from August 29 to September 1, many pedestrians had a chance to learn about Falun Gong and the persecution in China at popular tourist attractions including Trafalgar Square, Downing Street, the British Museum, and Leicester Square.

Important Mission
Jas from Poland began practicing Falun Gong over a decade ago. He came to attend the European experience sharing conference and activities.
He distributed information about the practice to passersby at Trafalgar Square. He said, "I don't want to miss a single person. I noticed that people come up to find out more about Falun Gong when they saw us giving out materials."
Jas shared that he was deeply encouraged by the greeting message from Mr. Li Hongzhi, the founder of Falun Gong as well as the cultivation experience articles read by practitioners at the conference.
He knows that as a practitioner, he has to fulfill his mission. He hopes to be more diligent in cultivation and do more to tell people about the persecution.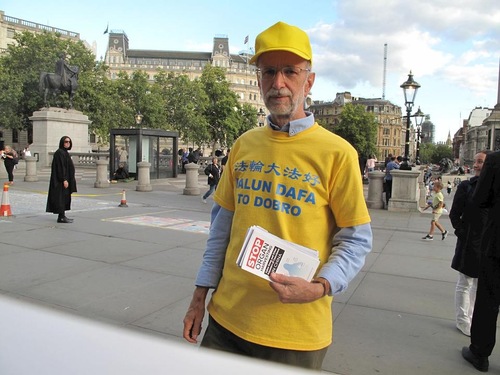 Denise, who traveled from Switzerland, joined other practitioners in doing the exercises at Leicester Square on September 1. She said that Master Li's greetings to attendees at the experience sharing conference made her realise that she needs to seize the time to raise awareness.
Denise shared how an encounter with a Chinese student impressed upon her the importance of what practitioners have been doing to raise awareness about the persecution in China.
She met a Chinese student at Leicester Square. Denise told the student what was happening in China, but she did not seem to listen. Instead she kept staring at the display board. Before she left the student suddenly told Denise, "I know about it. I support you. I know many people support you. In fact many more people support you than you know about."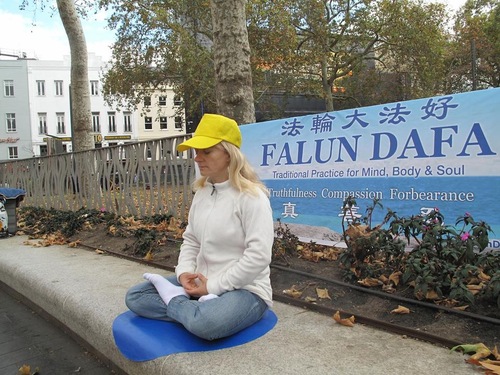 Grateful to Practice Falun Gong
Camille is a young French woman who speaks fluent English. She used to work as a translator and began to practice Falun Gong with her husband two years ago. She stood among the bustling crowd near Leicester Square and kept handing out fliers.
She said that she experienced a huge, positive change after she began practicing Falun Gong. She's now more peaceful and focused. She noticed that she's able to work hard without feeling tired.
Reading the main book of the teachings Zhuan Falun has shown Camille how to be a better person and she said she's found meaning in life. She said that doing the meditation exercise gets rid of anxiety and depression.
Camille is grateful to have found Falun Gong at a time when moral values are deteriorating. When she first learned that the Chinese Communist government is harvesting organs from living practitioners, she couldn't believe such a terrible thing is happening and is committed to doing what she can to raise awareness and help stop the atrocities.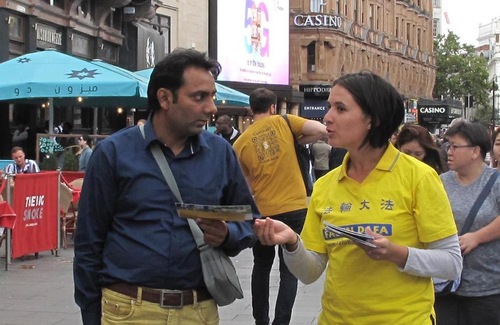 (Clearwisdom)