May 13, 2019, marked the 27th anniversary that Falun Dafa, also known as Falun Gong, was first taught to the public in China in 1992.
Elected officials in Australia issued proclamations and congratulatory letters to show their appreciation of what practitioners have done and for practitioners' contributions to their local communities.


Countless Queenslanders and Australians Embrace Falun Dafa
The following are excerpts from Mr. Watts' letter.
"A multicultural society brings many positive outcomes that are delivered through the participation and networking of everyone in the community at social events, celebrations and festivals which of course includes the World Falun Dafa Day Celebration in Australia."
"Countless Queenslanders and Australians have embraced the positive traditions of Falun Dafa and are no doubt looking forward to taking part in the World Falun Dafa Day Celebrations."
"I sincerely wish the Queensland Branch of the Falun Dafa Association of Australia all the best on their very auspicious day of celebration."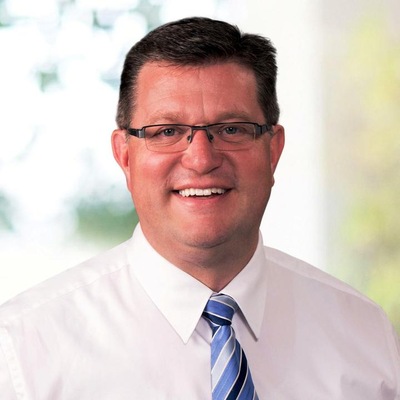 Always Stand Beside Falun Dafa in the Fight Against Injustice
Mr. Nguyen mentioned in his letter, "We want to promote health, peacefulness, and self-respect in each individual. Yet our works are continually being undermined" by dictatorship communist governments.
"Many of our people are persecuted just because of their beliefs." He wrote that the Vietnamese community stands by the right to freedom of belief and stands by Falun Dafa in the fight against injustice and crimes against humanity.
"I always have great respect for Falun Dafa," he wrote. And "It is no coincidence that Falun Dafa's leader, Mr. Li, was shortlisted as a finalist for the Nobel Peace Prize." He noted that Falun Dafa benefits those who practice it in many ways.
"To Falun Dafa practitioners, fear is just a feeling, and no matter how many hardships and setbacks they have to endure, they are determined to stay with their cause, using peaceful demonstrations to combat violence, not just for themselves but for other people as well."
He noted that was an example that everyone should look up to and closed by saying, "I wish you a successful celebration ceremony and I am looking forward to seeing more collaboration between the Vietnamese community and Falun Dafa in the future."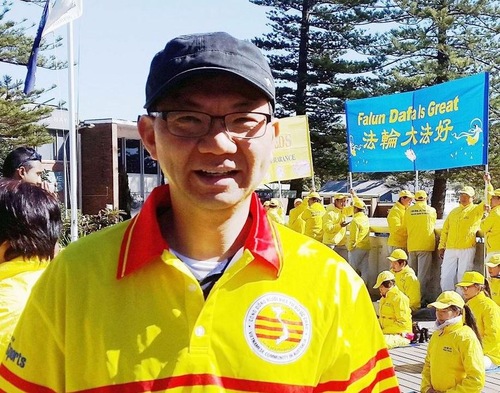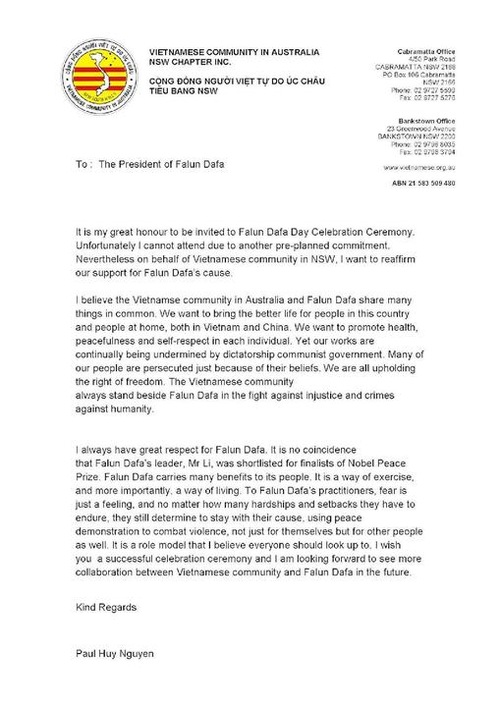 32 total views