According to information compiled by Minghui.org, 688 Falun Gong practitioners in China were arrested and 434 were harassed in April 2019 for refusing to renounce their faith.
Falun Gong, also known as Falun Dafa, is a mind-body practice based on the principles of Truthfulness-Compassion-Forbearance that has been persecuted by the Chinese communist regime since July 1999.
With strict information censorship in China, persecution cases cannot always be reported in a timely manner, nor is all the information readily available.
Two practitioners died as a result of police harassment. Ms. Yang Xiaohui, from Wen'an County, Hebei Province, fell to her death as she tried to escape police by climbing down from the balcony of her third-floor apartment. Ms. Xu Junming, a Beijing woman with a medical condition, died days after police harassment.
April 25 was the 20th anniversary of Falun Gong practitioners' peaceful gathering outside the National Appeals Office in Beijing in 1999 to seek the release of several practitioners unjustly arrested days before.
It has become a politically sensitive date for the communist regime, and police often arrest practitioners on a large scale around this time every year. Several group arrests were reported across China this April.
A total of 571 practitioners remain captive at the time of writing. The arrests took place in 26 provinces and centrally-controlled municipalities. Seventeen of the regions reported double-digit arrests, with Sichuan Province seeing the most (89), followed by 77 in Heilongjiang Province and 69 in Hebei Province.
Elderly practitioners were not exempt from the campaign: 117 of those targeted (87 arrested and 30 harassed) are between 65 and 87 years old.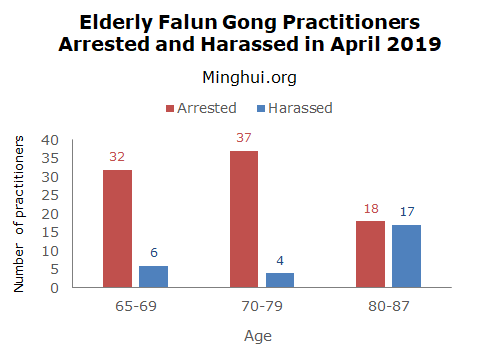 In addition, 312 practitioners had their homes ransacked and suffered financial losses, with a total of 464,335 yuan extorted or confiscated. Seven retired practitioners' pensions were suspended.
Ms. Wang Yulan's family from Haozhou City, Anhui Province, was among the targeted practitioners. Ten people from her household were arrested, and the police confiscated 300,000 yuan, a car, and other belongings.
Ms. Leng Xuefei, 56, is a retiree from Yueyang City, Hunan Province. Her pension has been suspended since last June. She lost her home when her husband divorced her after she was taken to a forced labor camp for her faith and released in 2002.
She was later sentenced to four years in prison in 2006 and three and a half years in 2013. In desperation, she wanted to move abroad to live with her son, but she was denied a passport because of her faith.


Two Deaths Caused by Police Harassment
Hebei Woman Falls to Her Death Trying to Escape Arrest for Her Faith
Ms. Yang Xiaohui, from Wen'an County, Hebei Province, fell to her death as she tried to escape police by climbing down from the balcony of her third-floor apartment on April 9, 2019.
Eight officers knocked on Ms. Yang's door at around 11:00 p.m. on April 8, 2019. When she refused to let them in, they used tools to pry open the door.
Ms. Yang rushed to the balcony and tried to escape from there. She tumbled to the ground. Unresponsive, she was sent to the hospital, where she was pronounced dead at around 2:00 a.m.
Ms. Yang was 55 years old. Her death was only a few months before her daughter's wedding. The police didn't allow her family to make arrangements for her funeral, claiming that they had to obtain approval from higher-ups before cremating and burying her.
She had been repeatedly targeted for her faith for more than a decade. She was taken to a brainwashing center twice and detained once.
Beijing Woman with Medical Conditions Dies Days After Police Harassment for Her Faith
Ms. Xu Junming was found dead on April 26, 2019, after her family lost contact with her for a few days. From the position of her body, her family suspected that she might have died from a stroke or heart problem after being terrified by the police, who scaled her fence and broke into her house a few days prior to threaten her not to practice Falun Gong any longer.
Ms. Xu and her husband, Mr. Sun Fuyi, residents of Huairou District, Beijing, were repeatedly targeted by authorities for refusing to renounce their faith. Ms. Xu's tragic death occurred while Mr. Sun, 71, was still detained in a brainwashing centre for practicing Falun Gong.
Mr. Sun had just returned home on January 10, 2019, after serving three years in prison for raising awareness of the communist regime's persecution of Falun Gong. Barely two months later, the couple was arrested again on March 7. The police sent Ms. Xu home the same night because of her health condition. However, officers harassed her again on the morning of March 9.
Mr. Sun was released from the detention centre in early April, only to be arrested again and taken to a brainwashing centre two weeks later.
Four officers knocked on the door of Ms. Xu's home on the morning of April 22 or 23. She refused to open the door. The officers climbed over her exterior wall and entered her home. They pressured her to give up practicing Falun Gong and demanded to know where she had obtained the Falun Gong materials. She didn't answer their questions. The officers stayed for several hours and left at around 11:00 a.m. She died a few days later, at the age of 65.


Group Arrests
Group arrests in multiple provinces were reported across China this April.
Yancheng City, Jiangsu Province: 47 Arrested Before April 25
Police from Yancheng City, Jiangsu Province, arrested 47 Falun Gong practitioners in April. Among them, seven were arrested a few days before April 25, including Zhong Xiufeng, Tang Yuling, Xiaofang (nickname), Qiaozi (nickname). The three others were arrested on April 30; they were Kong Lingxiu, Yan Jinlan and Cao Fulin. Forty-four of the arrested practitioners were taken to brainwashing classes held in the Aishe Hotel in Yancheng City.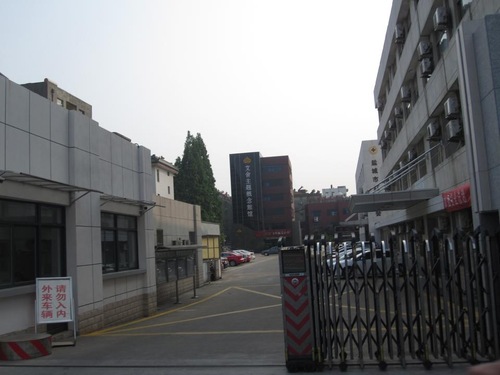 More Than 20 Practitioners Arrested in Both Sichuan and Zhejiang Province
In Guang'an City, Sichuan Province, local police began to arrest Falun Gong practitioners on April 23. More than 20 were arrested. The police tried to force them to sign letters to renounce Falun Gong and threatened to have them taken to brainwashing classes if they refused.
On the morning of April 18, police in Ningbo City, Zhejiang Province, arrested practitioners at various areas across the city. At two practitioners' homes, where groups of practitioners read the Falun Gong books together, officers arrested all the participants and ransacked the residences. About 20 practitioners were arrested in total, and most of them were in their 60s and 70s.
Ningbo police had monitored the targeted practitioners during the preceding two months and collected information about when the group normally gathered. Some of the arrested practitioners are still held in the Ningbo City Detention Centre.
Practitioners Targeted in Gang Crackdown Campaign in Anhui Province
On the morning of April 19, police from the Taihe County Domestic Security Bureau and local police stations in Taihe County, Anhui Province, arrested at least 15 practitioners and ransacked their homes after breaking in. Some were released after officers failed to find Falun Gong materials in their homes, while others were taken to detention centres.
It was reported that some of these practitioners had been placed under long-term surveillance as part of the authorities' anti-gang campaign. The police targeted Falun Gong practitioners instead of gang members in order to fulfill their quotas.
Fourteen Practitioners Arrested in Pingxiang City, Jiangxi Province
In Pingxiang City, Jiangxi Province, 14 Falun Gong practitioners were reading Falun Gong books together on April 23, 2019, when a dozen police officers broke in and raided the place without showing any paperwork. The practitioners were taken to their local police stations for interrogation and then to the Pingxiang City Detention Centre.
Laishui, Hebei Province: 8 Falun Gong Practitioners Arrested on Same Day in New 100-Day Campaign
In the name of improving social stability, Director Li Hongyu of the 610 Office of Laishui County, Hebei Province, led local police to arrest Falun Gong practitioners in Laishui County on April 20. Eight were arrested as a result.


Senior Citizens Targeted for Their Faith
After 12 Years Behind Bars, 70-Year-Old Woman Arrested Again
Ms. Jia Naizhi, 70, who lives in Fushun City, Liaoning Province, was arrested on April 18, 2019. After the persecution of Falun Gong began in 1999, she served two years in a forced labor camp and ten years in prison for speaking out against the persecution. She was tortured to the verge of death several times while detained.
Shanghai Resident Arrested Again After 10-Year Incarceration
Mr. Zhang Qin, a 64-year-old Shanghai resident, was arrested on April 24, 2019. The police ransacked his home and confiscated his Falun Gong books. He is now held at Xuhui District Detention Centre. Mr. Zhang's mother had just passed away not long ago, and his father, in his 90s, is now left at home alone following his arrest.
Mr. Zhang was sentenced to four years in Tilanqiao Prison following his arrest in 2001. Not long after his release from prison, Mr. Zhang was arrested again on October 7, 2005. He was soon given one year of forced labor. Less than three years later, he was arrested on June 5, 2009, and sentenced to five years in Tilanqiao Prison. Mr. Zhang was severely tortured in custody.
Three Elderly Practitioners Arrested
Three elderly practitioners, Ms. Pan Jindi, Ms. He Xing'e, and Ms. Shen Xueying, were arrested at noon on April 10, 2019 while they were reading Falun Gong books together at Ms. Pan's home in Pudong New District, Shanghai. They were not allowed to put on their shoes before being shoved into the police vehicle. They were released later in the afternoon.
Residential committee staff returned to Ms. Pan's home on April 22 to try to force her to renounce Falun Gong, but she refused.
Five Seniors Targeted in Chengdu, Sichuan Province
Five seniors in Wenjiang District, Chengdu City, Sichuan Province, were harassed on April 10, and some had their homes raided by police hours apart.
Mr. Ran Congfa, in his 80s, was home on April 10, 2019, when officers from Liucheng Police Station and staff from his local street committee broke in at 11:00 a.m. They demanded that he renounce Falun Gong. After he refused and told them how Falun Gong benefited his health, the intruders left.
Shortly past 2:30 p.m., residential committee staff and security officers broke into the home of Ms. Wang Meizhen, who is in her 70s, and her husband, Mr. He Guozhang, 79. Two other practitioners, Ms. Xiong Xifang, 85, and Ms. He Yungui (no relation to Mr. He), 76, were visiting. Officers took Mr. He, Ms. Xiong, and Ms. He to their local police stations in Chengdu and ransacked their homes. They were released later that day.
83-Year-Old Woman Forced to Wear Electronic Tracking Device
Ms. Fan Qinxia, an 83-year-old Falun Gong practitioner in Wuhan City, Hubei Province, was forcibly taken to the local police station, where officers forced her to wear a tracking device with 220-yard signal range for the police and residential committee staff to monitor her location.
Ms. Fan was sentenced to one year in prison after she was arrested last February for distributing Falun Gong materials. Though her parole had recently expired, the police threatened to put her back in prison if she refused to put on the tracker.


Harassment Cases
Human Rights Lawyer Began to Practice Falun Gong After Representing Practitioners, Subjected to Persecution Himself
Attorney Wang Yonghang, 42, is a Falun Gong practitioner in Dalian City, Liaoning Province. He defended many Falun Gong practitioners and won the Chinese Human Rights Lawyers Association's "Ten Best Human Rights Defense Lawyers Award" in 2012. He was sentenced in 2009 to seven years in prison for his faith in Falun Gong.
On April 16, 2019, when Mr. Wang had just gotten on a train at Dalian North Railway Station, a police officer came up to him and asked for his ticket and ID without producing a police ID. Mr. Wang rejected his request and warned the officer that he would file a complaint against him. The officer took a picture of Attorney Wang without permission and left.
This was the third time Mr. Wang has been harassed at this train station. The first two times were in 2017.
Tianjin Practitioner Harassed at Workplace
Mr. Jiang Guoliang is a Falun Gong practitioner from Tianjin City. Two days before April 25, the local police arrested him at his workplace. They took him to the local police station and ransacked his home. He was later released.
Hubei Teacher Harassed Again After Ten Years of Imprisonment for His Faith
Mr. Xu Xudong, a teacher from Shiyan City, Hubei Province, noticed someone videotaping him after he left work on the afternoon of April 25.
Five days later, the police went to his father's home in Zhushan County, Hubei Province. They intimidated his elderly father and asked him many questions about Mr. Xu.
Mr. Xu had twice been sentenced to five years in prison for practicing Falun Gong and was brutally tortured during his ten years of incarceration.


---
Related reports:
(Clearwisdom)