Falun Gong practitioners offered free teaching of the practice in Thebarton Community Centre, Adelaide on May 30, 2019. It was their third time to offer free lessons in the capital city of South Australia.
Practitioner Brian introduced Falun Gong, while other practitioners demonstrated the exercises. The attendees then learned the exercises by following a video by Master Li, the founder of Falun Gong.
Afterward, a video was shown about a practitioner who recovered from many illnesses.
Brian then encouraged everyone to share their experience of practicing Falun Gong, followed by questions and answers. Most attendees said that they felt very good. Some said their bodies were surrounded by strong positive energy.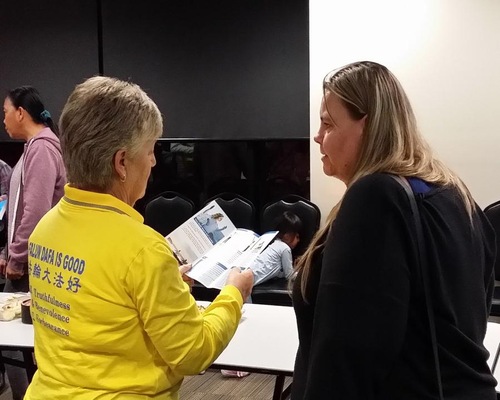 An elderly couple brought their granddaughter to the event. The husband, Malcom Ralston, is in poor health. His wife Siripa Malston bought the book Zhuan Falun and said that they would read it together after going home.
Attendee Tricia Walsh told the practitioners, "I learned about the persecution of Falun Gong in China from the Internet, television and newspaper. I wondered why the Chinese government mistreats good people who follow the principles Truthfulness-Compassion-Forbearance. That's why I attended the event this evening."
She felt the practitioners were kind and friendly. She felt it was inconceivable that good people are being persecuted in China. She signed a petition calling for an end to the persecution.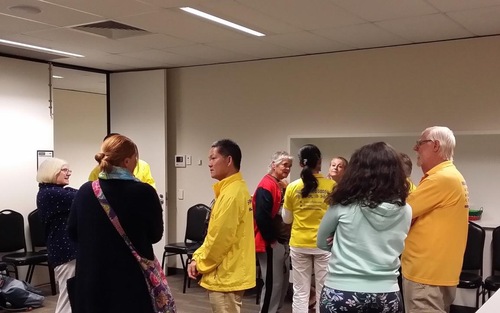 Tia David said that she liked the sitting meditation and paid attention to it. She borrowed the book Zhuan Falun from a library in Adelaide a few years ago. She read a few lectures, but did not finish reading the book.
She saw a picture of the sitting meditation on the Facebook page of Adelaide and decided to attend the event. Her mother Wendy David had heard about this event and decided to come with her. Both felt good after practicing and signed the petition calling for an end to the persecution in China.