Falun Dafa practitioners in Adelaide, South Australia, celebrated the upcoming World Falun Dafa Day at the Fullarton Community Centre on May 4, 2019.
Veteran and new practitioners alike described the benefits they experienced through practicing Falun Dafa and wished Master Li Hongzhi, the founder of Falun Dafa, a happy birthday.
Practitioners decorated the venue with banners and colorful balloons. They performed a Chinese dance dressed in Tang Dynasty costumes, demonstrated the Falun Dafa exercises, and presented information on how people around the world practice Falun Dafa and their efforts to stop the persecution of Falun Dafa in China.
The event also featured an exhibition of traditional Chinese costumes, lotus flower origami, Chinese calligraphy, and Chinese tea and dumpling-making classes. Guests were treated to traditional Chinese snacks as well.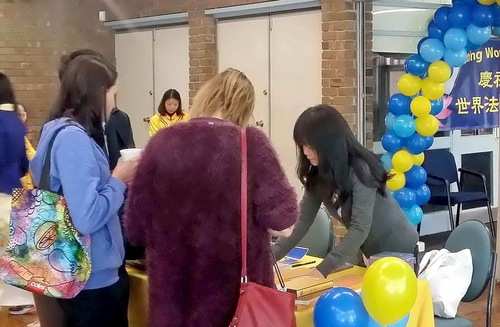 Practitioners Thank Master Li
Ming was 6 years old when his mother started practicing Falun Dafa after hearing about it from a friend. He later started to practice alongside his mother.
Two years ago, his mother bought English editions of Falun Dafa books, which helped him gain a better understanding of the principles. "The teachings of Dafa helped me control my anger. When someone treats me badly, I can let it go," he said.
Ming's mother, Dung, said he has become more considerate of others since he started to practice Falun Dafa. This year, Ming was accepted into a well-known international high school for gifted students in Adelaide. Dung said she does not need to worry about Ming too much as he is guided by the principles of Truthfulness-Compassion-Forbearance.
Dung expressed deep gratitude for Master Li while recounting how she started practicing Dafa.
When her friend first introduced Falun Dafa to her, she did not start practicing right away. Her father became a practitioner first and miraculously recovered from cancer. She believes he recovered as a result of learning Falun Dafa.
In 2013, she came to Australia on a scholarship to further her studies. The stress caused her to develop severe stomach pain, so when she returned to Vietnam, she did the exercises with her family. She said she not only regained her health but also learned to treat others kindly by following the principles of Falun Dafa.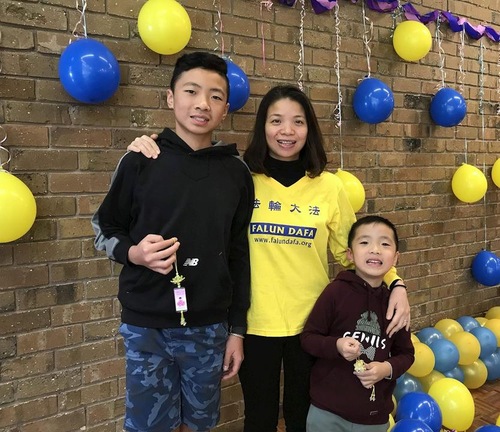 Sandro and his wife, Erica, brought their two children to attend the World Falun Dafa Day celebrations. They began to practice Dafa in Peru before they immigrated to Adelaide. They did the exercises at home as their children were still young. This was the first time they had attended a Falun Dafa Day celebration.
Dafa has helped me relax and maintain a healthy body and mindset. I've learned to get along with others harmoniously," Erica said.
A practitioner named Anna was teaching people how to fold paper lotus flowers at the event. Her mother-in-law had come with her to attend the celebrations. "I had misunderstandings with my mother-in-law on how to educate my children," she said. "I know this is something I need to improve on as a Falun Dafa practitioner. Now I'm able to let go of my resentment.
"I recently had to take care of my mother, who is ill. At the same time, I did not forget to show concern for my mother-in-law, who lost her husband not long ago. She enjoyed today's program and told me she wants to read the book on Dafa."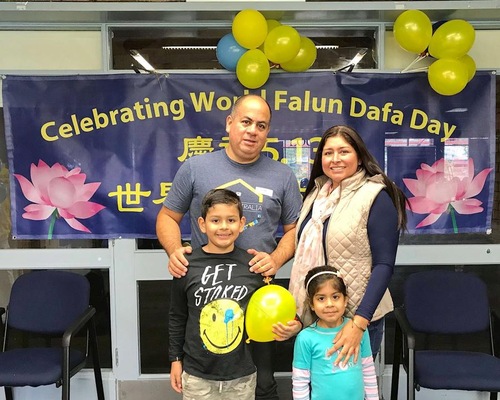 Public Officials Send Congratulations
Many public officials were unable to attend the event due to upcoming elections. However, a number of them sent messages to offer their congratulations for the occasion and express support for Falun Dafa.
Congratulatory messages were received from the Minister for Trade, Tourism and Investment Mr. Simon Birmingham; Premier of South Australia Mr. Steven Marshall; Deputy Premier Ms. Vickie Chapman; Member of the South Australian Legislative Council Ms. Tammy Franks; Mayor of Unley City Mr. Michael Hewitson; and South Australian Members of Parliament Mr. Tony Zappia and Mr. Nick Champion.
Ms. Tammy Franks said in her congratulatory message, "Regretfully I'm not able to attend today's celebration. However, on today and all other days, I stand with you in opposing the Chinese government's persecution of Falun Dafa practitioners."


Newspaper Highlights Forced Organ Harvesting in China
On the day of the celebration, Adelaide's largest newspaper, The Advertiser, ran a three-page report in its SA Weekend edition on the state-driven killing of prisoners of conscience in China for their organs. The report also included special sections on what Falun Gong is, as well as Falun Gong in Adelaide.
Journalist Tory Shepherd had contacted practitioners through their local Facebook page a few weeks earlier and asked for information about forced organ harvesting. She then went to a group practice site to take photos and interview practitioners who were persecuted in China.