According to information compiled by the Minghui.org website, 43 Falun Gong practitioners were sentenced to prison by the Chinese Communist Party's (CCP) court system in March 2019, bringing the total sentenced cases so far this year to 169.
Falun Gong, also known as Falun Dafa, is a spiritual practice based on the principles of Truthfulness-Compassion-Forbearance. Since the CCP started persecuting the practice in July 1999, many practitioners have been subjected to arrest and detention, as well as imprisonment, torture, and even organ harvesting.
Ten of the sentenced practitioners were over 65 years old, with the oldest being 73.
The prosecution evidence against the sentenced practitioners was the practitioners' efforts to raise awareness about the persecution, including their telling people face to face about Falun Gong, distributing information about it, and posting information about the persecution on social media.
The sentenced practitioners come from 16 provinces and municipalities in China, with the provinces of Shandong (15) and Liaoning (6) registering the most sentencing cases. The prison terms ranged from seven months to 10 years, with an average of 3.47 years.
Due to the CCP's information blockade, the number of Falun Gong practitioners who were sentenced cannot always be reported in a timely manner, nor is all the information readily available.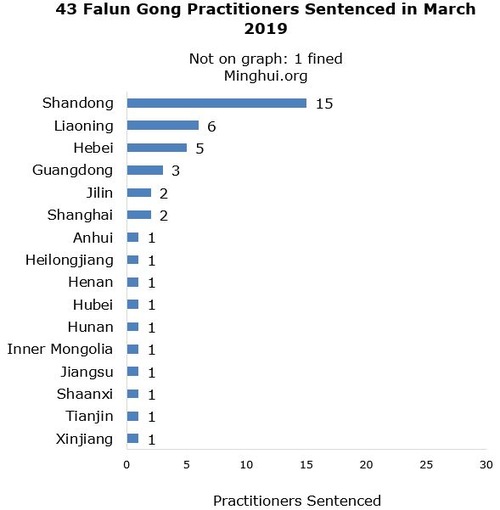 Below is a snapshot of some sentenced cases.
Lengthy Prison Sentence for Telling People about the Persecution
Mr. Tian Xingbao, a resident of Shen County, Hebei Province, was sentenced to ten years in prison by the Anping Court on March 20, 2019. He was arrested in May 2018 for putting up Falun Dafa posters to tell people about the persecution. He has appealed the verdict to the Hengshui City Intermediate Court.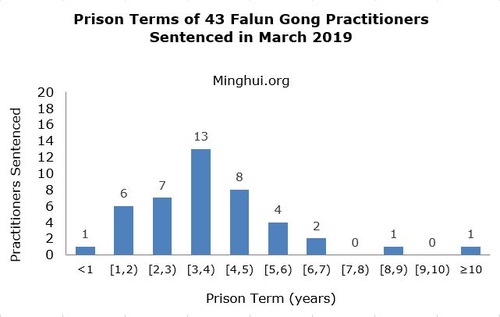 Ms. Wang Cuilan from Tianjin was arrested on September 30, 2017, for giving out Falun Gong informational materials. She appeared at Kaifa District Court four times, in May, August, and October 2018. After her hearings, her lawyer had his attorney's license revoked for six months as retaliation by the authorities for defending a Falun Gong practitioner.
Ms. Wang's daughter went to the detention centre to visit her on March 26, 2019, and was surprised to discover that she had been secretly sentenced to three-and-a-half years in prison and had already been taken to Tianjin Women's Prison.
Ms. Wang was subjected to intensive brainwashing and forced to stand for long hours each day for refusing to give up her faith. She soon developed medical problems as a result of the abuse and became unable to stand or walk without assistance.
Father Sentenced after Daughter Signs Up for NTDTV Vocal Competition
Mr. Song Xiandong was recently sentenced to ten months in prison and has begun serving time at the Inner Mongolia No. 4 Prison.
Mr. Song was arrested on September 25, 2018, one day before his daughter, Ms. Song Sijuan, was set to fly to New York to attend a vocal competition hosted by NTDTV, an American TV station known for reporting uncensored news about China, including the persecution of Falun Gong.
The daughter and her mother escaped arrest and are forced to live away from home to avoid further persecution.
Two residents of Dandong City, Liaoning Province were sentenced to prison for their faith in Falun Gong. Mr. Zhang Ming was given one year and Mr. Li Quancheng three years.
Mr. Zhang and Mr. Li were arrested on June 29, 2018, after a traffic officer found Falun Gong materials in their car. They appeared in Zhen'an District Court on March 18, 2019 and received the verdicts on March 27.
Mr. Zhang's wife, Ms. Xiu Jinqiu, was tortured to death for her faith in Falun Gong on November 28, 2013. Their only daughter, Ms. Zhang Hongyu, is currently residing in the U.S. and has been trying to secure Mr. Zhang's release.
Four residents in Yinan County, Shandong Province were sentenced to prison on March 27, 2019, two months after they were tried in a makeshift courtroom at Hedong District Detention Centre on January 24, 2019.
Mr. Zu Peiyong, 52, was sentenced to 3.5 years. Mr. Liu Naixun and his wife Ms. Wang Xilan, both in their 70s, were sentenced to 3 and 2 years respectively. Ms. Li Changfang, 55, received 2.5 years.
The four practitioners were arrested in August and October 2018 after being suspected of helping Ms. Xing Ximei's family to file a lawsuit against Yinan County Police Department. Ms. Xing died 13 days following her arrest on November 7, 2017 for not renouncing her faith.
Three residents from Qian'an City, Hebei Province, were recently sentenced to prison for practicing Falun Gong, after nearly 3.5 years of incarceration following their arrests on December 15, 2015.
Ms. Wang Yonghong was sentenced to a 4-year term. Both Ms. Zhou Xiuxia and Ms. Liu Xiaoyuan were sentenced to 3.5 years.
The three women have been detained at Tangshan City No.1 Detention Centre since their arrests. They appeared in Qian'an City Court on October 28, 2016. Their lawyers entered not-guilty pleas on their behalf. The judge waited more than two years before announcing the verdicts.
The practitioners' ordeal and arbitrary detention left their families in tremendous distress. The health of their elderly parents quickly deteriorated. Ms. Zhou's mother, in her 70s, Ms. Wan's father in his 80s, and Ms. Liu's mother-in-law passed away one after the other in May, June, and December 2017, leaving behind their ailing and elderly spouses.
The practitioners' families frequented different agencies to seek justice for them and demand their releases, but were given the run-around and told to keep waiting for further notice.
Ms. Zhao Zhisheng, 66, a Beijing resident, was arrested on March 5, 2018, for mailing letters to the public to raise awareness of the persecution of Falun Gong. She developed diabetes and kidney problems in the detention center and was released on bail on July 23, 2018.
A local court in Beijing sentenced her to four years in prison on December 29, 2018. Ms. Zhao filed an appeal. The Beijing No. 3 Intermediate Court held a hearing in March 2019. She never returned home after the hearing. Her family suspected that she might have been taken straight to prison to serve her four-year term.
List of practitioners sentenced, fined, extorted, in the first three months of 2019. (PDF)
Related reports: