Pondicherry, or Puducherry as it is now called, was a French colonial settlement in India until 1954. Visitors to Pondicherry sense the well-preserved French legacy in its French Quarter, with tree-lined streets, mustard-colored colonial villas, and chic boutiques. Until recently, the streets had French names, and the locals spoke French.
A Falun Dafa practitioner in Pondicherry managed to secure the prestigious Seaside Art Gallery, located on the Promenade Beach road of Pondicherry, free of charge, to host The Art of Zhen Shan Ren International Exhibition, which was open to the public March 17-24, 2019 from 4:30 p.m to 7:30 p.m. every day.
The 55 paintings on display were executed by a diverse group of accomplished artists who practice Falun Gong. Falun Gong, also known as Falun Dafa, is a school of self-cultivation that improves the body and mind by means of exercises, meditation, and following the teachings based on Zhen (Truthfulness), Shan (Compassion), and Ren (Forbearance) taught by Master Li Hongzhi.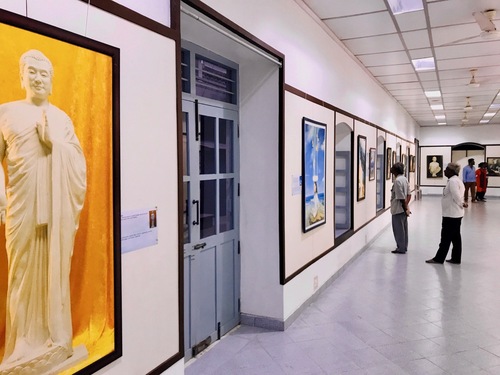 The paintings poetically depict the beauty of lives lived according to Truthfulness, Compassion, and Forbearance, and also the grim realities of the persecution that Falun Dafa practitioners have faced for the past 19 years at the hands of the Chinese communist regime.
One visitor commented on how refreshing it was to see classical paintings of such extraordinary quality.
Since Pondicherry attracts a lot of tourists, many Europeans (primarily French) and other foreigners visited the art exhibition.
Most people were shocked to learn of the persecution of Falun Gong practitioners in China. An artist said, "The pain and courage of the artists come through because they endured torture and repression in forced labor camps." The artist also singled out the pathos in the painting titled "A Tragedy in China," where a wife weeps beside her husband who had been tortured to death.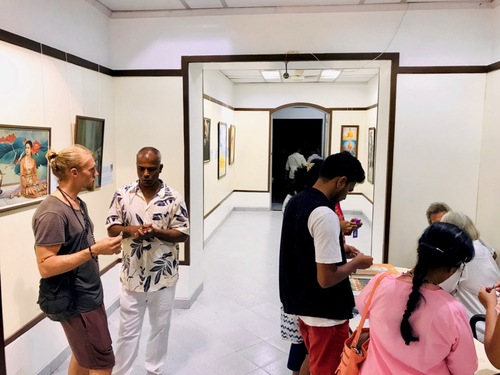 To patrons, the paintings conveyed an overarching message of hope and triumph.
Interested visitors were given additional information about the practice of Falun Gong and why the Chinese regime is persecuting it in China.
People who were keen to learn the exercises visited the group exercise site near the beach in Pondicherry in the mornings. Practitioners taught the exercises and introduced the teachings of Falun Gong.
Plans are under way to take The Art of Zhen Shan Ren to a university in a nearby city shortly.
(Clearwisdom)