Two hundred and five residents of Hongwei Village in Jiaolai Town, Shandong Province are calling for the release of a couple detained for practicing Falun Gong, a spiritual and meditation discipline that has been persecuted by the Chinese communist regime since 1999.
The villagers signed and pressed their fingerprints on a joint affidavit attesting to the character of the couple. The affidavit was submitted to judge Wang Decheng, who is in charge of the couple's case, on February 18, 2019. The couple's family is also demanding their acquittal.
Mr. Du Zhaocai, 50, and Ms. Wu Ruifang, 49, parents of two daughters, were arrested at home on August 8, 2018. The police confiscated their computer, printer and Falun Gong books and related materials. They left without providing a list of confiscated items as required by law.
The police held the couple at the police station overnight and sent Mr. Du to the Jiaozhou City Detention Centre, despite his high blood pressure, and Ms. Wu to the Qingdao No. 2 Women's Detention Centre the next day.
The couple's family received the detention warrant, two days later, on August 10. Their arrests were approved by the Huangdao Procuratorate on September 13.
Prosecutor Pan Wei submitted the cases to the Huangdao Court on January 11, 2019. The couple's family was told on February 15 that Mr. Du and Ms. Wu were scheduled to appear in court five days later, on February 19.
But judge Wang Decheng called the couple's lawyer one day before the scheduled hearing and said that they had canceled the hearing and would inform the lawyer of a new date in the future.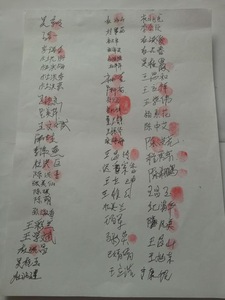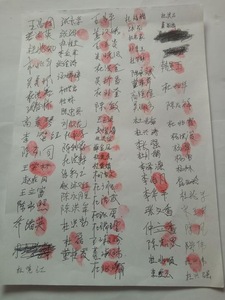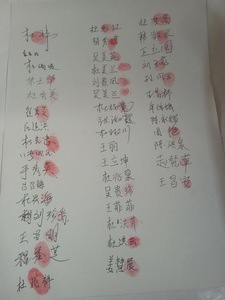 Affidavit from Villagers
Local villagers have mobilised to call for the release of the couple. An affidavit was drawn up attesting to the good character of Mr. Du and Ms. Wu, and calling for their release.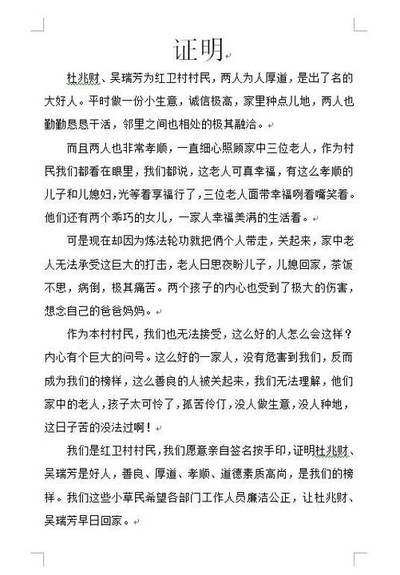 Du Zhaocai and Wu Ruifang are residents of Hongwei Village. They run a small business and have a great reputation, well known for their honesty and kindheartedness. They also grow crops and are hardworking. They are good neighbours.
The couple is also known as being extremely devoted to their parents. We often say how lucky their parents are to have children of such great filial piety. Their parents grin from ear to ear every time we make such a comment.
The couple also has two daughters. Their family of three generations lived happily together.
The couple, however, is now detained for practicing Falun Gong. The elderly parents were so devastated that they fell ill. The couple's two daughters are also traumatised.
As fellow villagers, we can't understand why such good people are being mistreated. It's a question we're looking for answers to. The couple has been our role model, but now with them in detention, their parents and daughters are left unattended and their business is in limbo.
We are all Hongwei Village residents. We are willing to sign our names and press our fingerprints on this document to prove that Du Zhaocai and Wu Ruifang are good people. They are kind, honest, filial, and have noble characters. They are our role models.
We hope that relevant government agencies follow the law and uphold justice. Please release Du Zhaocai and Wu Ruifang as soon as possible.
21 total views