Falun Dafa practitioners visited the charming town of Patillas in southern Puerto Rico for a vegan festival organised by the local Adventist Church.
Traditional and new cuisines were presented while guest speakers lectured on medicinal plants, vegan recipes, and diets.
Townsfolk and country folk milled around, sampling this and that. Many slowed down and paused in front of the Falun Dafa display, which offered information on the 19-year persecution in China. Their faces showed alarm, then concern.
Many commented, "In this day and age!" "Why?!"
Others looked over the exhibition in silence and then walked to the Doctors Against Forced Organ Harvesting petition to the United Nations to sign it.
Some visibly struggled to come to grips with the disturbing reality documented in the exhibition. They solemnly walked around the display, some shaking their heads and others holding a hand over their mouth.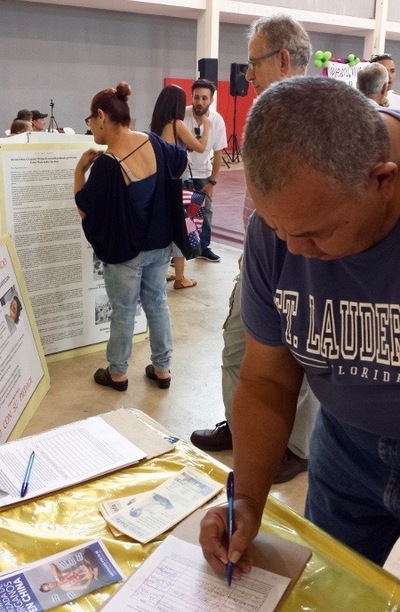 A local farmer stopped to learn more about Falun Dafa. His farm was recovering from the recent hurricane. He asked questions about Falun Dafa and watched the exercise demonstration.
A father approached the Falun Dafa table with his children. As he looked over the displays he asked, "This is meditation… right… and those who do it get tortured? Am I reading this correctly?"
He was shown a copy of U.S. House Resolution 343 condemning forced organ harvesting from Falun Gong prisoners of conscience and other displays.
As he finished signing the petition he put his arms around his son and daughter, turned around, looked at the practitioners and said, "I teach my children at home… I wouldn't have found out about this if I hadn't come here today… this… what you people are doing… is important… and don't think that it's not!"
(Clearwisdom)