Marie immigrated to Victoria from Quebec City, a French-speaking city in Canada. After obtaining a master's degree, Marie taught at a special school in Victoria for three years. She always has an easy-going smile and exudes confidence.
The Power of Dafa
Nine years ago, Marie experienced allergic skin rashes and body aches. Her strong personality forced her to try to smile, but she found life very hard.
"At the end of 2010," Marie said, "when I started reading Zhuan Falun, it took just a few weeks for everything to change. If I had not been reminded by family members, I would have forgotten about the rash."
She continued, "I no longer worry about tension and anxiety. Now with two sons, my life is peaceful, calm, and I can enjoy being a full-time mother. The most important thing for me is that I have my faith and a destination for my soul.
"I deeply feel that Master Li Hongzhi, the founder of Falun Dafa, is guiding me. Dafa has completely changed my life, and I feel very fortunate. My gratitude to Master is beyond words."
Sudden Rash Before a Major Exam
When she was young, Marie was in and out of the hospital. "There was no warning before my entire body became covered in a rash. I had stomach pains, and the pain radiated throughout my body. My fingers, ears, mouth, and even my eyes were itchy and red. Because of the pain, I was in a state where I could do nothing but panic."
The first time the condition occurred, Marie was 16 years old, and it was the day before a major school test. After that, the problem kept occurring. The sudden onset could happen at a birthday party or concert. This made Marie feel embarrassed and depressed, which in turn worsened the condition.
An unforgettable event happened in 2008. "I was studying in Australia for a year," Marie said, "and lived on the university campus. I was on the way to submit a very important paper. Suddenly my entire body was in pain. Yet, I had to hand in the paper or it would not have been accepted. When I walked to the front desk in the Uni building, I asked the guard to drive me to my dorm because of the unbearable pain. I remained in bed all day and night, and felt very tired."
After finishing her third year at university, Marie returned to Canada to continue her studies and eventually obtained a master's degree in allied health.
"After I graduated," she said, "I really felt tired every day. I went straight to bed after getting home from work. The illness also affected my eating habits."
Body and Mind Changed Drastically in Weeks
Marie met her now-husband when studying in Australia, where she first found Falun Dafa.
"I was introduced to Falun Dafa in Australia by a colleague," she said. "I was shown the five Dafa exercises. I didn't really understand what Falun Dafa was. After returning to my hometown in Canada, I felt a strong desire and hope that I could find my Master, as I thought maybe Falun Dafa had a master. Soon after, I was walking down the street and saw people doing some kind of qigong practice. A little girl handed a brochure to me, and it was Falun Dafa. I immediately felt that this brochure was too precious. I was very happy. I immediately blurted out. 'I am looking for you!'
"The local exercise site was in a community centre very close to my apartment, so I joined them. My life changed. I could feel the energy field when I practiced the exercises. I could feel the rotation of the Falun. After doing the sitting meditation, I could still feel the small abdominal wheel turning. I also felt the energy flow in my hands, even when I was just watching. This was something I had never felt before. Even when at work, I felt the energy flow in my body from time to time."
She recalled: "When just starting on my cultivation path, I saw the Chinese Communist Party's (CCP) propaganda against Falun Dafa on the Internet. My family kept asking me, 'Do you really want to learn this? Do you really believe this is good?' I decided not to believe what I saw on the Internet but to concentrate on practicing the exercises and reading Zhuan Falun.
"I used to think about how to make my life more comfortable. I thought that my husband should clean up after himself, my boss should pay me more, I should get subsidies on business trips, and so on. I am a perfectionist, so I hoped that my husband could become one too. But, after I began to cultivate, those thoughts disappeared from my mind.
"Now, I think, 'How can I help others?'
Practicing Falun Dafa has changed me into a different person. When I get nervous and worried, I realise that I need to get rid of selfishness. My desires to improve my reputation and self-interest are getting weaker and weaker."
Since she no longer only thought about herself, Marie's body and mind became more relaxed and peaceful. No matter how hard her work life, she no longer experienced the symptoms that caused her sudden pain.
"My husband once mentioned to me, 'You don't seem to become ill anymore.' I realised that my body had changed. I experienced this after I started reading Zhuan Falun in late 2010.
"From then on, when my husband and our children come down with a bad cold, I don't get it. I no longer need to sleep for a long time and am filled with energy. I get up and meditate in the morning. After the children are asleep at night, I can do all the housework. I no longer need to eat at specific times every day.
"In the past, I often felt overwhelmed, but now I just remind myself not to worry, maintain a peaceful mind, and don't worry about the results. I feel that I am showing my sons how to act calmly and with a smile in daily life. Sometimes I still feel stressed, but by looking inward and finding and letting go of attachments, I overcome it in no time.
"I grew up in a Catholic family and used to go to church every week. When I was 18, because of what I learned at school, I was very confused and looked for answers. Now, I am very happy. The path of my life is connected with the universal values of 'Truthfulness, Compassion, Forbearance,' and my life has spiritual guidance."
Dafa Opens up Wisdom and Creativity
Marie worked as a health professional at a special school in Australia between 2013 and 2015. "Thank you, Master, for giving me wisdom. Dafa keeps my heart calm and opens up my creativity. Despite pressure, my work is done efficiently and I remain calm, positively influencing the whole school."
She said that the students at the school have different levels of mental disabilities, and many students have autism.
When she first started to work at that school, someone told her that the former health professional had resigned because of pressure from the school's teachers and parents. As the only therapist in the school, Marie had a heavy workload, dealing with children of preschool age to the 12th grade. She aimed to keep a positive attitude and help every student, ignoring any difficulty.
"I remind myself not to worry about criticism, to smile, and not to think too much. Every day, I read Zhuan Falun, and on the way to work, I listen to Master's lecture recordings. Sometimes I recite Hong Yin before going to sleep. Truthfulness, Compassion, Forbearance is always on my mind."
Because Marie's mother tongue is French, she speaks English with a bit of an accent. Some teachers didn't have a good first impression of her and deliberately made things difficult, but Marie is a Dafa practitioner and didn't retaliate. A few months later, her relationship with the teachers was very harmonious.
Marie said: "When the principal assigns me the early shift, I don't complain like my colleagues. Usually, we have to spend a lot of time preparing for the day's work in the morning, so we have very little time to prepare if doing the early shift. I try to make a bad thing become a good thing and use this opportunity to learn more about the child." This attitude helps her with each child she comes in contact with.
An occupational therapist once said to Marie, "Your professionalism and professional ethics are very admirable." The therapist later learned the Falun Dafa exercises.
During school swimming classes, because of a shortage of teachers, the principal hoped that the staff of Marie's department would go to the pool to help.
Marie said: "At that time, no one in our department was getting into the water. They were all outside the pool helping other teachers take notes. I volunteered to help the students. I stayed in the water all week, helping Max, a student with serious autism. Teaching him to swim was very challenging, but I didn't complain and tried my best to help him. Max's swimming teacher and mother were very touched. Due to spending so much time in the water, my skin became very dry, and it began to hurt. I told myself to be patient and not complain. After a few minutes of meditating, the pain disappeared."
"When I went on maternity leave, many teachers expressed their gratitude. One day as I entered the staff room, a behavioral consultant who usually worked with me said, 'This is a very pure person who just entered the staff room.' Falun Dafa is so powerful that it can fundamentally change people and purify their hearts."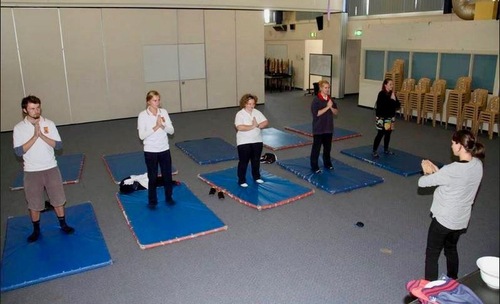 Introducing Falun Dafa to the Middle School Graduating Class
Marie holds an exercise class at the local middle school, where she introduces Falun Dafa to students
Marie said: "Falun Dafa has improved my thought processes and my kindness to the people around me. But such a good practice is persecuted in China. I have a responsibility to let people deceived by the CCP understand the truth and hope they stand on the side of justice and have a bright future."
Whenever there is an opportunity, Marie will bring her own children to participate in activities organised by Falun Dafa practitioners. Every Thursday evening, Marie practices in the park near her home, helping local people learn more about Dafa.
Marie's home is in a quiet countryside town of Victoria. She shared her experience about Dafa and the physical and mental changes she experienced with the children of the local Secondary College VCE class. This benefited the children with whom she shared the five sets of exercises and the principles of Truthfulness, Compassion, Forbearance. She found that the practice helped the students feel comfortable and is effective in relieving stress.
A story about Marie teaching the graduating class was published in the local newspaper. At the end of the class, children asked for details of the local Dafa practice site.