Falun Gong practitioners in Melbourne took part in festive Christmas markets at Mornington Racecourse and Warrandyte on December 9 and 15. As visitors strolled through the markets to shop for holiday gifts, many stopped at the Falun Gong booth to watch the practitioners demonstrating their peaceful meditation.
Practitioners also showed people how to make origami lotus flowers, a popular activity with all different age groups. In Mornington, visitors were delighted to hear about the benefits of the practice and many asked for the location of nearby practice sites. A number of people signed up for a free exercise seminar that will be held in January.
"I am full of admiration for the Falun Gong people. I think they face tremendous challenges, and everywhere they go there is always a peaceful and beautiful energy," said Heather Kennedy, at the Christmas market in Mornington Peninsula, Melbourne.
"This is what I need!"
The Falun Gong booth at the Mornington Racecourse Christmas Market was near a rest area, where people could sit, relax, and enjoy a cup of coffee. Many people were drawn to the Falun Gong booth after seeing practitioners doing the meditation exercise.
Nancy Patton had been learning Tai Chi and wanted to try the Falun Gong exercises. She learned the Falun Standing stance and said right away that it helped her concentrate her mind more than Tai Chi. "This is what I need!" she said.
Nancy loved the origami lotus flowers the practitioners were giving out and said she would give her one to her granddaughter.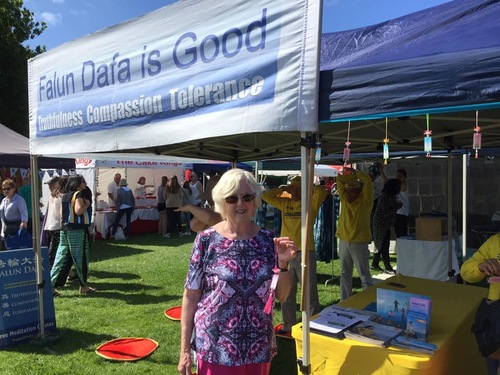 Melanie and her two daughters Bethany and Alice made their own origami lotus flowers and said that they found the experience very relaxing.
They learned the first of the standing exercises, called Buddha Showing a Thousand Hands. Melanie said afterward that she really would like to continue doing the exercises at home, as she felt that they would help her manage the stress of everyday living.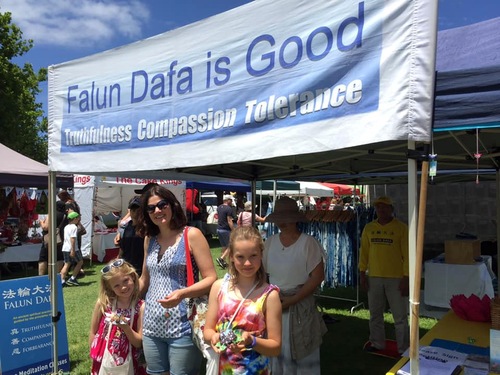 Local Support at Warrandyte Christmas Market
Despite two hours of pouring rain in the morning, the Christmas market at Warrandyte was held as scheduled. About 200 vendors set up along the Yarra River, offering fresh produce, arts & crafts, and gourmet food. The Warrandyte Christmas Market has become a family tradition for many local residents.
Many people stopped by the Falun Gong booth to learn about the practice and the ongoing persecution of Falun Gong in China. Quite a few people signed the petition calling for an end to the persecution.
Gary's first encounter with Falun Gong was five years ago, when he went to the Chinese consulate to apply for a tourist visa to China. He saw practitioners peacefully protesting near the embassy.
At the time, he didn't get a chance to get know what Falun Gong was. After learning about the practice and the persecution from practitioners at the Christmas market, he signed the petition to support the call for an end to the persecution.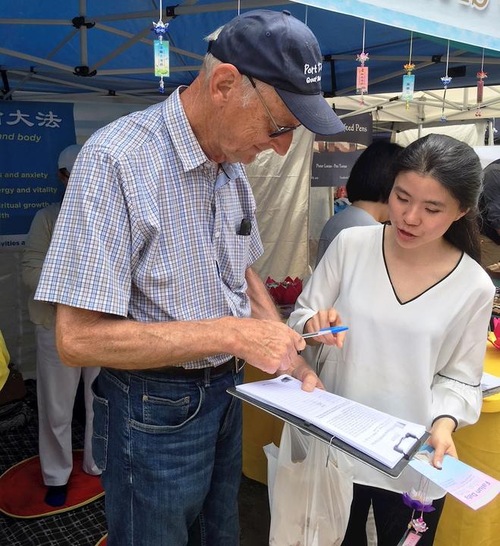 Taniya runs a local workout group. She said that the topic of Falun Gong once came up in discussions in her group. She asked about the persecution and said that she would pass on the information, as well as locations of local exercise sites, to her friends.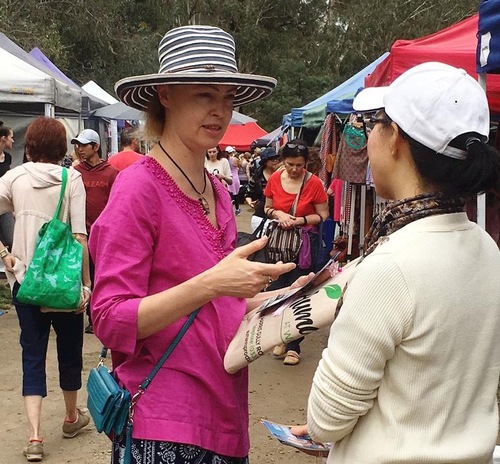 Janine runs a family business with her husband. When she learned that the nine-day Falun Gong lectures would be held near her home, she signed up. She said that she believed that Falun Gong's principles of Truthfulness-Compassion-Forbearance would help her and her husband meet their business challenges with a calm mind.
Georgia and her high school-aged daughter Tiffany both signed the petition. Georgia was interested in Falun Gong's health and mental benefits and looked forward to attending the upcoming Falun Gong seminar with her daughter.
18 total views