Falun Dafa practitioners gathered in Yarkon Park in Tel Aviv on a Saturday morning in October to present the beauty of Falun Dafa and to let people know how the practice has been persecuted in China since 1999.
Yarkon Park, with a lake, river, and water park, is a popular destination for families and big groups, picnickers, cyclists, scouts, and pedestrians.
The practitioners hosted several activities for adults and children of all ages. A table was set up where children could learn to make folded paper lotus flowers, while under the trees on a hill nearby, children could listen to a story about living as a Falun Dafa practitioner. On the grass were young women dressed as celestial maidens dancing to traditional Chinese music.
Several practitioners demonstrated the Falun Dafa exercises while others distributed brochures about Falun Dafa and the persecution in China. A practitioner talks to passersby about Falun Dafa and about the persecution in China.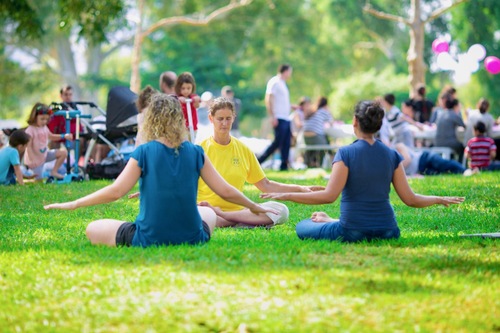 No one at the park had expected to see dancers and Falun Dafa practitioners on a Saturday morning. It was a surprise for many and people stopped to find out more.
One of the dancers mentioned how moved she was to see the children gathering around. "Children are an honest audience. Some of them imitated our movements, special movements that are taken from traditional Chinese dance. They are gentle movements that require a lot of patience, harmony, and coordination.
The children clapped and asked us to continue. Some stood close to us, so we stopped to talk to them. We told them about the importance of being nice to their friends, helping people as much as they can, and staying quiet even when someone annoys them. We told them that our dance expresses the beauty of Falun Dafa."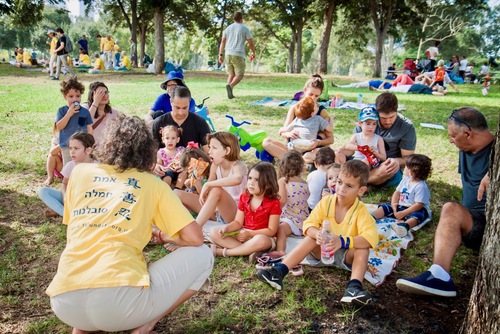 The dancer continued, "People who have never heard anything about ancient Chinese dance can also enjoy its beauty. I asked the children to repeat with us: 'Falun Dafa is good, Falun Dafa hao.' They were able to say these sentences."
People learned the exercises on mats among the trees. A group of scouts were surprised at how slow the movements were. They said that they were not accustomed to such slow movements and that it was something new to them and would require concentration. A number of passersby also stopped and learned the exercises.
The children noticed that it was very quiet where the exercises were being taught. A practitioner told them afterward about Falun Dafa's principles of Truthfulness-Compassion-Forbearance and how to incorporate the principles in their lives. They were impressed that someone would pay attention to them and teach them, and not expect anything in return.
Many children and adults gathered to make origami paper lotus flowers. Some of the kids who managed to make a complete lotus flower were very pleased with themselves, because they had to be determined, patient, and precise for it to come out right.
The practitioners helped everyone and answered all of their questions. Children who asked for paper to make flowers at home were given what they needed. Some of the kids were intrigued that they could create a three-dimensional flower out of simple pieces of flat paper.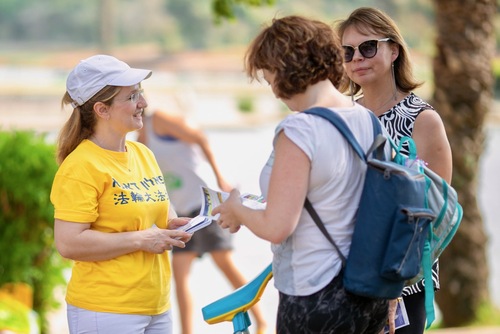 Background
Falun Dafa is a spiritual practice based on Truthfulness-Compassion-Forbearance, and includes five simple exercises. The practice was tremendously popular in China (surveys show that about 100 million people were practicing it before the persecution started) and led to a change in the lives of millions of Chinese who decided to live by its principles.
Truthfulness-Compassion-Forbearance frightened former Chinese President Jiang Zemin, and he began the persecution that continues to this day. Practitioners are routinely tortured in detention and are sometimes victims of forced organ harvesting.
(Clearwisdom)
19 total views