Practitioners of Falun Gong (also known as Falun Dafa) participated in the annual Columbus Day Parade in San Francisco on October 9, 2016. Also known as the 148th Italian Heritage Parade, the event drew more than 100,000 spectators, many of whom were impressed by the Tian Guo Marching Band and Falun Gong exercise demonstration.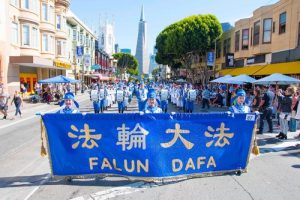 One of the Best Participating Groups
As the procession of practitioners passed by the main stage, the host introduced the peaceful mediation of Falun Dafa and the principles of Truthfulness-Compassion-Forbearance.
Joe Leveroni, one of the parade organizers, said that the Falun Dafa group was a highlight of the event. "We can tell they must have put a lot of effort into this. From the beautiful costumes and inspiring music, to the excellent exercises, everything was great."
Cindy, a local resident, said she liked the performance very much. She was delighted to see smiles on the practitioners' faces. "Also, the waist drums gave us a lot of energy."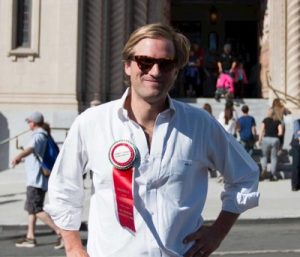 Freedom of Belief Should Be Protected
Local resident Greg said he was touched by the melodies played by the band. He also liked the layout of the band and the traditional costumes worn by the band members.
Having heard about the suppression in China, he said the persecution should be stopped. "After all, we know that the Chinese communists is a bad regime."
Elizabeth said she felt sorry for the atrocity against practitioners in China. She said, "People have the rights to practice their faith. The freedom of belief should be protected."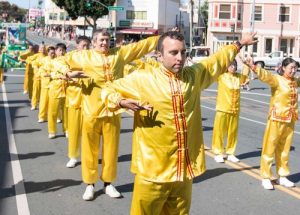 "Our Society Needs These"
Albert and Irene, husband and wife, warmly applauded for the practitioners' performance. Albert said that the relaxing meditation made him feel very comfortable. Seeing the banner with the words of Truthfulness-Compassion-Forbearance, he said, "Our society needs this."
Irene was glad to hear that practitioners offer free exercise instruction. The couple accepted materials from a practitioner and said they planned to check the Internet to follow up.