Archana Panta, the organiser of the Festival of Globe India Day, was impressed by the Falun Dafa group in the parade held in Fremont, California last Sunday.
"They are peaceful and powerful," she said. "Their brightly-colored costumes are impressive. I thank them, and I hope they will come to perform in the parade again next year."
The chair of the event, Deepak Chhabra, was also pleased with the Falun Dafa group's performance and was glad he invited them.
"They are excellent," he said. "Both the exercise demonstration and the waist drum playing were great. This is the first time they participated in this parade. I hope that they will come every year from now on."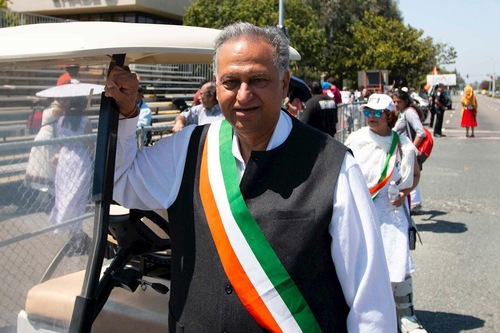 After the parade, practitioners set up a booth, introducing this self-improvement practice to the public, and calling for help to stop the persecution of this group in China, which has gone on for the past 19 years.
Ms. Sheng from China was glad to learn that a free Falun Dafa workshop will be offered on August 27.
"I am really lucky to run into you today," Ms. Sheng said. "I have tried to learn the Falun Dafa exercises by myself, but am fuzzy about a few movements. Now I can correct them at the workshop."
"My father practices Falun Dafa, and I have been wanting to learn," she added. "I can't wait for the workshop!"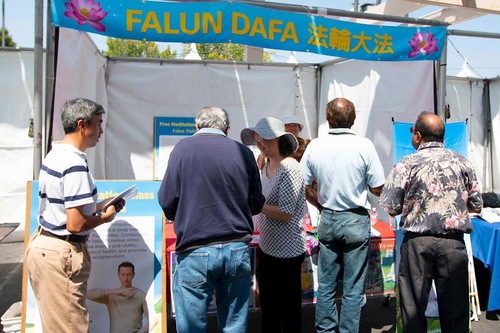 George, from India, is a fan of meditation and was also interested in learning Falun Dafa.
"Meditation is very effective," he said. "This is a righteous way. I will go to the workshop."
Local resident Zara said she believes that the exercises will reduce the stress and anxiety.
"This is why I signed up for the workshop," she explained. "I want to be self-disciplined, and I want to have a clear mind. I believe the exercises will help."
35 total views