May 24 is a major Bulgarian holiday dedicated to Bulgarian education and culture and to the Cyrillic alphabet. Falun Gong practitioners in Sofia, Bulgaria, took the opportunity to raise awareness among citizens and tourists about the brutal and not so well known persecution of Falun Gong in China.
The practitioners displayed banners on the busiest commercial street in downtown Sofia and informed passersby about the 20-year-long persecution of Falun Gong practitioners in China. Their yellow shirts stood out in the crowd and attracted the attention of many people.
A poster with the organ transplant prices in China also drew much attention, as did the image of a crying girl holding an urn from the "The Art of Zhen, Shan, Ren" International Exhibition.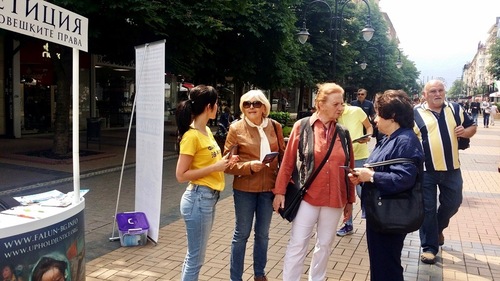 Many people signed a petition to help stop the persecution, including members of the movement "We Write in Cyrillic," arranged by the youth organisation of the Socialist Party in Bulgaria, which is a successor to the former communist party. After learning the facts, they condemned the crimes being committed against practitioners who follow Truthfulness-Compassion-Forbearance, the principles of Falun Gong.
A young Dutch writer who moved to Bulgaria wanted to know where he could learn the exercises.
A young lady was very interested in hearing about the persecution of Falun Gong in China and took flyers for her entire family. She shared her story of being a mediator in a long-running feud between two families and expressed her hope that the principles of Truthfulness-Compassion-Forbearance could help her succeed in her undertaking.
An elderly couple, reminiscing about the era of communism, at first said that perhaps Bulgarians should not get involved in the problems of such a prosperous country as China. But after hearing more details about the persecution, the wife decided to support the petition, because she herself had experienced firsthand the cruelty of a communist regime.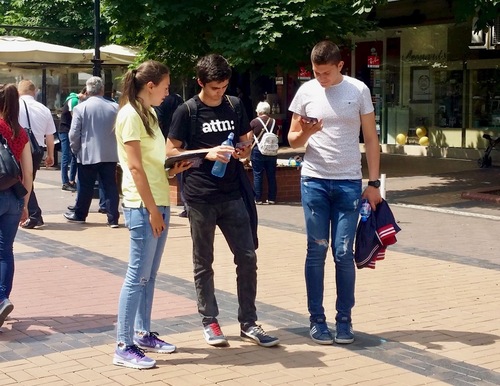 Many people were shocked by the information on forced organ harvesting, published for the first time in 2006 in the report Bloody Harvest by the renowned human rights experts David Kilgour and David Matas. The report concluded that the source of many of the organs used in the 41,500 organ transplants done between 2000 and 2005 in China were most certainly Falun Gong prisoners of conscience.
The data was gathered in more than ten countries, which the two human rights activists visited to collect testimony from Falun Gong practitioners who survived the Chinese labor camps and managed to flee the country.
(Clearwisdom)
29 total views