The annual Harmoni Expo, the largest spring event in Sweden, took place on April 7-8, 2018 in Solna, a municipality near Stockholm.
Among the 300 vendors and organisations that exhibited health-related products and systems, the Falun Dafa booth drew special attention because of its physical and mental health benefits.
At a booth close to the stage, practitioners demonstrated the five sets of Falun Dafa exercises each day from 10 a.m. to 6 p.m. They introduced the spiritual and meditation practice and how it is persecuted in China.
Practitioners presented an introduction to the practice in the lecture hall at noon and shared their personal experiences with the audience.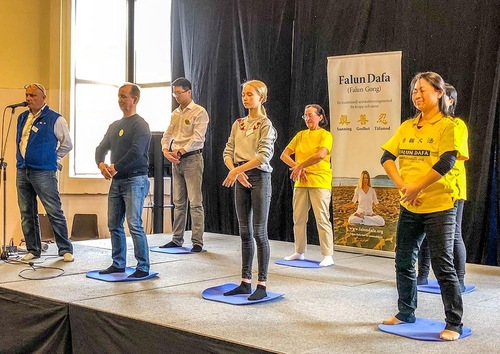 Many people expressed interest in Falun Dafa's principles of Truthfulness-Compassion-Forbearance and took informational materials on how to get started with the practice.
The afternoon exercise demonstration on stage also attracted spectators with the beautiful music and gentle movements. Many viewers followed along with the exercises, and some took pictures or recorded video of the group meditation.
One couple said they could feel warmth and energy when they tried the second set of exercises, the Falun Standing Stance. "We will definitely continue with this," said the wife.
Werner, a practitioner, explained that Falun Dafa includes not only the exercises but also living by the principles of Truthfulness-Compassion-Forbearance.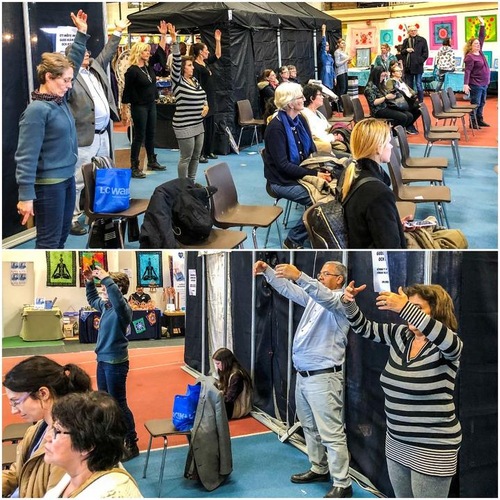 When one man heard that Falun Dafa books and the exercise video are available online free of charge, he said excitedly, "I have tried many types of qigong systems. Your practice is calm, peaceful, and very touching." He said Falun Dafa is a high-level practice and very precious. He and his friends said they would learn the exercises.
Mars, a practitioner who hosted the event, said more and more people have now heard about Falun Dafa from different channels. "Many of them are interested in learning the exercises as if they have been looking for this for a while. They are also glad to know we have group exercise sites in different cities across Sweden."