Falun Dafa practitioners were invited to participate in an activity dedicated to children with Down Syndrome at Moskvich Cultural Center on March 23, in Moscow.
They hoped to bring the beauty of Falun Dafa's Truthfulness-Compassion-Forbearance to event-goers, so that these children and their parents can see more brightness and hope when facing challenges.
Anastasia has a daughter with Down Syndrome. She told the audience how practicing Falun Dafa has helped her since she took up the practice in 2013.
Falun Dafa is an ancient spiritual practice that teaches people to follow the principles of Truthfulness-Compassion-Forbearance to improve their physical and mental health.
Anastasia said, "When I discovered that my unborn child had Down Syndrome, I was scared and thought I would have a child different from other ordinary children." During her pregnancy, the doctor diagnosed her as gradual worsening of pyelonephritis [kidney problem] and was concerned about her ability to deliver. Coupled with her loved ones' fear and worry, Anastasia fell into a state of depression.
"Thanks to practicing Falun Dafa, I was able to face difficulties with a smile," Anastasia said. Not only did she get out of depression, but all tests results in the checkup in the delivery room miraculously returned to normal. Further tests showed that the earlier diagnosis of nephritis was no longer valid.
After listening to the heartbeat of the fetus, the doctor said the child was well-developed. Finally Anastasia had a smooth delivery. Now she has a lovely daughter.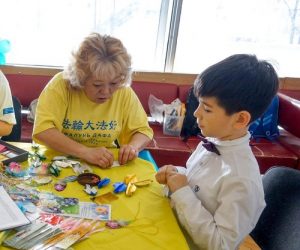 Anastasia wished to tell others about the benefits Falun Dafa brought her so that they too would have the chance to consider taking it up. She also told people how practitioners in China have endured persecution for remaining steadfast for their belief.
Valentine, a child psychologist at the Downside Up Charity Foundation, showed great interest after she had learned about Dafa, saying she wanted to take up the practice herself.
Volunteers from the National University of Psychology in Moscow who took part in the activity showed their sympathy for the practitioners who have suffered the persecution in China and had their families torn apart due to the Chinese regime's persecution. They signed a petition calling for an end to the persecution.
After the event, the organiser issued a letter of gratitude to thank the Falun Dafa practitioners.