The Auckland International Cultural Festival 2018 held on April 8 at Mt. Roskill War Memorial Hall featured a wide array of cultural experiences. Waist drum performances and exercise demonstrations by the Falun Dafa group on the event stage inspired interest in this ancient Chinese practice for mind and body.
At the Falun Dafa booth, many festival goers stopped to learn the exercises. Practitioners also taught visitors how to fold paper lotus flowers, a symbol of endurance and purity in Chinese culture.
Louise Mahoney has practiced several qigong systems for over 10 years, but she often lacks energy and feels cold, she said. She was happy to hear that Falun Dafa books and exercise instructions are available for free on the internet. "I will definitely learn Falun Dafa," she said. "I will tell my mother about it, too!"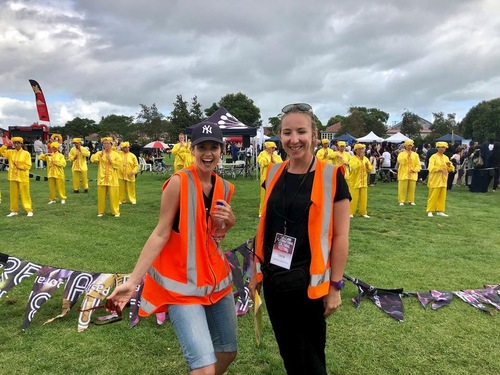 Tani Witter said she likes Chinese culture and she talked about how Chinese people were involved in the New Zealand gold rush in the 19th century. She was appalled by the brutality of the persecution of Falun Dafa in China, especially the forced organ harvesting atrocities.
Sammy and Cara, two staff members of the event, said they enjoyed practitioners' stage performances. "I love their golden uniforms. That shining color is like sunshine. Really fantastic!" added Sammy.