The Lantern Festival, a well-celebrated occasion that marks the end of the Chinese New Year season, was celebrated on March 10-11 in Christchurch, the largest city on New Zealand's South Island.
The local Falun Dafa group took part in the festivities to introduce the peaceful spiritual practice to more people in the community.
As part of the activity, they offered on-the-spot instruction in the Falun Dafa exercises and meditation. Many people were interested in learning more.
The crowd started building long before the festival entered full swing at 6:00 p.m. Impressed by the peaceful exercise music and gentle movements, many people stayed to watch and learn how to meditate. Many more took photos to show family and friends.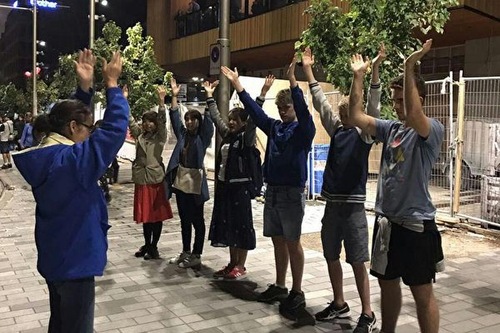 One visitor from France talked with practitioners. Having seen exercises by practitioners in other places, he knew about the health benefits of the practice and was curious why the Chinese communist regime would ban a group like this.
A practitioner explained to him that communist theories contradict traditional values as well as the principles of Truthfulness-Compassion-Forbearance. The man thanked the practitioner and praised them for their efforts to raise awareness of this important issue.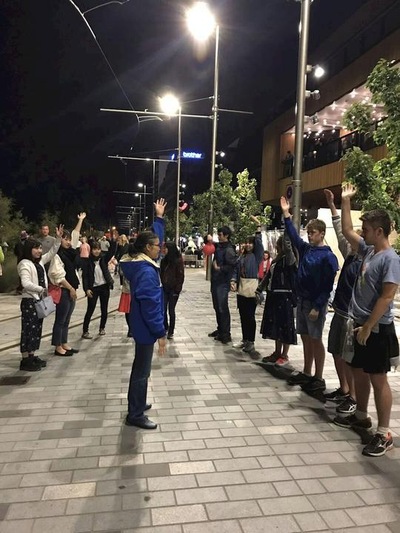 A large number of Chinese families attended the festivities. Many even stopped to learn the Falun Dafa exercises. An older man gave a thumbs-up, saying, "Falun Dafa is great! You have done very well!"
As dusk came, most performances concluded and the temperature began to drop. However, people kept coming to learn the exercises and experience this ancient practice from China.
Practitioners did not leave until late in the evening both days and were happy that so many people had learned how to meditate and the benefits of practicing Falun Dafa.
22 total views