Falun Gong had a substantial presence in Melbourne's Australia Day 2018 Parade on January 26. The procession was led off by the Tian Guo Marching Band, and also included a Falun Gong exercise demonstration and a brightly yellow-clad band of waist drummers. Spectators expressed their appreciation for the beautiful music and resounding performances.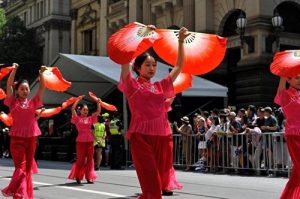 The Exercises Make an Impression
Angus Flanery, who works in the filmmaking industry, came from Sydney on vacation. He had never heard about Falun Dafa and was amazed to learn that it is practiced in over 100 countries. After talking with a practitioner about the exercises, Flanery tried them briefly. "This works very well. I like it!" he exclaimed.
He signed a petition demanding an end to the persecution in China. "I will look for practitioners when I get back to Sydney," he said. "I need to know more."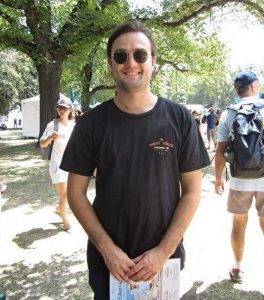 Sweety Sethi was also very interested in the exercises. She felt calm and relaxed as she watched them and said she would visit the website to learn more.
Disappointed to hear about the persecution in China, Sethi thought that, due to its physical and spiritual benefits, it would be good if more people learned about Falun Dafa.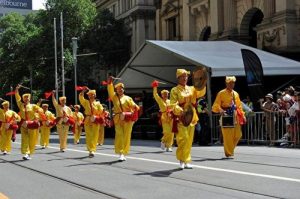 Feedback from Chinese Spectators
Having heard about defamatory propaganda back in China, many Chinese were surprised by the massive scale of the Falun Gong parade contingent. "This looks awesome!" said Olisa who was on vacation with her friend Cheer. Both of them attend a business school in China. They seemed delighted by the performance.
Anne, who works in a bank, immigrated from China nearly 10 years ago. She could tell the band members were well trained and they made her very proud.
As a music lover, Anne was touched by the melodies. "They have a sense of positive energy and joy. I'd like to hear them do a concert. It is really fascinating!" she said.
39 total views