Yoga instructor Talayia appreciates the positive impact that Falun Gong has brought to her.
She invited practitioners from Athens Greece to hold a workshop on Zakynthos Island on a Saturday in January 2018, to introduce the ancient Chinese self-improvement cultivation practice to the public.
Forty-six interested local citizens from the famous tourist town learned the exercises at the free workshop.
Almost every attendee felt a strong energy field during the exercises.
A few of the ladies had joined previous workshops, and said to the practitioners, "We feel great every time you guys come. And every time, the feeling gets better." Another attendee said she strongly felt her body being purified.
A few other attendees at the gathering said, "We don't know each other even though we live in the same town. It is great that we can practice together from now on."
A college student said that he had been practicing by himself for two years. He was glad to talk to practitioners face to face. "Exercising in a group feels very different. This workshop is very helpful." He talked to practitioners for a long time, and said he hoped that they could share their experiences in practicing more often.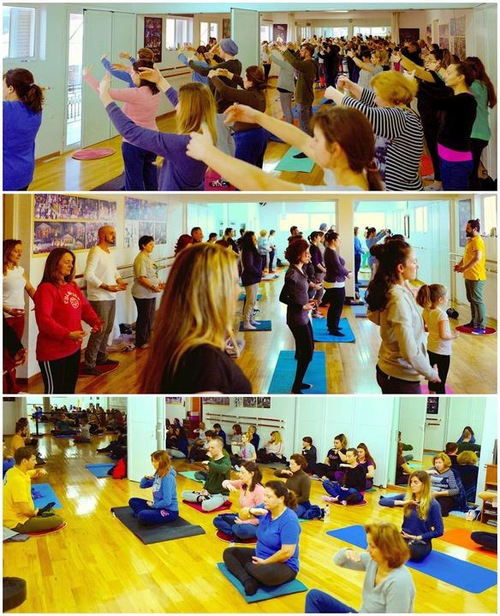 Many people took Falun Gong flyers for their friends.
Sixteen people attended another workshop on Sunday in a nearby town. A young lady who attended told the practitioners that she felt the Falun (the law wheel) rotating, and a warm energy flow going through her arms while doing the second exercise set, the Falun Standing Stance.
"It was so peaceful," she said, "I feel refreshed now, and full of energy."
Another lady echoed, "The music helped me to calm down. Although this is my first time doing the Falun Gong exercises, I felt as if I knew it before."
A lady who has practiced yoga for a long time also felt the energy flow. She said, "Usually my hands are cold when doing yoga. But today, one was cold, but the other was hot. It's an amazing feeling."
Some attendees wanted to learn more about the teachings of Falun Gong. The practitioners recommended that they read Zhuan Falun, the main book of the practice.
27 total views