Starting on the day after Christmas, the five Shen Yun Performing Arts touring companies performed in the North American cities of Ottawa, Canada; Boston, Massachusetts; Charlotte, North Carolina; Fresno and San Jose, California; and McAllen and San Antonio, Texas.
"Connects Us to the Divine"
"The performance connected us to the divine using beauty, art, movement, and music," said Diana James, an author, artist, and former corporate executive.
Shen Yun "gives us a gift" and "refreshes us at a very deep level," according to Ms. James.
"Very uplifting… A celebration of the divine through beautiful color, beautiful movement, beautiful music, and beautiful dance," she said.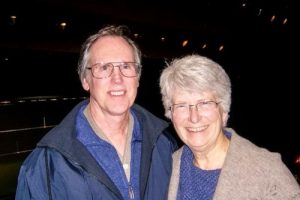 "It Feels Like We Came Home"
"You could feel that joyfulness… It was so much fun to watch," said costume designer Jan Lance.
"We all know that we are spiritual beings, even though some of us cover it up. We all know that's there, and the show helps us to recognise that. Every piece had a part of the puzzle of spirituality and when you put the whole show together, it feels like we came home," she said.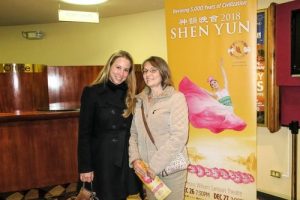 "Spectacular" Choreography
"It was fantastic. I loved every bit of it," said Ray Mackley, a director at the Department of National Defence in Canada.
"The choreography was spectacular, but what really surprised me was how well they integrated the computer-generated images in the background into the live choreography and the dancing… Just unbelievable," Mr. Mackley said.
"The stories were very good… They impart a bit of wisdom from the culture, with some lighthearted way of illustrating lessons learned. I found it very enjoyable," he said.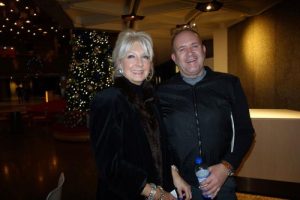 "Exciting" and "Fascinating"
"This is a very beautiful show that I am really enjoying tonight," said Texas State Senator Juan 'Chuy' Hinojosa. "It is very exciting. I like the music, I like the dancing.
"It is just fascinating to see performances that try to show, through dance, culture that really connects with all of us in terms of life and history," he said.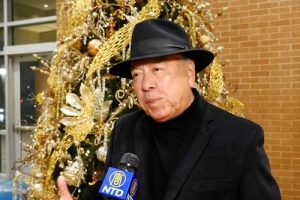 "A Pleasure to Look at"
"I like it a lot. The dancers, both male and female, are obviously very talented, so it's a pleasure to look at," said Richard Cooper, a Maurits C. Boas Professor of International Economics at Harvard University.
"I'm impressed by the [digital backdrop]… It's marvelous," he added.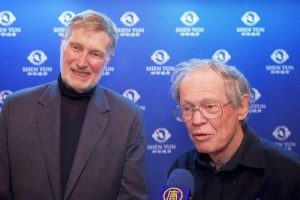 For more information on tickets and dates, please visit http://shenyun.com.
25 total views