The "Journey of Falun Dafa" photo exhibit, which has been on display in eight different provinces of Turkey since 2011, was recently shown in the college city of Eskisehir.
The exhibit was held on October 19-21, 2017 at Hey Joe Cafe, a hot spot for students and the public. During the three-day exhibit, many people learned about Falun Dafa and the brutal persecution of the meditation practice by the communist regime in China.
The municipal district head Ender Uysal and his friend visited the exhibition and stayed for a long time. They were impressed by the photos and condemned the brutal persecution in China. They also expressed interest in learning the Falun Dafa exercises.
A young student from Eskisehir University said that she wanted to learn the exercises at the exhibit. She stayed in the cafe's exhibition hall for two hours and learned all five sets of exercises.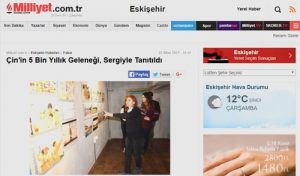 On the third day of the exhibit, reporters from the İHA news agency came to interview practitioners. Reports on the exhibit and Falun Dafa appeared in newspapers throughout the country. An article titled "5,000-year tradition of China" was featured in the culture and arts section of most newspapers, including The Milliyet, one of the best-known newspapers in the country.
Video of the interview was also published in social media. As a result, many people contacted the Falun Dafa practice group volunteers to learn more.
Many people who visited the exhibition signed a petition by Doctors Against Forced Organ Harvesting (DAFOH), calling for an end to the Chinese regime's killing of Falun Dafa practitioners for their organs as part of its persecution campaign.
(Clearwisdom)
27 total views