A group of Croatian and Slovenian Falun Gong practitioners held activities on August 5-6, 2017, in the towns of Umag and Rovinj in Croatia to introduce Falun Gong to the public and raise awareness of its persecution by the communist regime in China.
Located on the Adriatic coast in the region of Istria, those towns attract many tourists during the summer. The month of August is the peak of the tourist season. It is also the hottest time of the year.
Despite the heat wave that descended on these dates, the practitioners distributed fliers, secured signatures on petitions protesting the state-sanctioned killing of practitioners for their organs in China, demonstrated the Falun Gong exercises, and spoke to passersby about the persecution of the spiritual practice in China.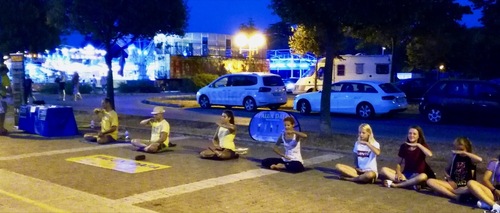 Many people stopped to watch, drawn in by the peaceful exercises. Some wanted to sign the petition. A girl from Austria said, "I cannot believe that this is happening in China. More people need to learn about it. I will tell all my friends." She asked him to take a photo of her signing the petition so she could share the photo on her Facebook profile.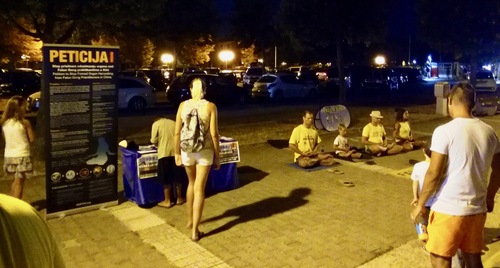 A man from Israel who was looking for his hotel stopped by and wanted to learn more about Falun Gong. He asked to sign the petition as soon as he learned that Falun Dafa practitioners in China were being persecuted because of their beliefs. He said, "We Jewish people are very sensitive about this issue."
Just before the practitioners were ready to pack up, a large gray cloud covered the sky and quickly turned the heat wave into a thunderstorm. Everyone ran for shelter from the heavy rain. The practitioners also went into a store, where they took the opportunity to talk to more people about Falun Gong.
(Clearwisdom)