Falun Dafa practitioners recently took part in "Activities Night" at McGill University, that ran from September 2 to 4, 2017. They introduced Falun Dafa to new students at the university.
More than 250 student organisations, including the new Falun Dafa organisation– Falun Dafa at McGill – presented a broad spectrum of campus activities to incoming freshmen at this prestigious Canadian university. Crowds of students had the opportunity to learn about Falun Dafa, a traditional cultivation practice that follows the universal principles of Truthfulness, Compassion and Tolerance.
Chinese Students Learn That Falun Dafa Is Embraced Around the World
More than one thousand freshmen from China are admitted to McGill each year. This was the first time for most of them to encounter Falun Dafa outside of China, where the practice has been slandered and persecuted by the government for the past 18 years. Many Chinese students seemed surprised to see the Falun Dafa booth and took pictures of it.
A young man from China talked to a practitioner and learned that Dafa has been introduced to more than 100 countries around the world and has won thousands of awards worldwide. He told the practitioner that banners reading "Falun Dafa Is Great" can be found in many places in mainland China.
Another young man heard the practitioner' introduction to Dafa and the explanation of the Self-Immolation Hoax, and realised that Falun Dafa has been smeared by the Chinese Communist Party's (CCP) propaganda. A fellow student said that she would like to learn Falun Dafa.
Xiao Yi, a young Falun Dafa practitioner, told the reporter, "I can see the changes in Chinese students' attitude toward Falun Dafa. They are glad to hear that Dafa has been spread around the world, and is present on McGill's campus. A Chinese student even told me that she wished we'd held our introductory activities earlier."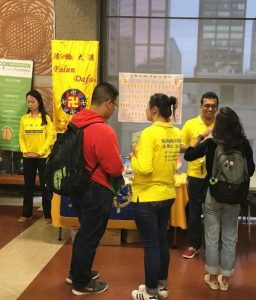 Canadian Students Support Falun Dafa
Sixty-six freshmen signed up for Falun Dafa at McGill and many more listened to information about the practice. Many students inquired about when the exercise teaching sessions would be held. Anna, a member of the Falun Dafa organisation, said that they planned to start doing exercises as a group on campus on Tuesdays and Thursdays, and would establish a social media presence for Falun Dafa at McGill.
After learning about the CCP's persecution of Falun Dafa in China, a Canadian student told a practitioner, "You have endured so much! I admire you a lot!"
Many students were happy to find that Falun Dafa is beneficial to health and includes relaxing exercises that are easy to learn. They expressed a wish to learn Falun Dafa and support the cause of the organisation.